Fifth Harmony Is Taking A Hiatus & The World Of Girl Bands Will Never Be The Same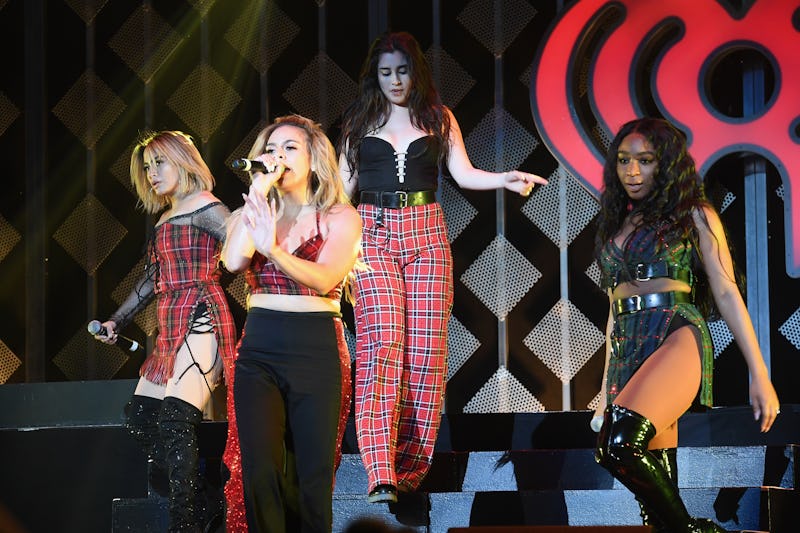 Paras Griffin/Getty Images Entertainment/Getty Images
Fans of Fifth Harmony won't be happy about this news. Fifth Harmony is taking a "hiatus," the band revealed in a tweet Monday, leaving fans shocked and baffled about the sudden revelation. In the statement, Fifth Harmony shared that, while they appreciate "how far we've come" since they were contestants on The X Factor, they want to take the time to pursue solo careers. The announcement also comes after former Fifth Harmony member Camila Cabello left the group in 2016.
Cabello recently performed solo at the 2018 iHeartRadio Music Awards. She and Fifth Harmony were each nominated in the "Best Fan Army" category at the awards show, but BTS took home the award. (Cabello was also nominated in four other categories, but she didn't win.) Here's what Fifth Harmony had to say about the split:
"Reflecting on the past six years since we started on X-Factor, we've realized just how far we've come and we appreciate everything so much, more now than ever. We've really had one hell of a memorable journey together and can't begin to express our gratitude to y'all for coming along with us on this wild ride!"
"After six years going hard, non stop, we also realized that in order to stay authentic to ourselves and to you, we do need to take some time for now to go on a hiatus from Fifth Harmony in order to pursue solo endeavors."
Fifth Harmony also clarified in the Twitter statement that they'll finish out their scheduled tour dates. "We do have some upcoming shows through the end of the year which will still happen as planned, and we can't wait!" the statement reads. So, fans who already have tickets to see the group shouldn't be worried — in fact, the news might make the upcoming concerts even more special.
And while the separation is likely a gut punch for fans, it doesn't come completely out of nowhere. After the Grammy Awards in January, rumors swirled that Lauren Jauregui might have signed a solo record deal. Normani Kordei also signed a solo management deal back in October. At that time, some fans worried that Kordei would follow in Cabello's footsteps and exit Fifth Harmony, but they probably didn't realize that the entire group would be separating just months later.
Cabello has already become successful in her own right since leaving Fifth Harmony, though. Her solo album, Camila, opened at number 1 on the Billboard charts in January — a higher place than any opening figure for a Fifth Harmony album. And while the band's statement about Cabello's departure raised some eyebrows, it sounds like she's been able to pursue the kinds of music she's truly interested in since leaving the group.
"I was just curious and I wanted to learn and I saw all these people around me making music, writing songs and being so free," Cabello told The New York Times in January, referring to her 2015 collaboration with Shawn Mendes. "I just wanted to do that, and it did not work."
If the four remaining members of Fifth Harmony — Lauren Jauregui, Normani Kordei, Dinah Jane, and Ally Brooke — all decide to pursue solo careers, they've got a great start in the industry, thanks to their time in the band. Fans will likely be devastated about the news, and that's understandable. It's never easy to watch a beloved music group go their separate ways. But it sounds like the ladies are doing what's best for them and their careers moving forward. The announcement marks a big change, but hopefully, it will be a positive one for both the singers and their fans.