Nicki Minaj's Meek Mill Reference On "Barbie Dreams" Is Too Much To Handle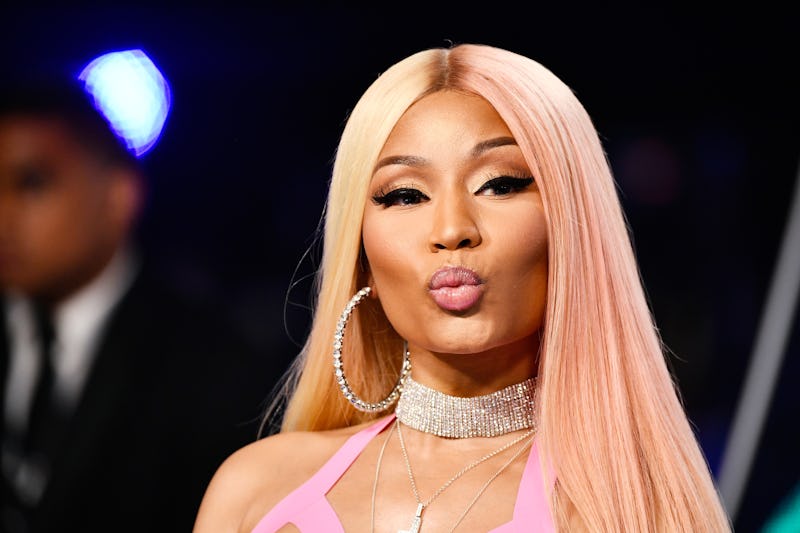 Frazer Harrison/Getty Images Entertainment/Getty Images
Nicki Minaj surprisingly dropped her highly anticipated album Queen on Friday, August 10, and while there are many bops on the project that deserve to be on repeat, listeners can't seem to get over the mention of Meek Mill on Minaj's "Barbie Dreams" track.
The song, which is a riff on Notorious B.I.G.'s iconic "Just Playing (Dreams)," name-drops a lot of famous people with whom Nicki may — or may not — want to hook up with. Much like Biggie's version from 1993, in which he referenced the names of famous R&B singers, Minaj makes mention of several high-profile rappers and entertainers, including Lil Wayne, Drake, Dave East, Young Thug, Quavo, 50 Cent, DJ Khaled, YG, Mike Tyson, Odell Beckham Jr., and more. However, her dig at Mill is especially intriguing due to the fact that Minaj and the rapper were once involved in a serious relationship. On "Barbie Dreams," she raps:
Meek still be in my DMs I be havin' to duck him / I used to pray for times like this face ass when I f*ck him"
Minaj does not mince words throughout the verbal attack, mentioning all of her subjects directly by name, which ultimately sent the internet into a frenzy.
Lest people think that Minaj really wanted to throw shade at Mill, she later took to Twitter to clear the air. The rapper insisted that the lyrics were all in jest — just a fun way to tease her fellow artists and have a good time. "This is FUN. Light hearted fun FUN," she tweeted just two hours after her album was released.
Since their breakup, the "Chun-Li" rapper has rarely uttered Mill's name. But it seems that all of that's changed with the release of Queen and, to be honest, it's all fair game given the fact that Meek spoke of Minaj on his most recent album, Wins & Losses. On the song "1942 Flows," he rapped:
Bloggers in the frenzy, truck to the Bentley / Ain't doing no interviews, I'm busy, n*gga we litty / So when you see me out don't ask me about no Nicki / F*ck I look like, telling my business on Wendy.
While Mill doesn't exactly mention her by name going forward on the track, it was speculated that "1942 Flows" final verse was also about his failed romance with the rapper. He continues, "Heard that b*tch say she cut me, I was like adios / In the field, knock 'em down, it look like dominoes."
Nicki Minaj confirmed her split from Meek Mill back in January 2017, taking to Twitter to share her new single status:
To confirm, yes I am single. Focusing on my work [and] looking forward to sharing it with you guys really soon. Have a blessed New Year. Love u.
Thee 35-year-old entertainer also spoke about life after Mill in the July 2018 issue of Elle magazine, revealing how being single has made her stronger person. According to Billboard, she said:
I remember feeling like I could do anything at one time in my life. And somewhere along the line, I just started second guessing myself, for whatever reason...as soon as I realized that I could actually live and breathe, and eat and sleep, and walk and talk without having a boyfriend, something clicked in me.
She continued, "Becoming single was one of the things that made me feel strong and powerful."
It looks like Nicki Minaj is ready to take on the world with the release of Queen and with her mention of Meek Mill on Barbie Dreams, it seems that there's definitely no topic off limits, even if it is just for fun.