Here's Every Incredible Outfit Nicki Minaj Wore To Perform At The BET Awards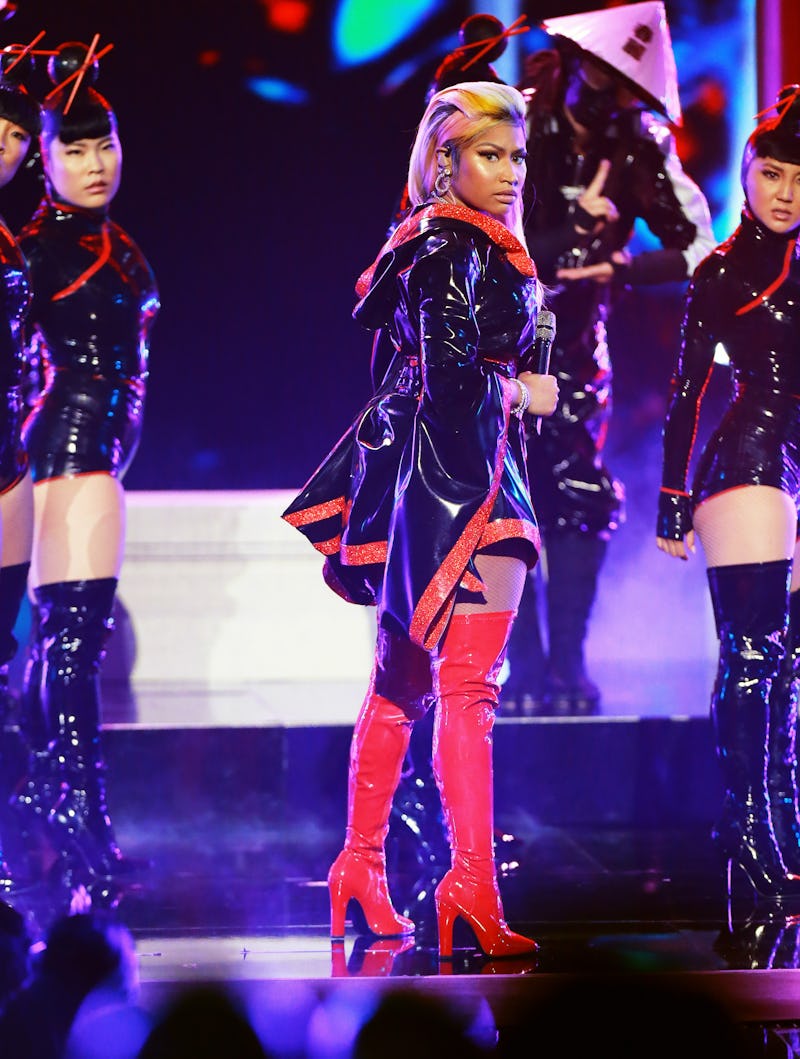 Leon Bennett/Getty Images Entertainment/Getty Images
If there is one thing we can always count on regarding Her Minajesty's red carpet and onstage style, it's that she never, ever disappoints. Nicki Minaj's 2018 BET Awards performance outfit kept her streak of unpredictable and head-turning public ensembles alive. Each of her three performance costumes were next level.
Since Minaj was scheduled to perform at the BETs, we were already wondering if she would skip the red carpet altogether in order to concentrate on her performance.
Minaj's various hairstyles and wigs are always integral elements to her overall look and she swaps cuts and colors often. So, her coif was another element we were anticipating. We also admit we were also expecting Minaj to wear black since that has often been her hue of choice at previous BET ceremonies.
But alas, she did not strut her stuff and show off her always-killer sense of style on the carpet. Boo! Hiss!
That said, her on-stage attire was hotter than the super sweltering Los Angeles day. So it was a fair trade-off.
Minaj performed in a black, latex-looking robe with red trim. She paired it with over-the-knee, patent leather red boots. It was quite the sexy presentation — and that's usually the case during a Nikki Minaj live performance.
In terms of hair, Minaj wore her long, straight, and blonde locks down and blown back off her face. There were some pink and yellow streaks woven throughout.
Minaj, who released nude-hued MAC lipsticks last year, rocked somewhat of a bare-faced makeup look. But that made sense, since her high-shine outfit commanded so much attention.
If she went super dramatic with makeup, it may have competed too much with her glossy attire.
Minaj ditched the black robe during her performance, showing off a red latex mini dress that dipped low, low, low in the front. Her latex looks were by Vex.
She also performed atop a pink horse with Big Sean and 2 Chainz in a sparkly and blingy pink bodysuit with silver booties.
The rapper also rocked a larger-than-life gold "Chun-Li" necklace, nodding to her latest single. It was so huge and eye-catching that it was an effective promotional tool. The jewelry is by Anne Sisteron.
Now that Minaj's 2018 BETs looks are in the books, let's remember some of her prior outfits.
Minaj is a BET Awards mainstay. She once rocked this front-zip, black lace number. It was evidence of the more low-key yet still-glamsual nature of this particular awards show. The BETs are more like the the fun and funky AMAs or VMAs, rather than the posh Grammys, when it comes to the fashions.
The hip-hop diva often favors black outfits at the BETs. Yes, she slays them all. Because duh. Even her LBDs always have a standout element, like leather and lace fabric or the keyhole bodice.
She wore this clingy 'n' curve-hugging, simple, and sexy black tank dress one year.
Minaj also paired snakeprint leggings with a cropped leather jacket one year. Of course she added a pair of killer heels to complete the look.
Minaj did wear her signature pink at the BETs many moons ago. She paired this striped and frilly mini with black stiletto booties and a bob with bangs. It was a sassy look. Notice that bright pink lips have also been her thing at prior BETs. It is her most favorite color, so...
That concludes our strut down Nicki Minaj at the BETs Memory Lane! The flashbacks certainly demonstrate how her style has evolved through the years — all the while maintaining some of her signatures.
While we were bummed that she didn't get all dolled up for the red carpet action, we were totally digging her performance style.