How This 'Night School' Star Dealt With Her Exes' Insecurities About Her Financial Independence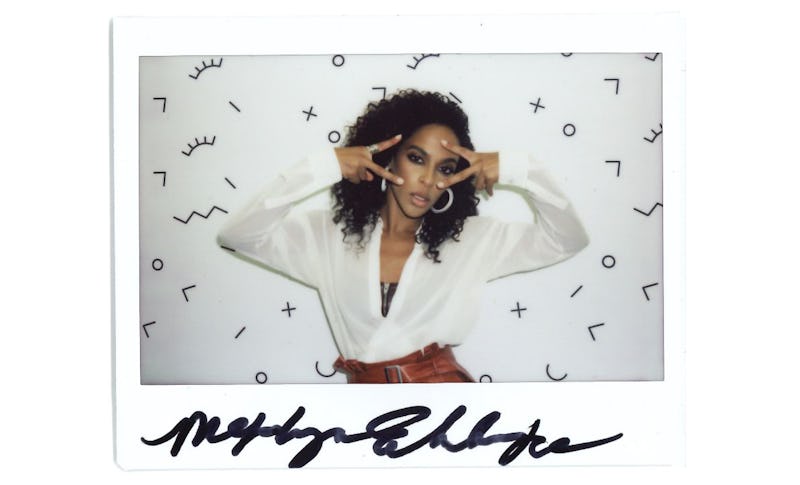 When celebrities hang out with Bustle editors, we want to give them the chance to leave their mark. Literally. So we hand them a pen, a piece of paper, a few questions, and ask them to get creative. The rest is up to them. This time, Night School star Megalyn Echikunwoke is leaving her mark in the Bustle Booth.
In the comedy Night School, Megalyn Echikunwoke plays Lisa, the girlfriend of successful salesman Teddy (Kevin Hart). Early in the movie, Teddy expresses his insecurity over his girlfriend's higher salary, but that anxiety comes to a head after he loses his job and has to enroll in night school to obtain the high school diploma he never got after dropping out years prior. Teddy's pursuit of a GED later in life leads to equal parts hilarious and heartwarming moments, but it also exposes the way that outdated gender roles can jeopardize relationships. Sitting down in Bustle's New York offices, Echikunwoke reveals that her character's dating struggles aren't exactly foreign to the actor herself.
The actor recognized Teddy's panic over trying to impress his girlfriend is something that happens due to society's expectation that man be the main breadwinner of a family. And doesn't help their circumstances that Teddy doesn't just want to provide for his girlfriend, but he wants to spoil her.
"I think the social implications of not being super financially independent [or] wealthy — [not] having the right car, having the right shoes, having the right watch — for some men can be really detrimental," she says, leaning casually against the arm of a couch. "So they overcomplicate things, and they really don't have to, because there are plenty of wonderful women like Lisa, who just loves you for you."
Echikunwoke has dealt with this kind of insecurity before; fortunately, she has a sense of humor and perspective about the whole thing.
"I started acting when I was pretty young so... I was probably making more money than some people my age. You know when 20-year-olds start, they're in college, they're not making that much money, but I was working. I had started early and so sometimes dating guys my age was a little bit tricky because they would say it was fine, but then it wouldn't be fine, it would definitely seep into the relationship," she says.
The actor says that some of her exes would worry that she was judging them for not having as much money as her. They would read into her actions too much, thinking that she'd resented them for not paying for everything. Echikunwoke says that men would "start projecting things onto [me] that [weren't] happening."
Meanwhile, the actor tells me that she wanted to date her boyfriends solely for who they were, rather than their abilities to buy things. "I wasn't looking for a guy who had money I was just like, 'Do you make me laugh? Are we, do we have fun? Do we have chemistry? Because I can pay for my own stuff," she says, sounding exactly like her Night School character.
Since Echikunwoke has been a working actor since she was young, she's been financially independent for a long time. Now, she says she feels "privileged" to act in a movie which showcases that women aren't just waiting around to be rescued, as so many other movies portray.
"It's usually the other way around, and it's the guy who's like saving the woman. [He's] plucking her and propping her up and making her life better financially," the actor says. "I thought it was fun to kind of flip that narrative on its head."
The gender roles that the actor rejects also dictate that women should be whipping up meals for their men, and Echikunwoke claims that she does not cook. When she wanted to learn, however, she had a teacher that most people could only dream of: Night School co-star Tiffany Haddish.
"I was just starting to get to know [Haddish] and she was so sweet, and I was telling her... that I don't really know how to cook things that my boyfriend likes to cook and she was like, 'You know what? I'mma teach you how to make fried chicken. You're gonna come over to my house, I'm gonna teach you how to do it, [in] a healthy way, and I'mma teach you all the things, and he's gonna love it!'"
She made the recipe once, but tells me, "I'm not Tiffany Haddish." And while that's true, Echikunwoke says that she's finding her footing as a comedic actor in ways she'd never anticipated.
"I don't necessarily think of myself as deliberately trying to be a comedian, but I do love doing comedy and I think it's a skill that I've definitely tried to cultivate," she says.
Echikunwoke certainly shows off her comedy chops in Night School, which arguably stars some of the greatest comedians of today. Now, she's on to star in a dark comedy called Apologia on Broadway, which she calls "a dream come true." The play follows a prominent art historian (Stockard Channing) whose past threatens her family as it resurfaces in a memoir written about her
Her next goal is to star in a Broadway musical, so she likely won't have any extra time to make you or anyone else fried chicken. But she'll definitely be able to foot the bill.