Nina Dobrev Threw A 'La La Land'-Themed Birthday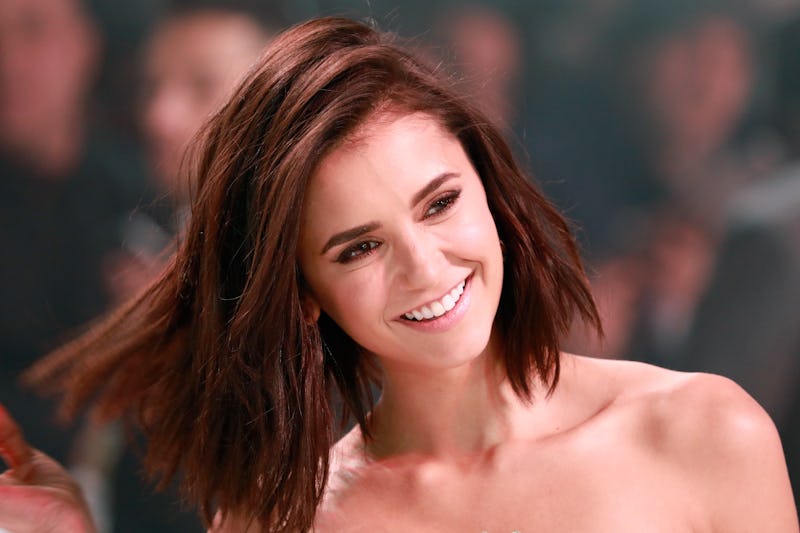 John Phillips/Getty Images Entertainment/Getty Images
Themed birthday parties are the best parties. On Saturday, Jan. 21, Nina Dobrev had a La La Land themed birthday for her 28th. Clearly, the 2016 film starring Emma Stone and Ryan Gosling left quite the impression on the former Vampire Diaries actor. No one just throws a birthday party with any old theme. It has to be the perfect one, and La La Land obviously won.
Dobrev didn't celebrate by herself, but it was a joint birthday party with her friend, according to People, professional polo player Omar Mangalji (who is also known has Ronnie Bacardi and might still be dating Freida Pinto). Based on a photo of the two blowing out their candles, they were "collectively turning 60" together. If you do the math, that makes Mangalji 32.
It was quite the party filled with celebrities, including Aaron Paul and his wife Lauren Parsekian, Scream Queens' Glen Powell, and brother and sister Julianne and Derek Hough, among others. After you scroll through and come to the last photo shared by Dobrev, you'll notice that she and Mangalji had a great time. And by "great time," I mean they drank way too much and woke up hungover. That's the only way to do it, right?
From here on out, if I need any party planning ideas, I'm going to Dobrev for help, because she definitely knows how to select the ultimate theme.
The Birthday Pair
Best. Birthday. Ever.
Pure Perfection
Dobrev and Powell make beautiful dance partners.
The Whole Gang
Do you have major FOMO yet?
What About Now?
This is how you do a celeb-filled birthday party.
The Houghs
Julianne and Derek were feeling the theme.
Feeling The Musical Era
Some of the best musicals are in black and white.
Kisses For The Camera
Yes, The Originals' Danielle Campbell is second in from the right.
The Cake
It's almost better than the real thing.
Another Cake
She basically is a unicorn.
The Morning After
As Dobrev wrote on Instagram, "It wasn't a successful party if you're not terribly hungover the next morning. You saw the before. This is the after. This photo of the birthday boy and birthday girl proves we definitely succeeded."
Admittedly, I have yet to see La La Land, but Dobrev's themed-party makes we want to even more now.