Yes, Even Noah Centineo Admits He's Mad At Peter Over Lara Jean's Scrunchie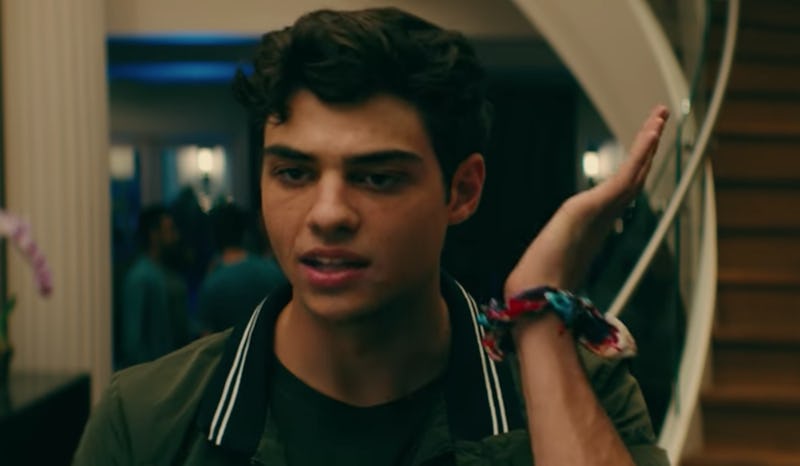 Netflix
Netflix's To All The Boys I've Loved Before is a movie fans can't stop thinking about, including a major mystery that's never been solved. Seriously, why didn't Peter Kavinsky get Lara Jean's scrunchie back? It's pretty much Peter's only character flaw, because, well, he's all-around great and a genuinely good guy. Thankfully, while sitting down with Bustle recently, Noah Centineo explains why Peter didn't take the scrunchie back from Gen, who grabbed it from him at a party he attended with Lara Jean. He also totally gets fans' frustration.
Centineo thinks Noah should've put his foot down with Gen. "He should have been like, no," he admits about the situation with Peter's ex-girlfriend and Lara Jean's former best friend. Regarding Peter's lack of attempt, the now hugely popular actor adds, "He's ridiculous for that."
While attending a party together at the beginning of their "fake relationship," Peter made Lara Jean take out her scrunchie, because in his words, "I like your hair down. You look pretty." (Yes, his character is swoon-worthy.) Lara Jean — or as Peter calls her, "Covey" — told him, "You can't lose it, OK? That's my favorite scrunchie." He replied, "Deal." Well, fans know what happened, he lost it... or rather let Gen take it.
In the bathroom at the party, Gen took the scrunchie and put it in her hair. Peter even watched Gen do it. Peter made a poor attempt at getting it back by saying, "Come on, give it back." She told him, "No, I'm gonna keep it for a while, K?" Then, he did nothing and let her walk away with it. Toward the end of the movie after the ski trip, Gen pulled out the scrunchie from her hair in front of Lara Jean to rub it in her face and lied that Peter "gave it to her."
It's definitely hard to relive. Yes, the scrunchie situation is very serious, but don't worry, Centineo is here to sort things out. Actually, his explanation makes complete sense, so hear him out.
He's looking for this support and this comfortability, and his ex-girlfriend, to him, was that.
"I totally understand why Peter allowed it," Centineo tells Bustle before diving into an explanation, "So Peter's dad left two summers earlier than the film takes place. He's looking for love. He's looking for this support and this comfortability, and his ex-girlfriend, to him, was that. It was this safe space, this comfortable space. He can't help but give into her. 'You look good, you always look good.' Like, of course. This feels like home. He's powerless.
OK, that does make sense and Peter's feelings are totally understandable. However, like Centineo admits further about his character, "That being said, he should grow the f*ck up and respect his current situation." Agreed. Centineo totally gets it.
Hopefully Centineo's explanation will give fans some peace of mind. They've had a lot of thoughts and concerns about the scrunchie debacle. Here are just a few of the reactions:
There you have it. And no, Lara Jean never got her scrunchie back from Gen at the end of the movie. It's sad to think about, but maybe if there's a TABILB sequel, she will. Centineo laughs and "100 percent" agrees with Bustle about a potential plot point: The sequel should be about returning the scrunchie to its rightful owner. So, keep those fingers crossed for another movie and Lara Jean being reunited with her favorite hair accessory.
Reporting by Bustle's Deputy Entertainment Editor, Allison Piwowarski.