Now's Your Chance To Help Noah Centineo's Next Netflix Movie Get A Sequel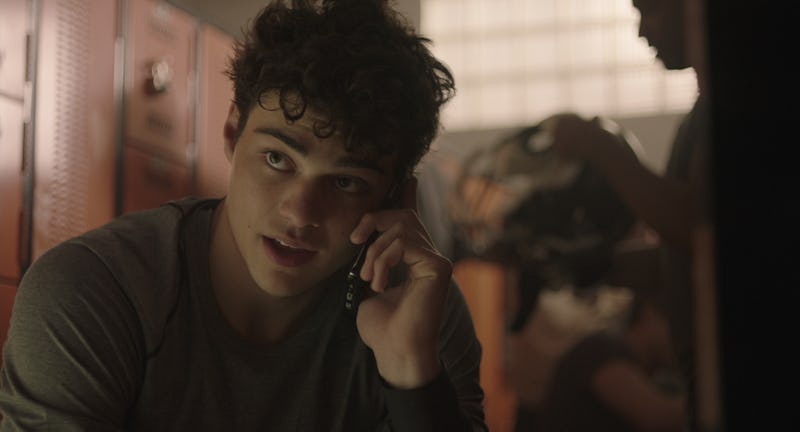 Netflix
If you're a fan of internet boyfriend Noah Centineo — and really, who isn't at this point? — there's some great news for you. Centineo's next movie for Netflix, Sierra Burgess Is a Loser, isn't even out yet, but fans are already asking for a sequel. And if you want to see more Centineo movies — again, who doesn't? — there's a pretty sneaky way fans might inspire Netflix to greenlight a new movie. Noah Centineo's Sierra Burgess character doesn't have a last name, but a fan-suggested surname could appear in the potential sequel.
That might sound a bit confusing, but it actually makes total sense. As Sierra's primary love interest in the upcoming movie, Centineo's character, Jamey, definitely deserves a last name. After all, Sierra has one, and it's in the title of the movie.
One fan noticed the discrepancy when trying to create a fan page for Jamey, Teen Vogue explained. (Yes, Centineo's widespread appeal is enough that fans are creating Twitter accounts for characters in movies that haven't even been released yet.) The fan asked Sierra Burgess screenwriter Lindsey Beer for more information about Jamey's name, not knowing they'd kick off a discussion about the movie getting a sequel.
When the fan reached out to Beer on Twitter, they simply asked what Jamey's last name was. But Beer revealed that in writing the upcoming movie, she never actually gave him one. That doesn't mean he'll be a one-name wonder forever, though. Beer challenged the original poster, as well as other fans of Centineo, to come up with a last name for his character. Beer wrote in her tweet,
I never gave Jamey a last name! But if fans vote on a last name, we will use the top voted name in the sequel if @netflix gives us one! Step one: vote. Step 2: harass @netflix for a sequel!
There's a huge incentive for the fans who come up with the winning name, too. Beer tweeted that the "top voted name" on Twitter will be used in the Sierra Burgess sequel. But that's provided, of course, that a sequel actually happens. (And that Beer signs on to write it, and that Centineo will star in it.)
Still, the opportunity to have something they come up with be associated with Centineo in any way should be enough incentive for fans to get creative with the last name predictions. After his turn as Peter Kavinsky in To All the Boys I've Loved Before, Centineo has won over the hearts of legions of fans.
Beer also responded to a fan who pointed out that Netflix hasn't announced whether or not there will be a To All the Boys I've Loved Before sequel. (If the streaming service did decide to make another movie featuring fan-favorite characters Lara Jean and Peter, they'd have a lot to work with; Jenny Han, who wrote the book the Netflix film is based on, also wrote two sequels to the novel.) The screenwriter joked that it's divine prophecy that To All the Boys will get a sequel.
Until Netflix announces whether or not either (or both) of the movies will, indeed, get sequels, there's no harm in suggesting your own ideas for Jamey's last name. Although, as much as fans would probably like to suggest Kavinsky, that one likely won't make the cut. After all, there can only be one Peter Kavinsky.