How Nobel Prize Winner Kazuo Ishiguro Wrote His Masterpiece In Just Four Weeks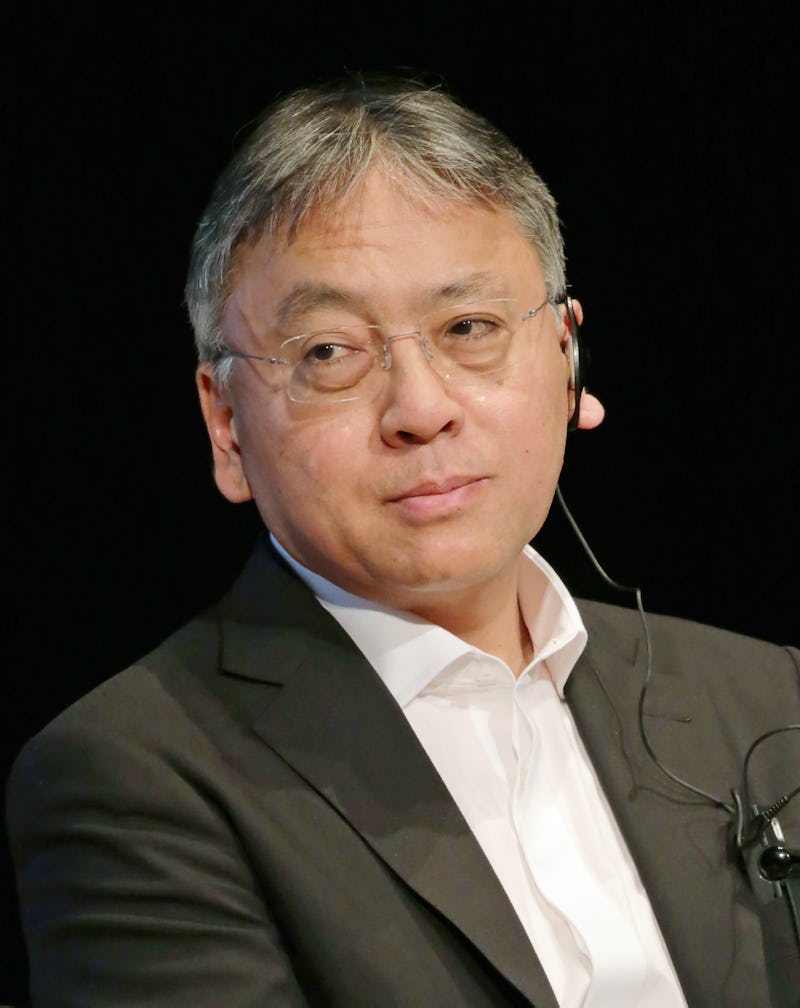 STR/AFP/Getty Images
Here's a piece of news that will leave readers and writers the world over feeling inspired (or, you know, possibly terrible): Kazuo Ishiguro wrote his 1989 novel, The Remains of the Day, in just four weeks. That's 30 days, people. Maybe 31, if we're being generous.
In light of British novelist Kazuo Ishiguro's just-announced Nobel Prize win, readers are revisiting some of his best work — and yep, it turns out that one of his most-celebrated novels, the Man Booker Prize-winning title The Remains of the Day, took the novelist, who was just 32-years-old at the time, only a single month to write. (The 1989 novel was then adapted into an Academy Award-nominated film of the same name, in 1993.) The Remains of the Day is an epistolary novel written in the form of diary belonging to an English butler named Stevens, and describes his unrequited love for a married former-coworker named Miss Kenton.
But in a 2014 article written for The Guardian, Ishiguro revealed the story behind The Remains of the Day — including the fun fact that the Tom Waits song "Ruby's Arms" served as inspiration for the novel. In the article, Ishiguro describes committing to what he called "the Crash" — essentially "crash" writing his novel, all day, every day, for exactly one month. He wrote:
"During the Crash, I would do nothing but write from 9am to 10.30pm, Monday through Saturday. I'd get one hour off for lunch and two for dinner. I'd not see, let alone answer, any mail, and would not go near the phone. No one would come to the house… I'd not only complete more work quantitatively, but reach a mental state in which my fictional world was more real to me than the actual one."
And that, folks, is (apparently) how it is done.
Adding to this feat of literary dedication and strength is the fact that Ishiguro wrote that first draft of The Remains of the Day freehand (it was the summer of 1987, after all.) He describes the "awful sentences" and "hideous dialogue" that went into that first draft, and also how — after just one week — his fictional world did actually begin to absorb his real one, if only for the time it took to write the novel itself.
The Remains of the Day by Kazuo Ishiguro, $11, Amazon
But in case the one-month award-winning novel seems a tad too much for the average writer to aspire to, Ishiguro also explains that he had conducted the vast majority of his research for the novel — reading books about British servants, politics, and foreign policy; studying guides to the English countryside from the 1930s, and more. He also describes two key inspirations: the Francis Ford Coppola film The Conversation, and Tom Waits' ballad "Ruby's Arms." I guess that goes to show even Nobel Prize Laureates can find inspiration in some unexpected places.