Nordstrom Will Drop Ivanka Trump's Brand — REPORT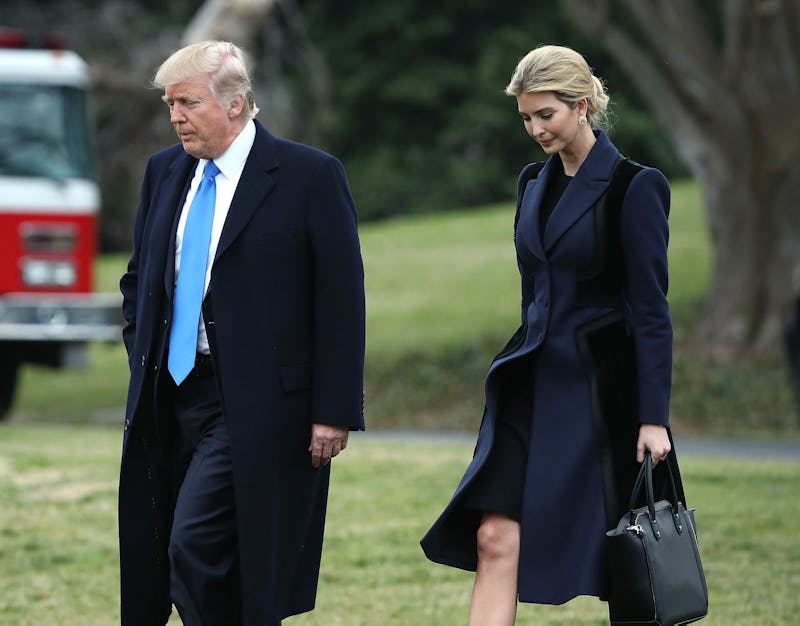 Mark Wilson/Getty Images News/Getty Images
After weeks of boycotting by anti-Trump group "Grab Your Wallet," Nordstrom will be dropping Ivanka Trump's brand — though, according to a company representative's statement, the drop has to do with poor sales rather than protesters.
"Each year we cut about 10% [of brands] and refresh our assortment with about the same amount," Nordstrom's representative's statement said, the Washington Post reported. "In this case, based on the brand's performance we've decided not to buy it for this season." On the other hand, an Ivanka Trump brand spokesman contested Nordstrom's statement about not having bought Ivanka Trump-branded clothes for the next season, the New York Times reported. According to CNN Money, the brand spokesman alleged Nordstrom had bought spring season products and is supposedly transferring some of the items for sale on its website into actual stores.
Nordstrom's statement did not relate the business' decision to politics, according to USA Today. The company had clarified its intent to not take a political position last year, tweeting, "We hope that offering a vendor's products isn't misunderstood as us taking a political position; we're not," on Nov. 2.
Shannon Coulter, a co-founder of Grab Your Wallet, sees Nordstrom's decision to not carry Ivanka Trump's brand as a "milestone for the campaign," the Washington Post reported. Coulter originally started the hashtag #GrabYourWallet originally after the leak of President Donald Trump's infamous Access Hollywood tape. Soon, the movement became a full-on campaign to motivate consumers to boycott retailers that sell Trump family products, according to the group's website.
As of Feb. 2, only four styles of Ivanka Trump-brand shoes, all heavily discounted, are available on the Nordstrom website. In early December, Nordstrom was selling 71 Ivanka Trump-branded items, Coulter told the Washington Post.
The eldest Trump daughter began her product lines with a 2007 jewelry collection launch. Her brand includes a wide range of items, including clothing, accessories, and fragrances. Ivanka's brand is still sold in many stores.
But just because a few stores have stopped selling Trump products, Grab Your Wallet won't be ending its campaign. "The people who voted against Donald Trump may have lost at the ballot box, but they can win at the cash register," Coulter told the Washington Post. And the people seem to be winning; so far, five companies targeted by the campaign have stopped selling Trump products, according to the group's website. However, of course, Nordstrom says it didn't drop Ivanka's brand because of protests. Instead, the move was reportedly based on sales and not politically motivated. We'll have to wait and see whether other business partners of the Trump family decide to stop selling Ivanka's line in the future.