There's A Very Real Possibility North Carolina Will Have An Election Do-Over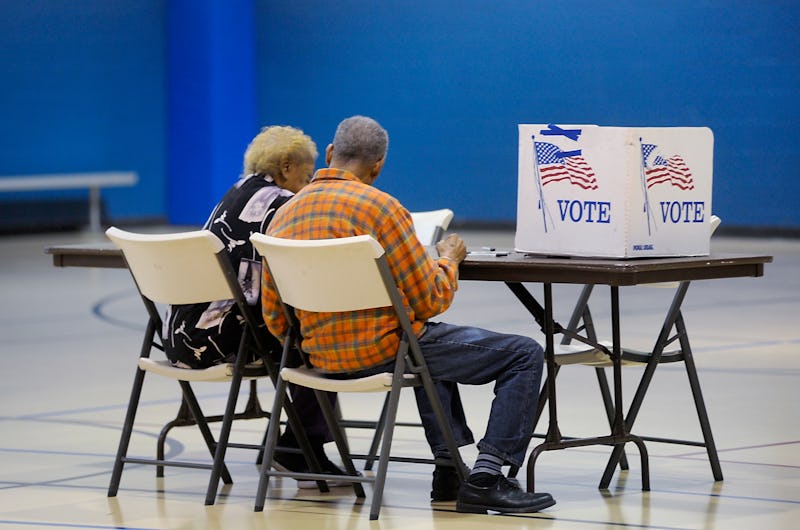 Sara D. Davis/Getty Images News/Getty Images
It's almost a month after North Carolina held its midterm elections, and its 9th Congressional District still does not have a certified winner for House representative. Instead, it's embroiled in a voter fraud scandal that could drag on for several more weeks. In fact, North Carolina's election fraud allegations could force the state into a rare position — having to completely redo the election.
Last week, the State Board of Elections and Ethics voted against certifying the race between Republican Pastor Mark Harris and Democratic businessman and veteran Dan McCready. At the time, Harris led with a 905 vote margin, in an election in which more than 280,000 people cast ballots.
Since the election, multiple reports of voter fraud have thrown Harris' narrow margin into question as the state investigates — most centering in the 9th District's Bladen County. According to reports from The Washington Post, a group of people allegedly encouraged some voters in the county to vote via absentee ballot, and then later came to collect the ballots, promising to submit them. Under North Carolina law, absentee ballots have to be either mailed in or dropped off by a close family member or guardian.
"I'm thinking, she's with, you know, the voting people," Jeneva Legions, a resident of Bladen County told The Post about a woman coming by to collect her still unsealed ballot. "So I'm thinking she's coming by to get my ballot." The Post found no record of Legions' ballot ever being counted.
As yet, the allegations of fraud have not been proven, but the numbers do present a startling picture of Bladen County's voting results. For one thing, the county received one of its highest ever numbers of absentee ballot requests, and at the same time, an abnormally high number of ballots not returned. Of those requests, 19 percent were from registered Republicans, 42 percent from registered Democrats, and 39 percent from independents.
But of the ballots returned, 61 percent were in favor of Harris, meaning he would have had to win every Republican and independent vote, as well as a number of Democrats. Bladen County was also the only county in which Harris won absentee voters.
The number of unreturned ballots from Bladen and neighboring Robeson Counties was also unusual. According to The Post, the ballots not returned came disproportionately from minority voters — 55 percent of absentee ballots from Native Americans and 36 percent from African Americans, compared to 18 percent from white voters.
As the investigation process moves forward, there are a few different ways everything could play out. The election board could find the allegations credible and demand a new election. Alternatively, the House of Representatives could refuse to accept Harris as the 9th District winner and the entire process would start again from the beginning, party primaries and everything.
"This is a very substantial question [and] it ought to be resolved before we seat any member," Maryland Rep. Steny Hoyer told The Hill. "If there is what appears to be a very substantial question on the integrity of the election, clearly we would oppose Mr. Harris's being seated until that is resolved."