North West Meeting Demi Lovato On 'KUWTK' Will Break Your Heart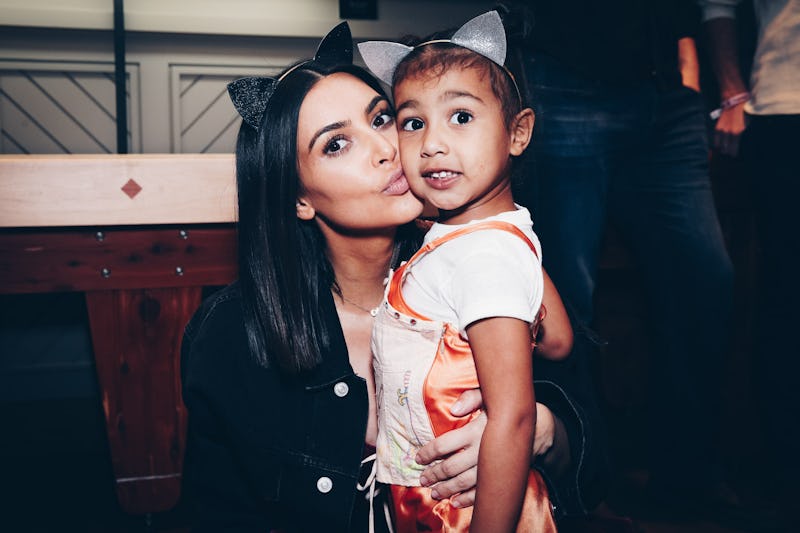 Handout/Getty Images Entertainment/Getty Images
On Sunday night's episode of Keeping Up With The Kardashians, viewers had a front row seat to an adorable meeting within unfortunate circumstances. Kim Kardashian's oldest child North West met Demi Lovato on KUWTK when they all attended the March for our Lives rally, and everything about the situation was emotional.
They meet in what appears to be some sort of staging area for speakers and celebs at the event, and as soon as they run into each other Kim and North insist that Lovato is North's favorite singer. Naturally, fans on Twitter were quick to relate, as well as to call out well-wishes for Lovato, who in the time since the rally has publicly endured a reported overdose, and entered into a rehabilitation facility. There's also a brief sighting of a rogue Miley Cyrus sighting — she also says hi to Lovato, Kim, and North — so the cameo count in this episode was high.
Fans were heartened by an appearance by Lovato, even though this was filmed long before her most recent struggles, and it was clear how eager they are for her comeback.
There's at least good news on that front — according to the Hollywood Reporter, Lovato's mother recently announced on an XM radio show that the singer had been sober for 90 days, which is a huge milestone.
Another reason that the encounter is a somber one is because of the setting in which it takes place. The March for our Lives rally took place after the tragic Stoneman Douglas High School shooting in Parkland, Florida, which claimed the lives of 17 people this past February. The rally, which took place on March 24, gathered survivors, everyday people, and celebrities together in an effort to raise awareness about gun violence, and advocate for change.
Kim says early in the episode that though her husband, Kanye West, has toyed with the idea of having more children, the recent violence in the world has made her wary of bringing more kids into it. "I've been kind of hestitant about having more kids because it literally keeps me up at night thinking about how my kids will survive in a world like this," she says, noting the Parkland shooting.
"As a parent in general, the thought of your child going to school and not coming home ... is definitely something that consumes me," she continues. These kinds of worries apparently move her to become involved in trying to make a change. She is seen on camera explaining to North what the people onstage during the rally are talking about, and telling her daughter that they're there to tell people it's not OK for people to die from gun violence.
Between the rally and the appearance by Lovato, these scenes in the episode of KUWTK are pretty heavy in a show that's usually filled to the brim with silly scenes. Especially in the wake of the Pittsburgh synagogue shooting that occurred just a day before the episode aired, the March for our Lives rally and the topic of gun violence were poignant subjects to revisit, to say the least.