North West & Penelope Disick's 'Moana' Party Is #BirthdayGoals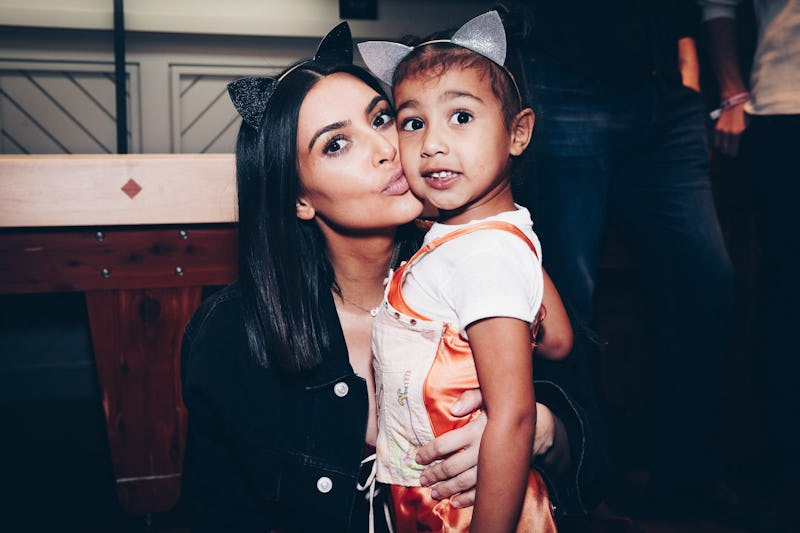 Handout/Getty Images Entertainment/Getty Images
You're never too young to find your first best friend, and hey, if that person is your cousin, all the better. As reported by People, North West and Penelope Disick celebrated their birthdays together. The cousins had a Moana party, and their family documented the festivities on their social media accounts. While this is technically the second b-day party for North this year — she celebrated her June 15 birthday at Chuck E. Cheese, because even celeb's kids can't resist a mouse with pizza — it's a bash the 4-year-old Disney fan probably won't forget anytime soon. (Penelope's official birthday is July 8, when she'll turn 5.)
After all, it's not everyday you get to dress up as Moana with your cousin, and be surrounded by characters from the movie. As usual, the Kardashians went all out for the birthday party. The girls and their guests were treated to a Maui stand-in, a massive luau, and a bouncy castle so impressive some of the grownups had to try it out. Penelope's mom Kourtney shared a picture of herself and two of her pals catching some bouncy house waves on Instagram. People reports the kids even got to enjoy a pig petting zoo.
The party looks undeniably awesome and it's likely to give you some serious birthday envy. But the best part is seeing how close these cousins and their family are. North and Penelope's best friend status has been well-documented in the past, and seeing them share their birthdays just takes their BFF-dom to a whole new level.
Not only did they have a joint party, they were also gifted sister Pomeranian puppies, according to Refinery29. And everyone knows there is no better gift than a puppy. These two cousins are clearly living their best lives, and they're doing it side-by-side. Go ahead and "aww," you know you want to.
Hopefully, North and Penelope will grow up to be as close as their moms. These two kids could totally star in the next generation of Keeping Up With The Kardashians. That's the future, though. For now, just enjoy how cute their Moana birthday party was and how bummed you are that your invite clearly got lost in the mail.
Raise your hand if you can't wait to see what kind of awesome party their moms come up with next year.