"November Is Coming" Tweets Show How Kavanaugh's Confirmation Has Galvanized Women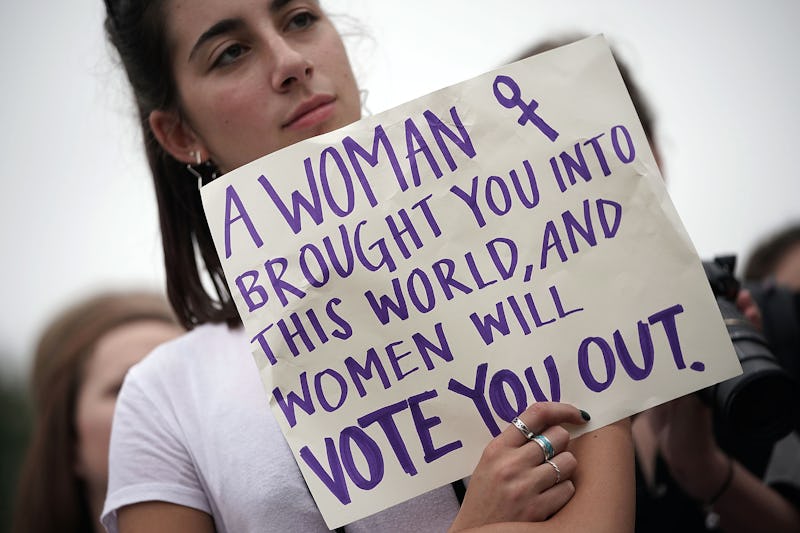 Alex Wong/Getty Images News/Getty Images
Brett Kavanaugh's confirmation to a lifetime appointment on the U.S. Supreme Court is fueling what women's groups and women's rights activists hope will be a growing wave of women that eventually comes crashing down on ballot boxes around the country on Nov. 6. And in the aftermath of the Senate's vote on Saturday, many women appear poised to take their frustration over Kavanaugh straight to the ballot box. In fact, a number of women, galvanized by Kavanaugh's confirmation, urged others to vote in tweets shared post-Senate vote.
"I think all roads lead to November," Women's March co-chair Tamika Mallory told The Hill earlier this week while at an anti-Kavanaugh protest in Washington D.C. "'November is coming' has been one of our campaign slogans since we've been engaged in the 'Cancel Kavanaugh' campaign." And although their efforts to block Kavanaugh's confirmation were ultimately unsuccessful, women's groups like the Women's March are now turning their attention to the midterms and 2020.
But it isn't just vocal women's rights activists and the organizers behind women's groups that are calling for women to show up and vote. While the Senate's decision to confirm Kavanaugh in a 50-48 vote Saturday came as a painful blow to some voters and sexual assault survivors, many women from all walks of life have since begun discussing how they can turn their anguish, anger, frustration, and disappointment into legislative change.
On Twitter specifically, a number of women emphasized the importance of showing up at the polls in November, urging others to feel motivated and energized rather than disheartened or disenfranchised.
"If they won't listen to our voices, then they'll listen to our vote," comedian and talk show host Ellen DeGeneres tweeted.
Other celebrities also took to social media to encourage fans to vote or, in actress Reese Witherspoon's case, coyly express their own eagerness for a November wave.
Others, like actress Alyssa Milano, were more vocal. "Enough being sad," Milano tweeted alongside information regarding the last day to register to vote in every state. "Let's get to work!"
But celebrities weren't the only ones fueling talk about a wave of women hitting the polls on Nov. 6. Unsurprisingly, a number of female legislators also stressed the importance of voting in the midterms.
"We won't always win when we fight. But if we don't put up a fight, we'll always lose," Sen. Elizabeth Warren wrote in a series of tweets urging supporters to turn their pain into power. "So please take some deep breaths – & get ready to fight back. Take your anger with you to the voting booth. Take it with you to knock on doors, make phone calls, & be a part of this grassroots army."
In urging her supporters to get out and vote, Sen. Patty Murray of Washington referenced the impact Clarence Thomas' Supreme Court confirmation had on women seeking legislative office in 1992.
"Let's make the Year of the Woman in 1992 look like a ripple compared to what happens this November," she tweeted.
According to Reuters, women are already playing "a key role" in the first midterm election of Trump's presidency by running for Congress in record numbers, meaning their high turnout at the ballot box could simply be the cherry on top.