*NSYNC Came Out With A Holiday Clothing Line & Twitter Feels Like It's The '90s Again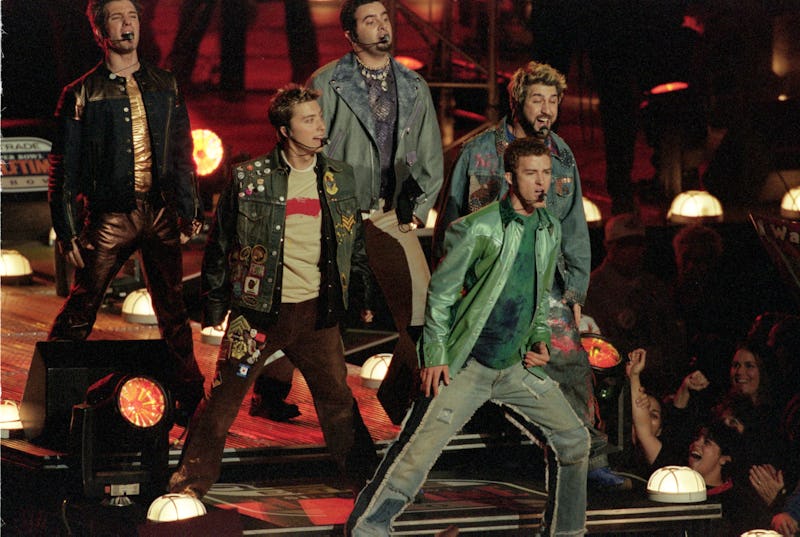 Jonathan Daniel/Getty Images Sport/Getty Images
If you long for the days of frosted tips and five part harmonies, *NSYNC has arrived to transport you back to the good ol' days. Grab on to your Gushers because the best '90s boy band (sorry, Backstreet Boys) just released a holiday clothing line. Brimming with nostalgia-filled items and gratuitous lyrical puns, this merch drop is more than just your standard poly-cotton blend. It's your ticket back to childhood.
And, yes, the line is already completely sold out and it's tearin' up our hearts.
The *NSYNC holiday merch line — which included a shirt that read "It's Gonna Be Sleigh" and a sweatshirt that boasted the iconic phrase "Santa Bye, Bye, Bye" — was released on Nov. 17 and sold out in less than 24 hours. Forget selling out arenas. Selling out kitchy '90s holiday merch is the true mark of stardom. So far, there's no word on a restock of the holiday drop, though the *NSYNC's clothing releases are expected to keep coming.
Sure, *NSYNC hasn't technically been a band since 2002. After all, the boys had better things to do than synchronize their dance moves. Justin Timberlake shaved off his Ramen noodle-like curls for a shorter 'do. Lance Bass tried his hand at space exploration. And Joe Fatone was everyone's favorite obnoxious cousin in My Big Fat Greek Wedding. But now the five boys are back with the sweet, sweet gift of new merch — just not new music or anything too wild.
Bye Bye Bye Santa Crewneck, $44.95, nsync.com
While many fans wait for a restock of the holiday line, some lucky *NSYNC lovers already got their hands on the first pressing of the apparel. And those super fans are taking to Twitter to talk about how the throwback merch has transformative properties. Mainly, the boy band's goods have made '90s kids feel like their back in their '90s prime.
For many, the new clothing seems better than successfully keeping your Tamagotchi alive for one week straight. And that's saying something.
Ah, back to the days of jelly shoes, snap bracelets, and *NSYNC on cassette. Now that was the life.
Well, I guess this is growing up. (Oops, wrong '90s band.)
Show me the lie. After all, one of the sweatshirts was a steep $80. Ouch.
This is the only type of e-mail spam '90s kids will accept. JC can crowd my inbox anytime.
Now that the internet is an actual thing, there's no need to brave the malls for merch. And now that you are actually an adult, we can spend our own dollars on three *NSYNC sweaters without parental approval.
Who can relate? All the feels.
No one would have thought your 30s would look like this. But are you really upset with how it turned out? No. The correct answer is no.
It looks like '90s kids have their Christmas lists officially made with this holiday clothing line. Let's just hope a restock is in the near future so Santa and his elves can pick up that $80 No Strings Attached sweater ...
While Justin, JC, Lance, Chris, and Joey still might be doing their own damn things solo, you have to admit cheeky clothing is a nice consolation for almost 15 years of song silence. Fans can only hope the holiday merch gets a second pressing soon or that a shiny new drop happens to help usher in the new year.
For now, keep refreshing your browser in hopes of more items hitting the *NSYNC site. And, when new merch does come, you can say bye, bye, bye to your money.