This Black-Owned Brand Just Launched Plus Size Nude Bras For Women Of Color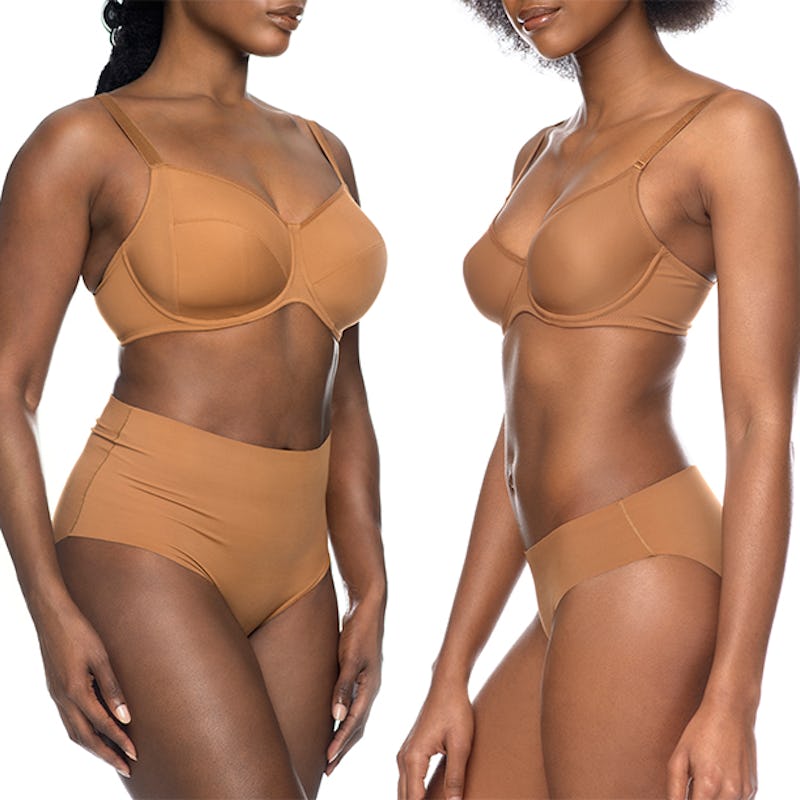 Thanks to the brand that realized every woman isn't the same damn shade of peachy beige, nude bras designed for women of color are a thing — amen for that. As if Nubian Skin couldn't get any better, the brand just launched extended nude bra sizes that make their garments fit for curvy queens.
A body positive lingerie brand that celebrates beauties with tan to deep complexions, Nubian Skin did what underwear retailers should have done a long time ago. Their flesh-toned offerings are so spot on for women of color that they've even caught the attention of the queen bee (yes we're talking Beyoncé) who wore the brand underneath her Formation Tour wardrobe. So, Nubian Skin is obviously a very. big. deal.
The brand's repertoire even includes a curve range of plus size tights, making them the ultimate all-inclusive brand. Beefing up their signature collection of cinnamon, mocha, and caramel colored bras was the natural next step, transforming their nude lingerie selection into a line suitable for a wider range of customers.
Available now on Nubian Skin's website, the new additions are proof that founder Ade Hassan, is sticking to her mission of providing options for women of all shapes, sizes, and ethnicities.
"We are very excited to be introducing this new range of bras and offering our customers more options in sizes," Hassan said via a press release. "We've been paying close attention to our customer's needs. It is very important to be able to offer all women of color our products, and we're hoping that expanding our size range will take us one step closer."
The Naked Collection bras have definitely made the retailer all the more inclusive. The hosiery now comes in cup sizes ranging from DDD to G, accommodating a much fuller bust than before.
While the brand's standard B-DD cups feature an unlined, underwired design, the plus sizes have been crafted with a three-part cup that offers more comfort and support for bustier babes. Band widths extend to a UK 40G, which is equivalent to the US version of the same size, according to a converter.
Although their makeup may differ slightly from the original Naked Collection bras, the new sizes will be available in the same four flesh-toned hues that are Nubian Skin staples.
The "Berry" T-shirt bra is ideal for dark to deep skin tones. A non-padded bra that lifts the breasts while side panels centers them, it's a winner that'll keep your "girls" in place all day.
Medium to dark skinned WOC can look to the "Cinnamon" bra to find their ideal nude. It was truly made with tan skin in mind.
The "Café au Lait" selections are the lightest shade offerings from Nubian Skin. Pair it underneath your favorite tee or dress for a seamless look.
Calling all golden goddesses. The "Caramel" bra, created with medium-light skin tones in mind, will never let you down. It's literally perfection for brown skin, even pairing well with darker complexions, too.
If it wasn't clear before, Nubian Skin is carrying our their "Empowering Women. Embracing Our Color" philosophy to the fullest. It was one thing to create lingerie in varying shades of brown, marketing "true" nudes. To hit harder with size extensions is on an entirely different and inspiring level.
The new launch tells consumers that Nubian Skin is committed to making every woman of color feel included, and it really can't get any more magical than that. The brand isn't just redefining the color "nude." It's encouraging every woman to feel sexy in her own skin.
With lingerie tailored specifically to a woman's size and tone, it'd be pretty hard not to feel like a total bombshell in the Naked Collection.