This Mother-Daughter Team Want To Create Inclusive Makeup For Every Generation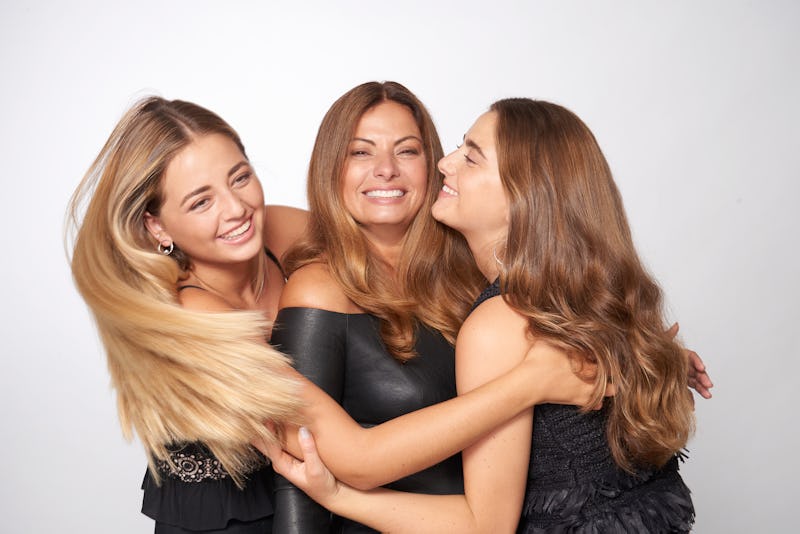 Courtesy of NudeStix
It can be difficult to get the people in a family to agree on anything, much less decide to go into business together. But Jenny, Taylor, and Ally Frankel are no normal family. The mother-daughter trio founders of cult makeup brand NUDESTIX have managed to strike the ultimate work-life balance by creating a line of products that they all believe in, and moving the brand forward with their collective vision.
"It's like the two of them are reading my mind sometimes," marvels Ally, speaking to Bustle on the phone. "Any [idea] I think of, one of them has already brought it up."
Jenny adds, "[Taylor and Ally] have always had a strong opinion of what they want from a [beauty] brand, and I've always wanted to empower them to speak their minds. [NUDESTIX] is as much their vision — if not more — as it is mine."
The Frankels represent three different generations of beauty consumers: Jenny, the matriarch, is from Generation X, while Taylor, the eldest sister, is a millennial. Ally, the youngest, is on the cusp of Generation Z. Together, they have a well-rounded vision of what a beauty brand needs in order to be relatable to the most consumers possible.
"For a while, we were only seeing makeup brands that concentrated on the artistry of makeup: We saw a lot of color, a lot of creativity," says Taylor. "But that's not what every girl needs [in an everyday makeup routine]." She continues, "Through our travels to different parts of the world, we found that there is a NUDESTIX girl everywhere. Every girl can be a NUDESTIX girl."
Jenny is a cosmetic chemical engineer and beauty industry veteran, as well as one of the original founders of Cover FX, so her expertise was essential in making NUDESTIX a reality. A true product of collaboration, the concept for the brand came after Jenny noticed that working women — both that she knew personally and were Cover FX customers — were getting frustrated with the impracticality of conventional products, with liquids having a tendency to spill and the need for a variety of tools to get a proper application. Taylor and Ally, both teenagers at the time of conception, also thought a brand like this could be applicable to a younger consumer: They wanted to create products that were meant to be buildable, allowing a more natural look for daytime and the option for more coverage after school or work.
"We were looking to create something relatable," says Taylor. "We wanted [our products] to be functional, and effortless, and easy to use."
The brand features products for the face, eyes, and lips, all packaged in stick form. The formulas range from sheer gels to intense mattes, all made to easily layer for an effortless look. Though the concept of stick makeup isn't revolutionary, the Frankels envisioned NUDESTIX as the go-to brand for the makeup lover on-the-go. Their products were engineered with easy application and portability in mind: They all either have their own applicator built into the unit (their All Over Face Color sticks are dual ended with a matte cream on one side and a buffing brush on the other) or, like their Magnetic Matte Eye Colors, are meant to be blended out with your fingers. Even their packaging forwards their vision for beauty on-the-go, with each product coming in its own matte black aluminum tin that can carry up to four of their standard pencils and has a mirror inside, making it ideal for touch-ups throughout the day.
One crucial mission of their brand is to embrace the diversity of skin tones in modern beauty consumers. Just take a look at their Instagram: They regularly showcase female models of different skin tones and body types. Their products are regular favorites of women on the red carpet, including Chrissy Teigen, Olivia Munn, Justine Skye, and Camila Morrone.
Taylor explains, "Our products really resonate [with a lot of people] because, if you look at the shade range for any of our [product lines], even though everything is in a neutral color palette, we provide a lot of [hues] for a lot of different people, whether you're fair, medium, or deep." She isn't kidding: Positive reviews on their site, as well as on Sephora.com and Ulta.com, boast a wide array of customers, from the "fair to light skinned humans" to people who "swear by" their Deep 7 and Deep 8 Concealer Pencils.
"I think this is also why we've been able to go global in such a short period of time: we were seeing a demand for neutrals in all skin tones," she continues. "We want to speak to [the modern girl] in the most authentic way. [NUDESTIX] resonates with people because it's real." In other words, the ultimate goal is to appeal to help customers feel like the most authentic version of themselves. Outside of making their products universal to "everyone's nude," in their words, they also wanted to ensure that people of all genders could use their products. They thoughtfully curated their line to be applicable to anyone, from the packaging to the formulas to the shade range.
"We were [very intentional] with our packaging, because we wanted it to be gender-neutral. With the matte black and the pencils, there isn't anything too pink or fluffy or overly girly," says Taylor.
It's not just about inclusion, either. It's about catering to different skin types. Jenny explains, "We also wanted to provide diversity for different skin types. Ally has oily skin and breaks out really easily, while Taylor is really dry and her skin is somewhat reactive, and I have mature skin. We are actually our first customers. We have striven to create products that will work well with all of us, so we can make sure that it will also work with [everyone else]."
For them, working together is a dream come true, and they feel like the rest of the beauty community feels their commitment to their brand.
"People in the industry have been very supportive of our vision," says Jenny. "They love our mother-daughter story. And even though people are sometimes taken aback by how young the girls are, they're inspired by the passion they bring."
Jenny's admiration and professional respect for her daughters is only matched by her daughters' reciprocated respect for her and each other.
"What's amazing about working as a family is that I am constantly inspired by my daughters," she gushes. "We have a very special relationship because, while there's definitely an age gap between us, we listen to each other and really hear each other when we come to the table with new ideas. We don't step on each other's toes: we encourage each other to flourish and we support each other."
This sentiment rings true for all three of them, especially Taylor, who adds that because each of them have different areas of expertise, they're able to thrive and grow within their roles in the company.
Ally concludes, "It would be so much more lonely if any of us were doing this by ourselves. [NUDESTIX] has allowed us to share so many special experiences together, it's really been an amazing opportunity."