Obama Reportedly Rips Trump Behind Closed Doors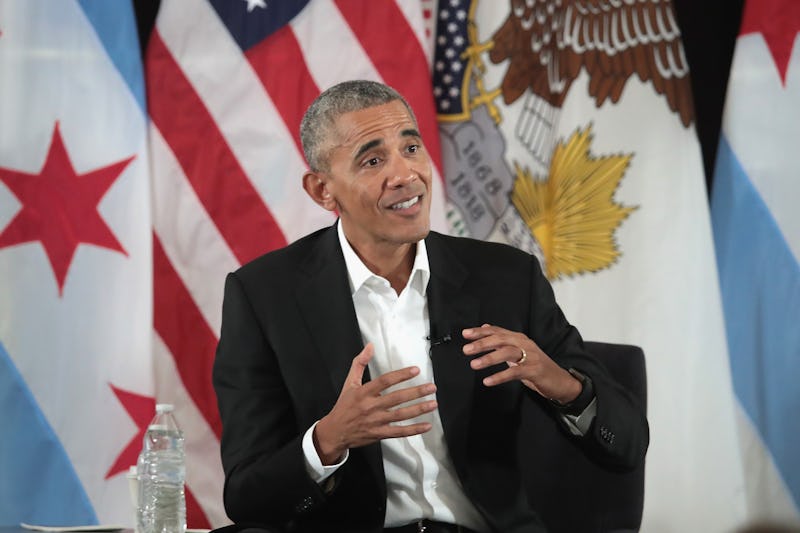 Scott Olson/Getty Images News/Getty Images
It's been about four months since former president Barack Obama boarded the Marine One helicopter and departed from Capitol Hill, marking the end of one presidential era, and the beginning of an altogether different one. Since then, despite some public appearances and events here and there, Obama has largely kept out of the spotlight, leaving people to wonder how he feels about what's going on. Well, Obama apparently gave his candid assessment of the new commander-in-chief to a friend weeks after the election: Obama reportedly said Trump is "just a bullsh*tter," and specifically cited the president's sudden about-face towards him after years of relentless verbal abuse.
That's according to People, which attributed the quote to friends of Obama's who spoke to him after preparatory meetings and conversations with President-elect Trump in November. If you remember, in the immediate aftermath of their meetings, Trump suddenly started saying some very positive things about Obama, calling him a "good man" worthy of "respect."
This was a sharp contrast from how Trump used to talk about Obama, including advancing a racist conspiracy theory accusing him of having been secretly born in Kenya, and thus was ineligible to serve as president. He also called for the release of Obama's college transcripts, implying heavily that he wasn't smart or accomplished enough to have gotten into Harvard Law School.
That was the backdrop to Obama reportedly calling Trump a bullsh*tter, and it's frankly hard not to agree. On top of the birtherism, Trump also routinely hurled insults at Obama on Twitter prior to winning the presidency, frequently calling him "stupid," "arrogant," and "an incompetent fool." To go from that to smiles and peacemaking in the blink of an eye is exactly the sort of pivot you'd expect out of, well, exactly what Obama called him. According to one of People's sources, Obama's perception of Trump "hasn't gotten any better" since.
For what it's worth, Trump's rosy tone towards Obama didn't last long. Following his inauguration in January, it quickly became clear that Trump believes the former president engaged in concerted efforts to bring him down, beyond merely political campaigning. This is best represented by his baseless claim — which has been denied by virtually everyone in a position to know — that Obama wiretapped Trump Tower prior to the election. Obama's reaction to the allegation, according to reports, was simply to roll his eyes.
Which, of course, is exactly what you do when a bullsh*tter starts bullsh*tting. If you're curious to read People's full profile of the Obamas, you're in luck, because you won't have to wait much longer ― it'll be in the magazine's May 29 issue.