Obama Responds To Trump's DACA Decision & Calls "Basic Decency" Into Question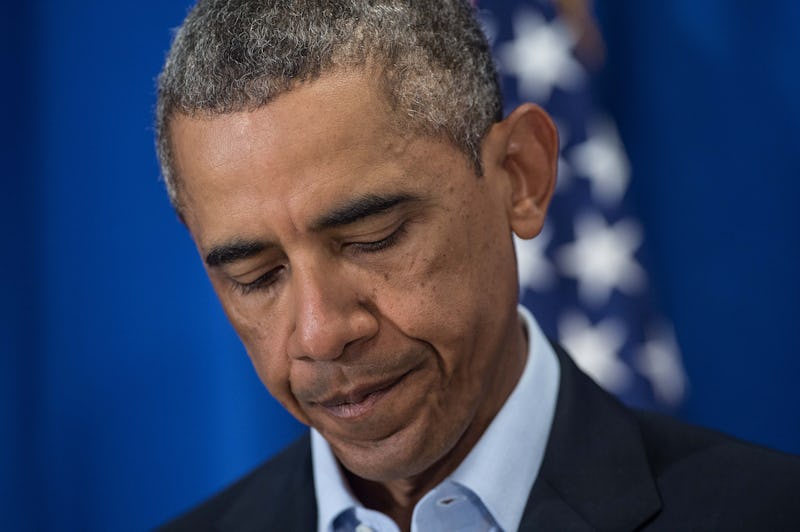 NICHOLAS KAMM/AFP/Getty Images
Hours after Attorney General Jeff Sessions announced that the administration would "rescind" Deferred Action for Childhood Arrivals (DACA), President Obama, who implemented the program via executive order, spoke out in defense of DREAMers. In a lengthy statement on Facebook, Obama called Trump's decision to end DACA a "moral question," one that is "contrary to our spirit, and to common sense."
"To target these young people is wrong — because they have done nothing wrong," Obama wrote in his Facebook post about the Trump administration's announcement. "It is self-defeating — because they want to start new businesses, staff our labs, serve in our military, and otherwise contribute to the country we love. And it is cruel."
Obama created DACA in 2012 after over a decade of stalled efforts to reform immigration in Congress. The program confers certain legal rights to undocumented immigrants who meet certain criteria, primarily that they arrived in the United States before the age of 16. These Americans, nicknamed DREAMers after the DREAM Act that never passed, lived in the country for most of their lives without ever being able to legally buy a car, get a job, or attend secondary education, all while existing under constant fear of deportation. When Obama signed the executive order, nearly 800,000 undocumented immigrants were able to live openly in American society for the first time.
There's still a chance now for Congress to save DACA, but it may not look like the same Obama-era program after a treatment by the GOP. According to Politico, which first published the report about Trump's decision to end DACA on Sunday, Sessions convinced Trump to rescind the program on the basis of executive overreach. Trump is reportedly giving Congress six months to come up with legislation replacing DACA before enforcing deportations for DREAMers, but it's unclear what tenets of the program might remain. 64 percent of Americans support DACA overall, according to a recent NBC poll, so Congressional Republicans have strong public opinion to fight against. However, that hasn't always been a strong indicator of the GOP's agenda this year.
In many ways, Obama is still the leader of the Democratic Party. His response to the Trump administration's decision could mobilize a lot of liberal supporters to fight for DACA. The former president certainly didn't morally equivocate in his Facebook post (a benefit of transitioning out of the Oval Office), so his strong statement in support of the program could be the push some people need to understand the importance of protecting DREAMers.