Obama's Photographer Tracked Down The Perfect Song For Putin & Trump's First Meeting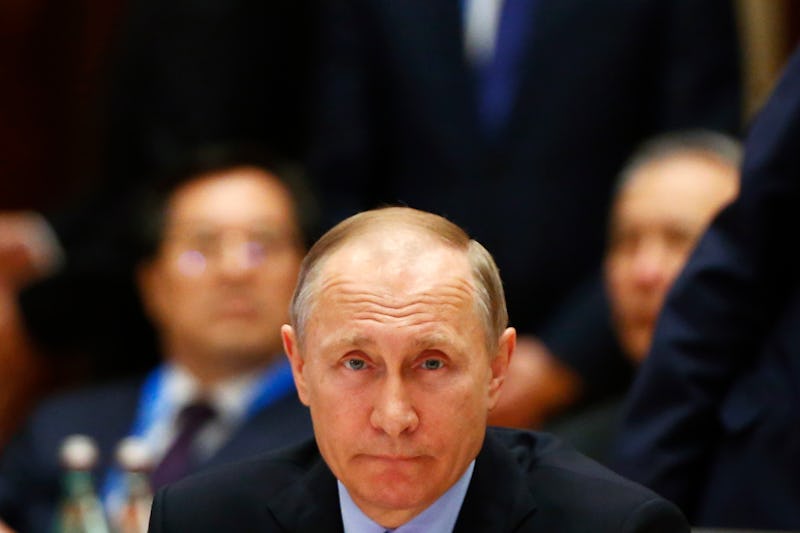 Pool/Getty Images News/Getty Images
Donald Trump and Vladimir Putin will officially meet for the first time on Friday at the G20 Summit in Hamburg, Germany. While people wonder how the meeting between the two powerful leaders will go, a little cheeky commentary took place on the sidelines. On Thursday, Pete Souza, Barack Obama's photographer, posted a photo of Putin on Instagram that quoted lyrics from the British bad The Who: "No one knows what it's like; To be hated; To be fated; To telling only lies..."
Souza obviously has an eye for things or he would not have been designated as the former president's photographer. He took photos of Putin during Obama's presidency, so he is no stranger to being around the Russian leader.
On Thursday, one day before the Hamburg meeting between Putin and Trump, Souza shared a photo of Putin looking right in the direction of Obama with a seemingly forlornly expression. Perhaps he was listening to Obama, whose face is not visible in the photo, or maybe he was looking at someone else. Souza wrote in the photo caption: "Happened to hear this song today in Italy. 'Behind Blue Eyes' by Pete Townshend and performed by The Who," followed by the song lyrics.
This is not the first time that Souza has decided to use the art of subtlety to leave his personal commentary on a political event or figure. The former White House photographer posted a series of photos shortly after Trump tweeted intense remarks about TV host Mika Brzezinski and her physical appearance. The photo series ruminated on the main theme of respect for women and showcased photos of Obama meeting with different female members of his administration, soldiers, and White House employees.
Souza's sense of timing for sharing his photos often leaves abundant room for interpretation. The relevance of his images coincide with political events taking around him. For instance, Souza shared images of Obama convening on national security while remaining mindful of on-site security and privacy. This appeared to be in sharp contrast with Trump's method of holding national security meetings on a patio of the Mar-a-Lago hotel in Florida.
Souza also shared a photo of Obama when the Affordable Care Act passed in 2010. Again, Souza's timing seemed to neatly coincide with the Republican party's failure to repeal and replace Obamacare in March 2017.
There is no knowing at this moment whether Souza was making a direct and explicit reference to Trump's meeting with Putin on Friday. But as mentioned before, the photographer's timing and image selection together offer his followers a great chance to reflect upon the world around them.