Obama's Administration Is Being Turned Into A Comedy Film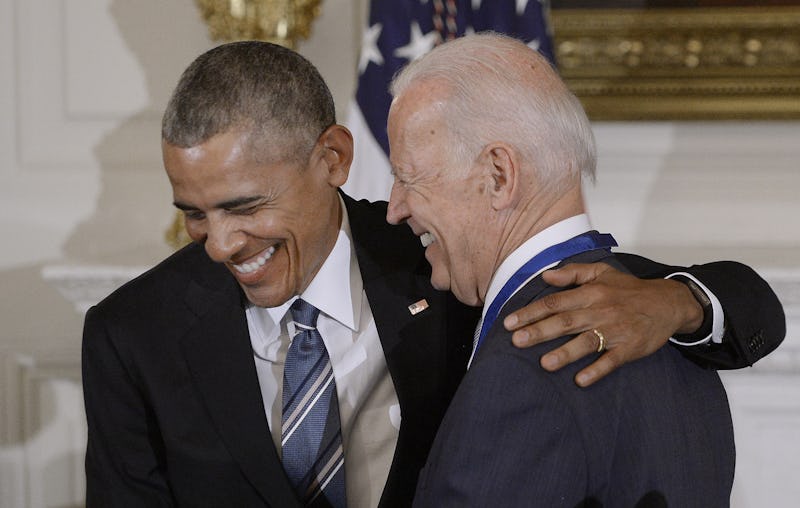 Pool/Getty Images News/Getty Images
It looks like Barack Obama will be returning to the White House, but in a rather unexpected way. Rather than fulfilling our wildest dreams and just taking the presidential reins IRL, the inner workings of the Obama administration will reportedly become a workplace comedy. According to an exclusive report from The Hollywood Reporter, this film will be adapted from the yet-to-be-released book From The Corner Of The Oval. It's incredibly promising for the book to be worthy of scoring a film deal, as Universal Pictures has optioned it ahead of the book's 2018 release date.
Again, from THR's exclusive report, From The Corner Of The Oval "doesn't promise a revealing look inside the inner workings of the Obama administration, but focuses more on the White House as a workplace and on the relationships between the staffers." This news keeps getting better and better. So apparently, what will soon be in the works for the big screen is something akin to a West Wing-meets-The Office-meets-The Thick of It-style comedy, which I am low-key all about. The only way this proposed film could get any better is if they actually got Obama to play himself in the film. But alas, I dream.
That said, even if the film doesn't snag Obama for what would be his major acting debut, it will surely still be an amazing film, thanks to its focus on a female protagonist. The Hollywood Reporter also tantalizingly revealed the complete synopsis of From The Corner Of The Oval — the book version:
"[The book] follows a young woman living in Washington D.C. who is at an all-time career low when, through a twist of fate, she goes from serving cocktails to lobbyists to being hired as a stenographer in the Obama White House. The ultimate fish out of water, she stumbles into an elite world and finds herself navigating a series of misadventures in life and love."
Doesn't it sound like there may be a dash of The Devil Wears Prada in there too? This is too much. All I know right now is that if I can't have Obama in this film (but Obama, if you're reading this, please consider it?), I will take a comic female protagonist through whom we see the weirdness and the beauty of working for the Obama administration.
This film barely exists, yet it sounds amazing. My heart is so full of emotions at the thought of it that I may cry. While I yearn for the halcyon days of the Obama administration, I'm happy to see someone is keeping their wits about them in Hollywood by choosing to keep the good old Obama days alive.