Vacation Obama Is Exactly What You Need To See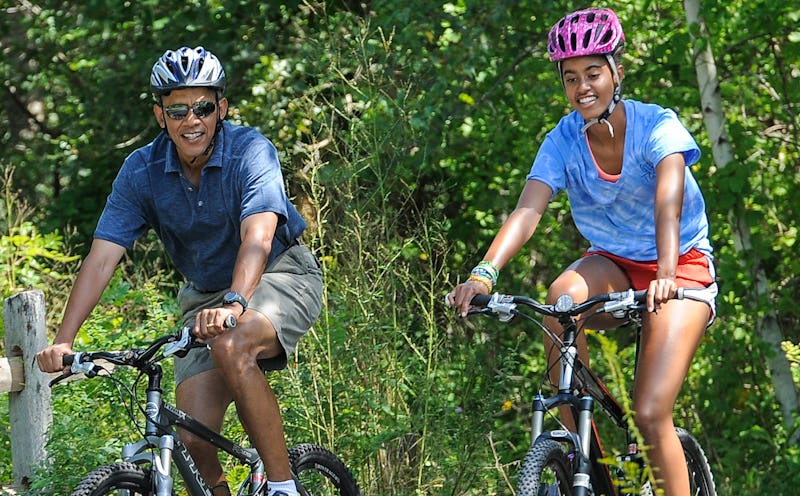 Pool/Getty Images News/Getty Images
Backwards hat? Check. Loosely-fitting sports T-shirt? Check. Shades? Check. With the exception of Richard Branson hanging around, former president Barack Obama's vacation vibe is basically your dad's on your last family trip. In the time since they climbed into a helicopter after Trump's inauguration two weeks ago (and left America to deal with this hot mess of its own making), the Obamas have been vacationing, first in Palm Springs, California, and now in the British Virgin Islands. I never thought I'd see Super Chill Obama again, but he's back, people! He's back!
TMZ snapped 'Bama chilling out with Richard Branson in the sun this week, likely drinking instead of thinking, and trying to focus on anything that wasn't Donald J. Trump or Obamacare. The ex-president and Michelle were caught on camera walking casually along the beach, with the president offering a relaxed wave to the camera. Super Chill Obama wears flip-flops, a loose-fitting all-black outfit, and the aforementioned Backwards Hat.
Michelle, meanwhile, wears a fedora and denim shorts, and has her hair in braids. Michelle looks happy, and it's not hard to guess why. Michelle gets to hang out with Super Chill Obama, on the beach, in the sun, with cocktails, while America tries to deal with the colossal mess it's made. (I want to hang out with Super Chill Obama on the beach, in the sun, with cocktails. I'd settle for having President Obama back doing his thing on American soil. Please help us, Barack.)
Super Chill Obama And Richard Branson
Super Chill Obama Rocking The Backwards Hat
Super Chill Obama And Michelle
Barack did, however, take some time out of his vacation to sharply criticize Trump's refugee ban. In a statement this week, his spokesperson said:
[Obama] is heartened by the level of engagement taking place in communities around the country. In his final official speech as President, he spoke about the important role of citizen and how all Americans have a responsibility to be guardians of our democracy — not just during an election but every day. Citizens exercising their Constitutional right to assemble, organize, and have their voices heard by their elected officials is exactly what we expect to see when American values are at stake.
I think Free To Say Whatever He Damn Well Pleases Obama might be my favorite Obama yet.
So. After all these years, the Obamas are finally getting to relax, and they look happy. So we can all relax a smidge. Right?