OkCupid's New Profile Badge Shows Potential Matches You Support Everyone's Right To Love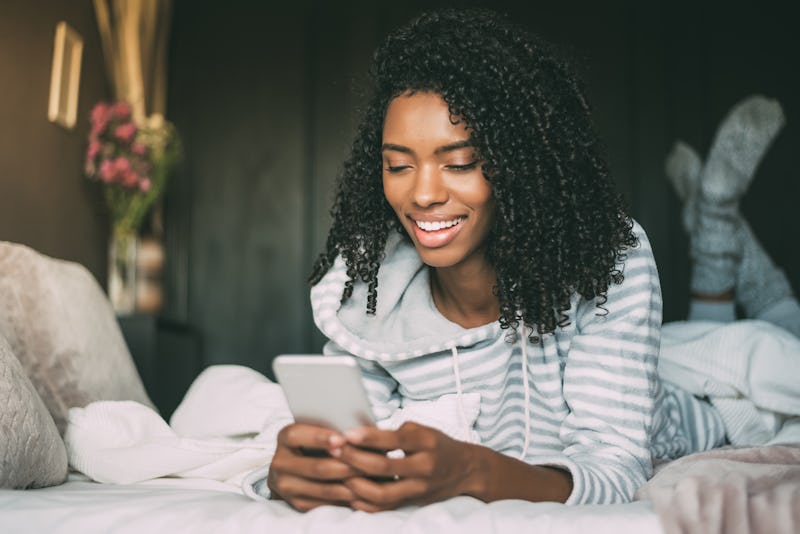 DavidPrado/Fotolia
We've moved way past the days when politics was thought to be a taboo subject in the world of dating. Many of us now choose to bring it up, right from the very beginning, because we're realizing that talking about politics on a date can be a great thing — and it can even be a dealbreaker.
That's why dating site OkCupid is making it even easier to showcase your support to one very important non-profit — the American Civil Liberties Union (ACLU). The ACLU does invaluable work protecting the civil rights of groups who need it most — like working to halt Trump's Muslim travel ban and transgender military ban. And on June 6, OkCupid is introducing an ACLU badge that lets daters show their support for the organization, with a #RightToLove badge appearing right on their profile, under their name. If you support the ACLU and think everyone has the right to love who they love, then you can share that with potential matches. For every person who gets an ACLU badge, OkCupid will donate a $1 to the ACLU — for a total donation of up to $50,000. You can also tweet your support with #RightToLove.
OkCupid says that its algorithm will be working to help match more ACLU supporters with each other. "We partnered with the ACLU because they stand for so many amazing things — at the core, what they stand for is everyone's basic human rights," Melissa Hobley, CMO of OkCupid, tells Bustle. "We know that supporting social issues is something our users care about, and look for in a match, and we wanted to make it easier for them to connect on the things they care about, such as issues the ACLU champions. The ACLU badge is designed to put the substance at the forefront of users' profiles because doesn't a person's support for the ACLU say so much more about them than their height or that they can take a decent selfie?"
It's not only a way to help good causes, it's a shortcut for many daters who want to make sure their values are aligned with the people they're dating.
If politics and your beliefs are important to you, there's no point in getting weeks into chatting with someone, only to find out that you disagree fundamentally on all of the issues you hold dear. And, more and more, OkCupid is seeing that political identities are an integral part of the dating process. "Over the past few years we have seen a cultural shift in the role politics have played in dating," Hobley says. "Today, for young women in particular, politics is a huge dealbreaker!" And, interestingly, we've become more tolerant of other things they once weren't.
"We are seeing fewer and fewer people filtering on things like height, or astrological sign but instead on things like whether or not they voted for Trump or believe in climate change. For instance, the percent of users mentioning political words in their profile increased over 1,000 percent from 2015 to 2017. Not only has it increased in profiles but its also proving to lead to more successful matches. We have seen more successful matches among members who talk about politics in their profiles than those who don't." It's really fascinating — and a good reason to own your politics.
And when comes to inclusion, OkCupid lets you choose between 22 gender identifies and 13 orientations — aiming to make the app and the site as inclusive as possible. "At OkCupid we believe that love does not exist in a bubble and that it comes in all forms," Hobley says. "We stand for everyone's right to love whomever they want to love regardless of their race, ethnicity, gender, or sexual orientation, etc. We're proud that OkCupid set the standard of inclusivity by being the first dating app to offer a non-binary gender experience and today we offer users 22 gender options and 13 sexual orientations. When it comes to dating, it's very important to have a safe and welcoming community."
It's good to see a dating site supporting an incredible organization — and it's even better to see them putting their money where their mouth is.