Old Navy's Fourth Of July Sale Is Back & Half Of The Store Is Less Than $10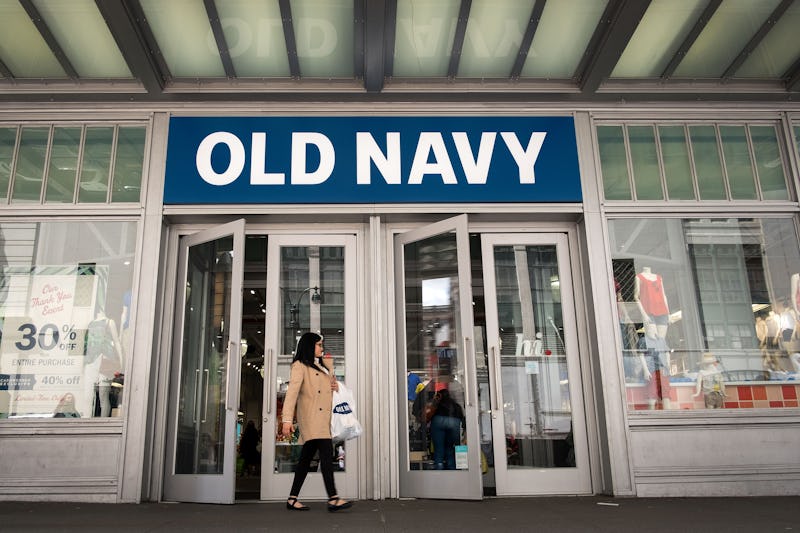 Drew Angerer/Getty Images News/Getty Images
Yet another week of unbelievable deals has rolled around for Old Navy, and honestly, it's not even surprising. The retailer slashes prices of its goods like clockwork, and each season the sales get better and better. Just in time for firing up the grill and relaxing poolside, Old Navy's Fourth of July Sale is in full glorious effect.
Old Navy probably couldn't shy away from discounting their entire store if they tried. No matter the time of year, the discount denim retailer offers something for an unbeatable price, whether it's flip-flops that cost $1 or sweaters that don't even hit the $20 mark. And just in case you happen to miss a half off the entire store sale, Old Navy usually has another blowout event around the corner. Basically, the store is a shopper's paradise for fashion lovers and bargain hunters alike.
Already making a splash for summer 2018, Old Navy's patriotic sales event offers some of the best deals the store has ever had. We're talking warm weather essentials for barely any money and everything else the store stocks toting majorly reduced price tags. So, now is a better time than ever to beef up your wardrobe without breaking the bank.
If you're hip to how things are done at the Old to the Navy, then you know that the retailer loves a good two-part sale. Running for consecutive weeks, Old Navy's Fourth of July bargains will get better as the weeks progress.
Prior to the holiday, Old Navy will be running specials on tanks, tees, dresses, and more from June 20 to June 27. Unfortunately, that means the precious pre-fourth sales week is quickly coming to a close, but there's still some last-minute time to snatch up super discounted goods.
Shop the retailer's massive inventory in store or online while there's time to take advantage of the $2/$4/$6/$8 sales event. Old Navy is still offering flip flops for $2, tanks for $4, tees for $6, and dresses and shorts for $8, some unrivaled price points. As if those deals weren't already killer, the retailer upped their sales' wow factor by offering up to 50 percent off on other styles storewide, too.
When week one is all said and done, Old Navy will stick to their 2/4/6/8 tune and discount their flip-flops, tanks, tees, dresses, and shorts all over again from June 28 to July 5. This time mens, boys, and toddlers polos will also be added into the mix, with youth styles going for $6 and adult versions discounted to just $8.
Don't even think for a second that the sales bonanza will end there. Kicking their storewide sale up to another level, Old Navy will offer up to 60 percent off any other items you find discounted on their shelves. It's really a gift from the shoppings gods worth bringing tears to your eyes.
Just a quick scan of the styles you'll find for less will have you ready to snag Old Navy essentials for yourself and loved ones.
Relaxing in style could never look better than when the ensemble is under $10. This on-sale swing dress is equal parts comfy and cool.
While you're going sales crazy, you may as well snag the basics, like this casual tank that's perfect for the scorching hot days ahead.
Floral-print shorts in the summer are a must, so get a load of this colorful pair that's going to run you less than a 10 spot while Old Navy's sale is in effect.
It's always a great week when Old Navy cuts their prices in half. So, ythank your lucky Fourth of July stars that the sales action will continue for another full week.