Taylor Swift's "…Ready For It?" Makes Super Sneaky References To Her Old Videos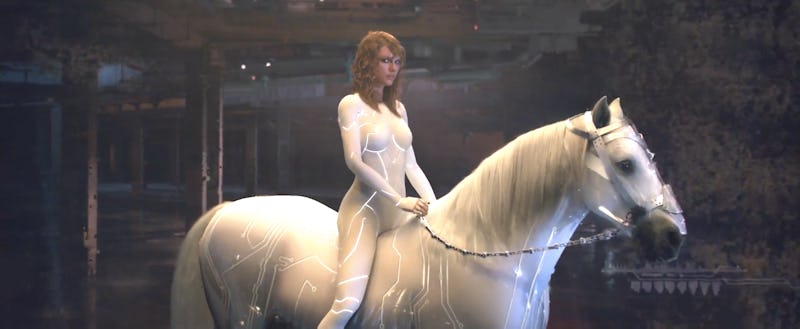 Taylor Swift on YouTube
Each time she releases a new video, it becomes more and more apparent just how self-aware Taylor Swift actually may be. For instance, there are plenty of sneaky references to old Taylor Swift videos in "...Ready For It?" But, if you hadn't even noticed, don't worry. Eagle-eyed fans on Twitter are catching plenty of nods to the singer's former self scattered throughout the video.
While some initially speculated that Swift's "...Ready For It?" would be a dig at Kanye West (particularly his portrayal of her naked body in his "Famous" video), it appears that's not the case. Instead, the focus is solely on Swift and her quite literally breaking free from the box that society has put her in. In the end, the naked cyborg Swift is victorious in crushing any and everything evil.
But let's rewind. For a majority of the 3:30-minute clip, a hooded, seemingly evil version of Swift peers in from the outside as the trapped singer transforms herself. The caged Swift appears to resemble iterations of herself from snippets of the "Blank Space" video to snippers of "Out Of The Woods." Sure, the references may be subtle, but Swift never seems to do anything unplanned. And her fans know exactly what sorts of hints to look for.
Here's a recap of all the references to Swift's old videos that her fans spotted.
"Blank Space"
Remember the "Blank Space" video? It's the 1989 track where Swift seemed to parody the public's perception of her, and, in that very video, she rode a white horse. You can relive that moment below.
"White Horse"
Speaking of that horse, did you catch what color it is? Yes, white. Just like a certain song from the singer's earlier albums. Sure, that video didn't feature a literal horse, but, instead, a metaphorical one. The connection works nevertheless.
"Out Of The Woods"
In "...Ready For It?", there's a moment where cyborg Taylor looks up at the sky, and this side-by-side screenshot from a fan on Twitter shows just how much the pose looks like a scene from "Out Of The Woods," another 1989 single.
"Bad Blood"
Compared to the others on this list, this connection definitely is less direct, but, once you really look, those poses sure mirror certain parts of "Bad Blood." Again, nothing Swift does seems to be unintentional; it's all thought out.
"Blank Space" (Again)
If you already rewatched "Blank Space" above, chances are you caught these side-by-side eye comparisons. Everything down to the winged liner and bangs is a match.
"Bad Blood" (Again)
Some fans speculated that "...Ready For It?" is actually a continuation of "Bad Blood," and the hooded Taylor represents that side of her past. She may finally be done seeking revenge once and for all.
If you paid close enough attention to Swift's "Look What You Made Me Do" video, which happened to be the first to drop from Reputation, you'll remember that she featured all of her past alter-egos in a line-up at the very end. That makes all of these old video references all the more fitting. The theme here seems to be that she's finally coming face-to-face with all the sides of herself — or at least, how the public perceives her to be. And, in doing so, she's not only addressing her reputation, but attempting to revamp it.
If you initially raised your eyebrows at the title of Swift's upcoming album, which drops on Nov. 10, suddenly, things may be making a whole lot more sense. She's no longer that girl riding around on a white horse; the old Taylor is officially "dead," and the new one isn't here for any other nonsense.