Olive Garden's New Lasagna Dip Is A Cheese Lover's Dream Come True
by Callie Tansill-Suddath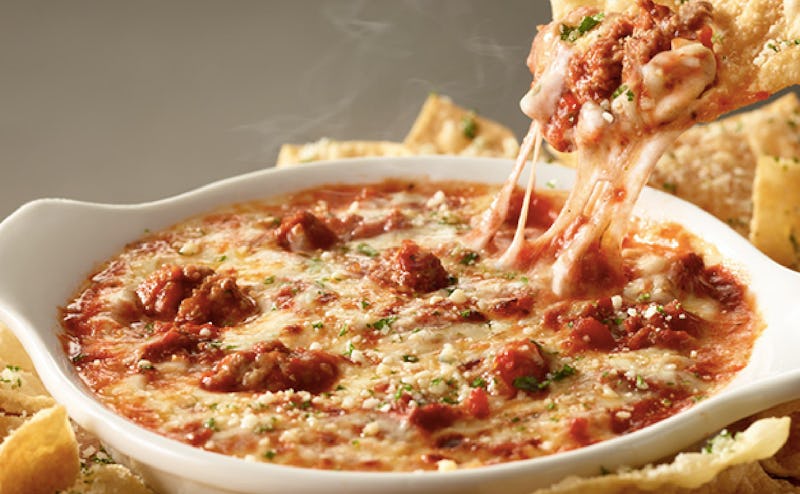 American restaurant culture is truly something — we love our affordable chain restaurants and we are loyal to them. At the forefront of these chains is Olive Garden, the beloved Italian chain is known for its indulgent and inventive takes on favorites like alfredo, lasagna, and scampi. Plus, where else can you get as many breadsticks as you can eat in one sitting? Olive Garden has Italian-American eats mastered, but is always looking for ways to make things more interesting. See, for instance, Olive Garden's new lasagna dip.
Olive Garden's game-changing lasagna dip took a lasagna, deconstructed it, separated all the really good parts, and made them scoop-able to be eaten with chips. The dip is, per the Olive Garden website, made with "[l]ayers of cheese and homemade meat sauce, topped with smoked mozzarella and baked to perfection," then served with pasta chips. Yes, pasta chips. If there are tortilla chips, why shouldn't there be chips made from another trustworthy carb?
The lasagna dip undoubtedly bears a striking resemblance to another outrageous appetizer the restaurant created: Italian nachos. For these, fried lasagna noodle sheets were tossed in parmesan and garlic salt.
This, of course, is far from the latest menu innovation to come out of the chain. Over the summer, Olive Garden introduced an exciting new addition to its after dinner lineup. While s'mores are typically viewed as all-American fare, the construction of Olive Garden's new S'mores Layer Cake gathers some clear inspiration from the Italian eats for which Olive Garden is known. Rather than a traditional crumb cake, the s'mores cake is composed of lady fingers, just like a tiramisu. The ladyfingers making up the s'mores cake are soaked in vanilla then layered with chocolate mousse and marshmallows. The final product is topped with crumbled graham crackers, toasted marshmallows, and a chocolate crunch. It is just about the closest you can get to a campfire treat without the ash.
Pasta is great, but what is a nice dinner out without a drink menu? Earlier this year, the chain added a new rosé to its menu — nothing complements a breadstick (or 20) like some pink. Happy hour only gets happier with the addition of carbs, of course. The chain began serving glasses of its new house pour, Head to Head rosé, in late May. It was crafted by Giulia and Andrea Zingarelli, a sibling team with the Rocca delle Macíe winery in Tuscany, Italy. Talk about authentic! Delish reports the wine has fruity notes of apple and cherry, and serves as the perfect accompaniment to pretty much anything on the Olive Garden menu. Though, you can never go wrong with pasta.
Lasagna dip is available in Olive Garden restaurants nationwide, and through Olive Garden's catering menu. If you're planning a wedding, this is your sign to go with Olive Garden as the caterer; talk about a crowd-pleaser. For now, it appears to be available through the end of January, so make sure to patronize the OG before it is too late to get some sweet, sweet dip.