Fans Reactions To This First Look At Olivia Colman In 'The Crown' Are So On Theme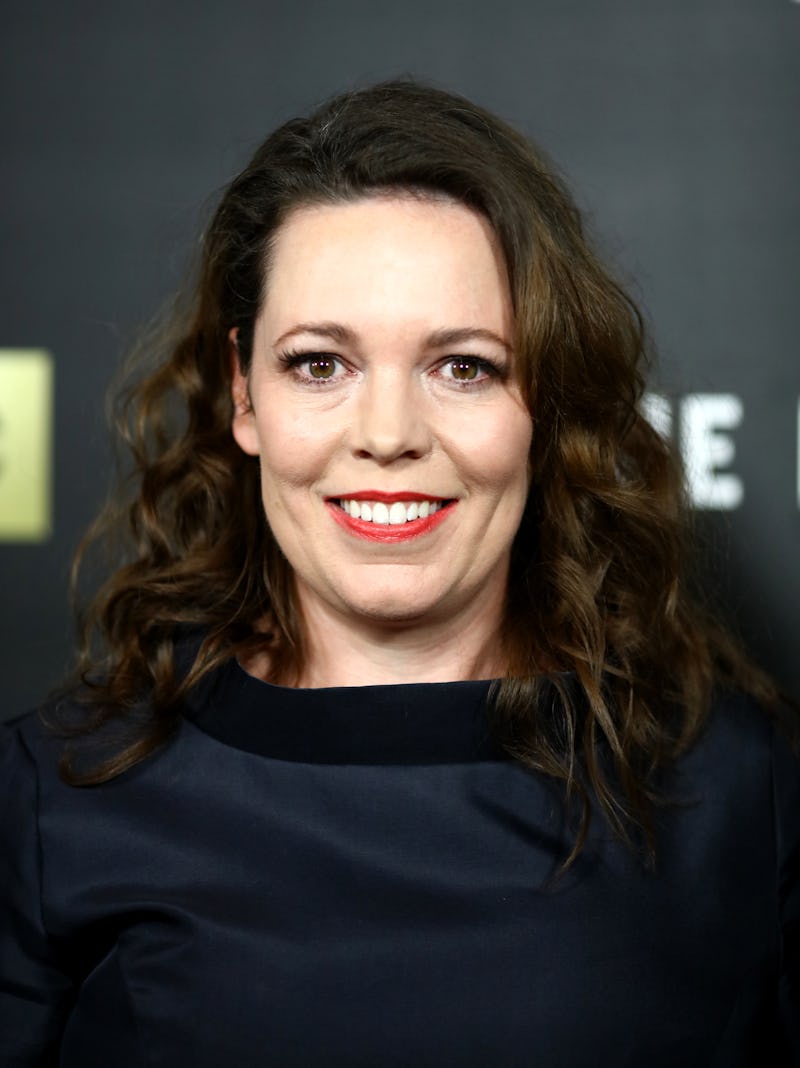 Mark Davis/Getty Images Entertainment/Getty Images
Just when you thought royal mania had reached peak saturation, Netflix released its first picture of Olivia Colman as the Queen in The Crown. When the picture dropped on Monday morning, seriously, wow. My mind was blown. Broadchurch's D.S. Ellie Miller has been completely transformed into true royalty. Squint your eye a little and you could actually mistake Colman for the real McCoy. Bravo to the show's hair, make-up, and wardrobe teams.
The pic show the actress delicately holding a teacup in a grandiose manner, while sitting at a breakfast table in what appears to be Buckingham Palace. She is wearing an outfit that slightly resembles the pink Prada ensemble worn by Meghan Markle recently, with her hair styled in Her Majesty's trademark set perm. It's not clear what scene this shot has been taken from, but Colman looks pretty serious and almost concerned as she stares straight ahead of her. Yeah, I definitely have a feeling drama is on the way.
But what do we actually learn from the first-look photo of Colman as Queen Elizabeth II? Unfortunately, not much. There's no one else in frame, so there is no first look at Tobias Menzies as Prince Philip (a role previously played by Matt Smith), or Helena Bonham Carter as Princess Margaret (a role previously played by Vanessa Kirby). However, good things come to those who wait, so I guess we'll all have to be patient and watch this space.
Not that that matters much to The Crown and Olivia Colman stans, though, who flooded Twitter afterwards to post some pretty epic memes. Below are just a few of the reaction to the first look of the actress as the Queen.
So, what else do we know about The Crown Season 3 so far?
Well, the first-look image was also posted alongside the caption "patience", which could prove telling. Indeed, while the first two seasons of The Crown dropped in November 2016 and December 2017, respectively, it is thought casting issues and other delays have prompted production to fall slightly behind on The Crown's third season, with Season 3 reportedly now not expected to drop until 2019.
It's a devastating blow, no doubt (because who doesn't spend their Christmas eating Ferrero Rochero while drowning in the multi-million pound decadence of The Crown, am I right?) but viewers can take some solace in knowing that Seasons 3 and 4 are being shot back-to-back, so such a delay shouldn't be a problem next time around.
Of course, Queen Elizabeth is not the only royal Colman will play next year, as is evident in the trailer for her forthcoming film, The Favourite.
Directed by  Yorgos Lanthimos, The Favourite stars Colman as Queen Anne, whose relationship with her secret lover Sarah Churchill, Duchess of Marlborough (Rachel Weisz), is complicated by the arrival of the duchess's younger cousin, Abigail (Emma Stone).
So, get used to seeing Colman play the role of a queen come next year, folks.
The Favourite is intended for a U.K. release on Jan. 1. Meanwhile, while the world waits for Netflix to confirm when The Crown Season 3 will hit our screens, my fingers and toes are crossed that it'll be in the opening months of 2019.
Colman confirmed to Radio Times back in February that filming didn't actually start until July. She said: "I don't start until July so I know nothing about it yet apart from they said I could do it so I'm holding them to that." While we may have a bit of a wait on our hands until the new series drops, at least the ball is now rolling.
The Crown airs on Netflix. Seasons 1 and 2 are available to watch now.