This Olympic Figure Skating Rule Change Has Twitter Buzzing Out Of Control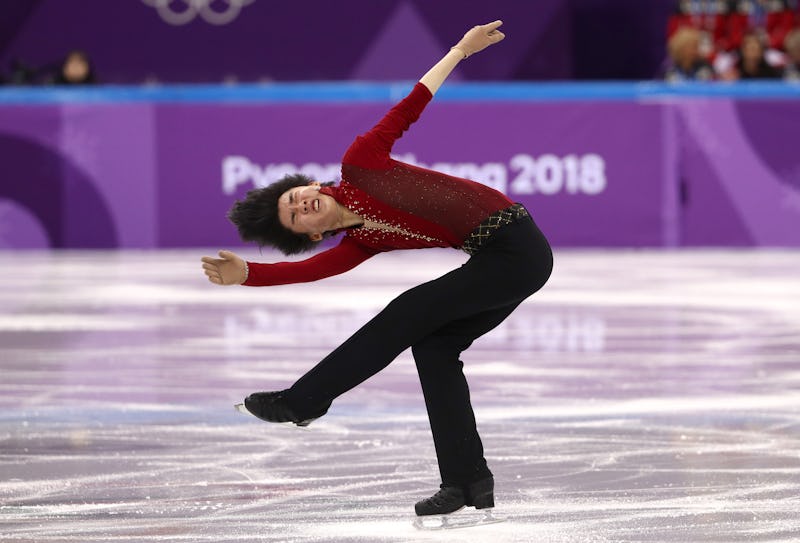 Robert Cianflone/Getty Images Sport/Getty Images
At the the Winter Games in PyeongChang, Olympic figure skaters can use songs with lyrics for the first time in the event's history. Previously, skaters were only allowed to use instrumental songs during their routines, but thanks to a rules change implemented after the Sochi Games, the 2018 contenders have free rein to use songs with words as they blaze across the ice.
As you might have guessed, Twitter took note of this, and the reaction was mixed. Many praised the addition of lyrics to Olympic figure skating, and some were positively delighted with the songs that they heard. Others criticized the songs that were used or, alternatively, expressed dismay that certain songs were absent from the figure skating routines.
The International Skating Union decided to allow songs with lyrics in hopes that doing so would attract younger viewers who might not normally tune in to figure skating, according to the New York Times. China's Han Cong, who along with his partner, Sui Wenjing, is skating to K.D. Lang's cover of Leonard Cohen's "Hallelujah," said that the change could result in more inspiring routines.
"Sometimes music with vocals, it brings out more passion," Han told the Times. "When the lyrics have some meaning, it may touch your heart more easily."
Although the PyeongChang Games are the first Olympics to feature songs with lyrics during figure skating events, the rules change was also in effect during other professional competitions leading up to the Winter Games. At the U.S. championships in 2017, New York's Jimmy Ma raised eyebrows by performing his routine to Eminiem's 2000 hit "The Real Slim Shady."
"How far figure skating has come!" remarked icenetwork.com commentator Michael Weiss during that event. "I never thought I would have seen somebody skating to Eminem, but it actually worked."
A year later, at the 2018 championships, just one month before the Olympics, Ma skated to "Turn Down For What" by DJ Snake and Lil Jon. He didn't qualify for the Olympics, however.
America's Adam Rippon — the first openly gay U.S. skater to qualify for the Winter Olympics — recorded his own version of the Rihanna song "Diamonds" before the games, and planned to skate to it if he qualified for the Olympics. He told the Times that his version "wasn't too bad," but "wasn't too good, either." Ultimately, Rippon chose "Let Me Think About It" by Ida Corr vs. Fedde Le Grand for his routine.
"I will never get sick of [that song]," Rippon told them.us. "I'll have them play it at my wedding. I'll have them play it at my funeral. It's just the best."
1984 Olympic gold medalist Scott Hamilton told the Washington Post that he supports the rules changes, largely because it's what audiences want.
"Of all the rule-changes they've had in the last 20 years, this was one that was directly intended to please the skating audience," Hamilton told the Post. "Whenever we do ice shows or 'Stars on Ice' (in which popular songs are used), they do market studies. And most people say, 'I loved the music! It's music I can relate to.' It's a performance sport, and when you'd allowed to interpret the spoken words, it's easier than trying to paint a picture to classical music or instrumental music."
Figure skaters at the PyeongChang Games selected a wide variety of word-filled songs for their routines, including hits by James Brown, Coldplay, and David Bowie. Germany's Paul Fentz skated to a jazz cover of Oasis' "Wonderwall," a decision that many on Twitter seemed to have strong feelings about.
Renowned figure skating choreographer Robert Ward told the Post that he hopes the inclusion of songs with lyrics might inspire youngsters to take up figure skating themselves.
"I definitely think anything helps, at this point, to get the sport's popularity back up — to get people noticing it again," Ward told the Post. "Who among kids today is listening to classical music? Not many, unless they're skating or doing ballet. To get kids to want to skate, you've got to have music they like."