Scott Patterson's Favorite 'GG' Moment Is A Given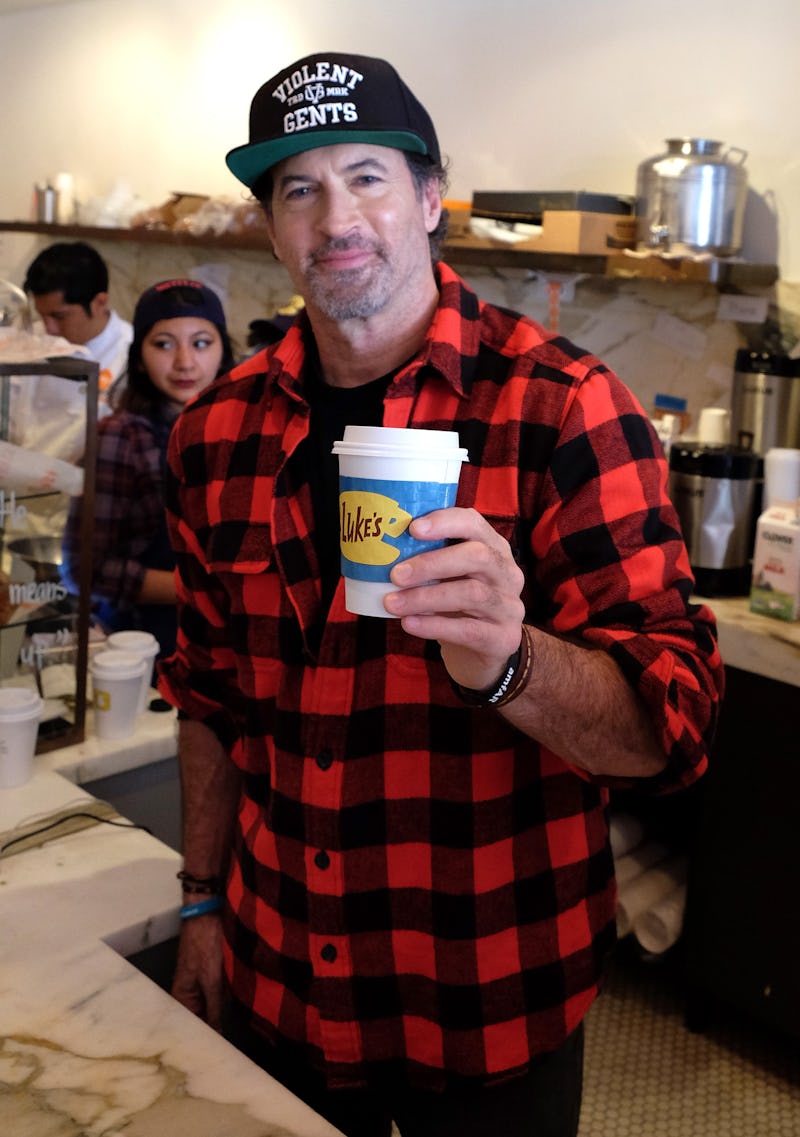 Sarah Morris/Getty Images Entertainment/Getty Images
After seven seasons of Gilmore Girls and then four Gilmore Girls: A Year in the Life revival episodes, it's hard to narrow down a favorite moment Lorelai, Rory, Luke, Emily, and everyone else from Stars Hollow gave fans. However, that's not stopping one star from choosing his top three. Actually, one of Scott Patterson's favorite Gilmore Girls moments is basically everyone else's favorite moment, too. (If it's not one of yours, I don't know if I can ever watch a Gilmore Girls episode with you.)
While stopping by Entertainment Weekly: The Show, Patterson said that he loves the moment where Luke takes the sledgehammer to his own apartment wall as a way to give Jess his own bedroom and also loves that time Luke agitated Taylor by sticking his hands in all of the candy. But, the most important moment he loves should be quite obvious.
"One of the top moments is the first kiss with Lorelai, and then Kirk interrupts by running naked through us," he said.
Well, of course it is. What die-hard fan doesn't love that moment? It took four long seasons for Luke and Lorelai to realize they had feelings for one another and to finally seal it with a kiss. During the Dragonfly Inn's practice weekend (the Season 4 finale), Luke and Lorelai stand in the doorway at night and then gave every fan butterflies when they kissed for the first time. I still get chills.
If you're having a hard time recalling exactly how it went down, then let me refresh your memory, all while showing you why, like Patterson, this should be your favorite GG moment.
Luke Gets Mad
This was in reaction to Jason showing up at the inn. He just had to, didn't he?
Luke Talks About The Moment
They definitely had a moment at Liz and TJ's wedding.
"What Are You Doing?"
Just stand still, Lorelai.
Luke Kisses Lorelai
Finally.
"What Are You Doing?"
Luke, now it's your turn to stand still.
Lorelai Kisses Luke
*swoon*
And then, Kirk comes screaming down the stairs naked and runs out the door forcing Luke and Lorelai to stop kissing. As much as I get irritated for him interrupting, it's hard not to laugh.
If you want to watch their first kiss on a loop, here you go. It certainly never gets old and will always be a favorite.