Oprah's Story About Her Recent Trip To Starbucks Will Make Your Jaw Drop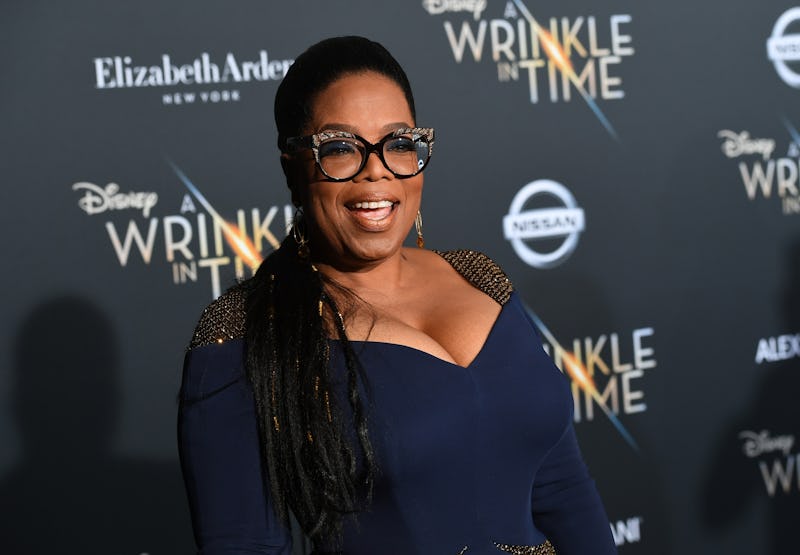 Kevin Winter/Getty Images Entertainment/Getty Images
Someone must have to be living under one enormous rock to not know who Oprah is. But apparently, such rocks exist. While promoting A Wrinkle In Time, Oprah claimed a Starbucks barista recently didn't know who she was or how to spell her name. Who would ever think America's richest female and international celebrity Oprah would be that relatable? Chances are you've had a similar Starbucks experience once or twice.
Not only did Oprah say she goes on her own coffee runs, but apparently, she has to spell her name out for Sharpie-bearing baristas like everyone else. During the E! interview, her Wrinkle co-star Mindy Kaling asked, "Can you imagine writing 'Oprah' on a coffee cup?'" Welp, it's happened and Oprah recalled the encounter. "Oh my god!" Oprah said. "I just went two days ago! And the woman said, 'Name?' And I said, 'Oprah.' And she said, 'How do you spell that?'"
Starbucks' name-gathering process has been the brunt of internet jokes for quite some time. But it's wild to think the incredibly famous media mogul would be a Starbucks cup casualty as well. Starbucks customers have posted their ridiculous mixups, like when baristas misheard Simon for "semen" and Virginia for "vagina," according to BuzzFeed. These instances got so out of hand, that in 2016, BuzzFeed posted a theory about why Starbucks baristas get names so terribly wrong. According to the theory, the purposeful scheme is to get social media advertising from customers who post about it. While the coffee chain never responded with an official statement, a barista did confess to purposeful misspelling to Cosmopolitan.
If that's really the case, we've all been fooled and Oprah nearly joined the club.
Still, the thought of Oprah spelling out her name to the unaware barista is everything. (Imagine asking Madonna or Beyoncé to do the same thing.) Oprah Winfrey is referred to as a "billionaire media giant" and her presence in pop culture is merely unavoidable. From 1986 to 2011, she hosted her iconic talk show The Oprah Winfrey Show, which was adored by fans across the world. She became a household name in television for her engaging, vulnerable interviews and gifting fans with presents like cars. In 2003, Oprah was the first black woman to become a billionaire, according to Forbes.
In 2011, she launched her network OWN. The network was off to a rough start financially until she made a deal with Tyler Perry to turn it around and make it wildly successful (just as Oprah does). The network's known for Oprah's Next Chapter, Where Are They Now?, and the current popular drama series Queen Sugar. Additionally, she's made waves in philanthropy and business partnerships like becoming the face of Weight Watchers.
After her epic Golden Globes speech about Time's Up, fans got their hopes up about Oprah running for president with #Oprah2020. While she initially teased that she was considering it, Oprah eventually said she wouldn't run. Still, the fact that the possibility of it happening got so much media attention proves just how powerful she is.
The media mogul is one of those untouchable stars and a force to be reckoned with. Still, she's experienced her fair share of relatable moments in addition to her recent Starbucks run. Recently, her Wrinkle co-star Reese Witherspoon said Oprah is life of the party. "She really is like your best friend. She's relatable, she loves to have a good time, she loves to drink a margarita," she told the Wall Street Journal. BuzzFeed pointed out many other times Oprah's been super relatable, like hosting movie night, fangirling over The Rock, and tailgating. Oprah also met Sterling K. Brown, her favorite This Is Us star, and reacted as any other fan would. She posted a collage of their meeting and gushed over how excited she was to meet him.
Maybe the next barista will actually misspell Oprah's name, and then she will truly become one of us.