Oprah Is A 'This Is Us' Fan, Guys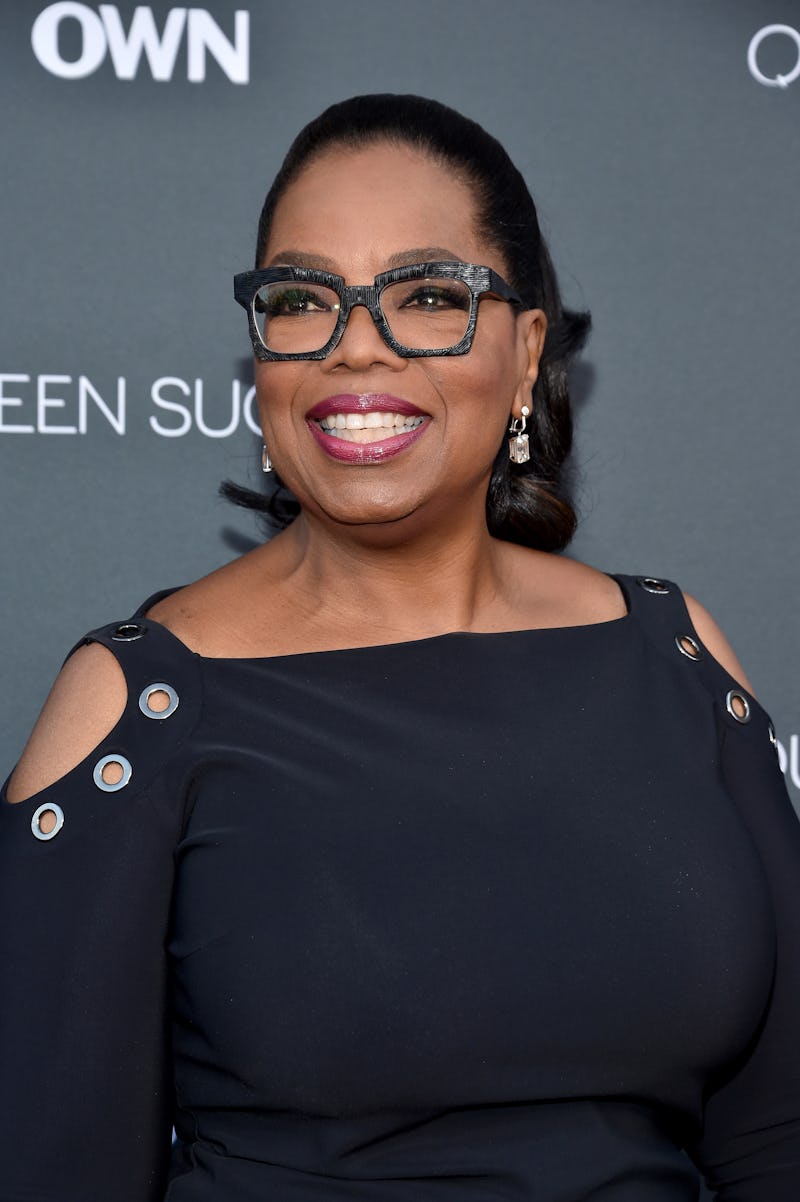 Mike Windle/Getty Images Entertainment/Getty Images
It is easy to imagine people gushing over Oprah Winfrey. The woman is a living legend and a total inspiration. However, sometimes Oprah gets starstruck too. I know, it's hard to believe, but it happens. Entertainment Tonight reports, Oprah was ecstatic to meet Sterling K. Brown at a taping of Variety Studio: Actors on Actors, and she was not afraid to show just how big of a fan she is of the This Is Us star on Instagram.
You see, Oprah didn't just post a photo of herself with Brown, she made a collage of photos. Her enthusiasm is beyond relatable given just how talented Brown is and how much emotion he pours into the role of Randall. It's nice to know Oprah fell just as hard for the NBC drama as everyone else. She captioned her collage,
"Look who I just met! I was so excited. He was so Himself. I love this guy."
As for Brown, well, he was freaking out like any human would upon not only meeting Oprah, but discovering she's a fan of your work. The actor shared photos of the unforgettable moment on his own Instagram, and he looks both stunned and delighted. The mutual appreciation these two talented actors have for one another will make you believe there's still good in the world, guys. Their meeting is that beautiful.
Look at their faces. They are both so excited to meet each other, even they can't deal. Oprah and Brown look so happy in the last photo you can tell neither one could stop from spazzing out over the other. It's not often you see two celebrities get so excited about meeting each other, and pictures like this will make you wish it happened more often. Thank goodness this incredible moment was captured in picture form, because the world is freaking out even more than the stars.
The comments on Oprah and Brown's photos are hilarious and perfect. One commenter had to say what everyone was thinking, "I need you two to do a movie together. Think about it, please?" No seriously, please think about it, because I think everyone would buy tickets to see a movie starring Oprah and Brown.
Meanwhile, Brown was busy trying to wrap his head around meeting Oprah and realizing Oprah loves his work on the same day. This photo is too amazing.
It's OK, Brown, meeting Oprah is bound to leave anyone starstruck. Then again, it's hard to imagine there's a person who has seen This Is Us and not immediately fallen for Randall. Brown is just that good.
Hopefully, this is the start of a beautiful friendship — or at least talks for an Oprah guest spot in This Is Us Season 2.