Red Bull Makes Organic, Caffeine-Free Sodas — Here's What They Taste Like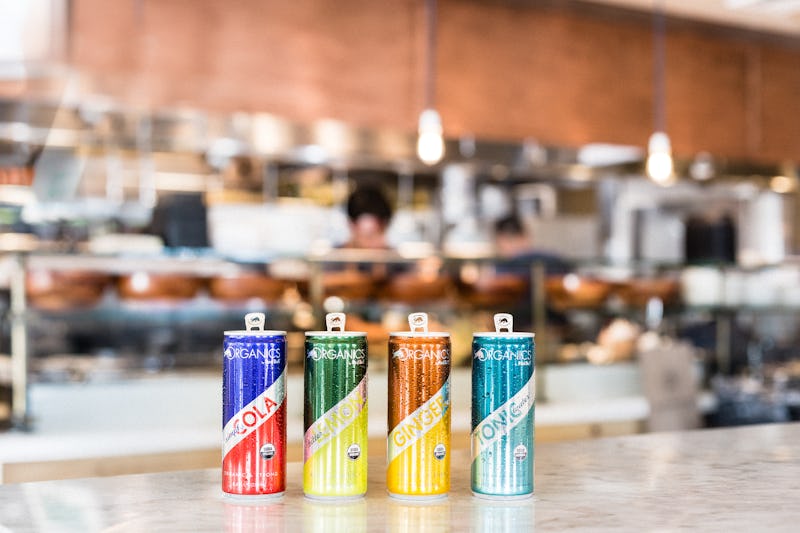 Courtesy Organics by Red Bull/Justin McChesney-Wachs
Even if you're fully committed to the sparkling water life, there's no denying that sometimes, you want something a little bit sparkly and a lot bit sweet. Enter Organics by Red Bull, a new line of organic sodas from the maker of the cult fave energy drink. *Record scratch noise* Wait, what? Yes, these sodas, which come in four flavors, contain fully pronounceable, organic ingredients from natural sources, no artificial flavors, and three out of the four flavors are actually caffeine free. And the best part is, they're actually super tasty.
I don't have too much of a sweet tooth, so the past few years' pivot to seltzer has been nothing short of game changing for me. However, when I do want something a little on the sweeter side that's still basically healthy, I'm usually left with kombucha — which is fine, but it's not a Coke. Organics by Red Bull comes in a cola flavor, which is naturally sweetened with "plant extracts like kola nut, ginger and cinnamon," per a press release sent to Bustle, and contains the same amount of caffeine as a typical cola. (AKA, a far cry from the classic Red Bull energy drink you know and love.) The other flavors — Ginger, Bitter Lemon, and Tonic Water — would be perfectly at home on your bar cart as in your fridge, or your poolside cooler.
Seriously — I had no idea these existed, let alone that you could buy them on Amazon Prime. According to a spokesperson for the brand, for now you can only buy the sodas IRL in San Diego County and a region of North Carolina, but, again, Amazon will deliver a pallet of sparkly, organic goodness straight to your door. If you have Amazon Prime, you can get a four pack of each flavor for a little over $7 through Prime Now.
The four flavors are all on the money for my not-so-sweet tooth. The ginger is perfectly, well, ginger-y, with hints of lemon, caramel, and bergamot, striking a balance between a ginger ale and a ginger beer. The Simply Cola flavor tastes like what it says on the tin — Simply Cola, without a lot of sugar. It tastes a little bit fruitier than a typical cola, with lime, coffee beans, orange, mint, and clove among its ingredients. The bitter lemon flavor tastes strongly of lemon zest, and I have a feeling this would pair extremely well with a cocktail or seven. (Aperol spritzes, anyone?) And the tonic water tastes like a pretty classic (organic) tonic water, meaning it'll go great in your gin and tonics, or whatever else tonic water is used for.
My mind is still kind of blown that Red Bull launched these delicious flavors this past spring and I'm only just hearing about them now, but c'est la vie, kids. I'm just excited that these bad boys exist and I get to share the news with y'all. Pack these in your cooler for that last beach trip of the summer, or just keep them in your fridge for sipping all fall long.