These New Hair Products Smell So Good, They'll Completely Replace Your Perfume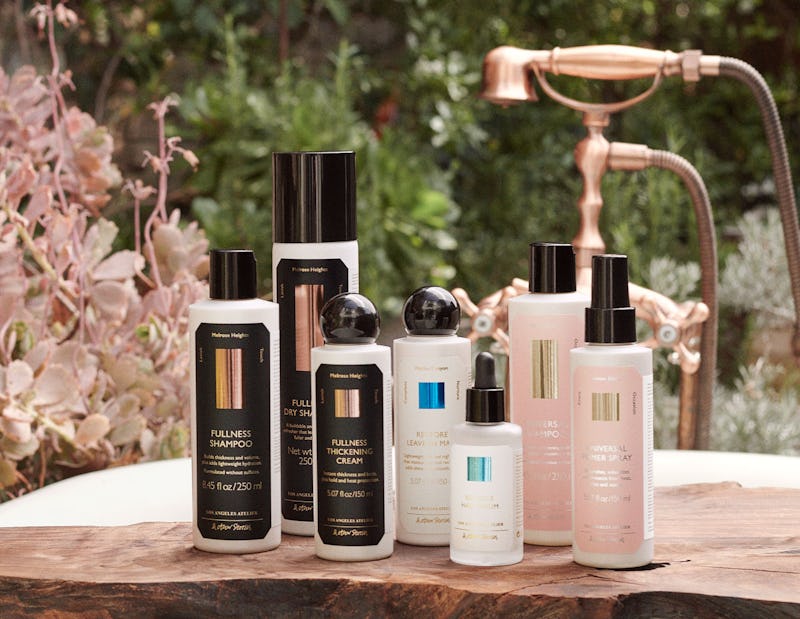 & Other Stories
Los Angeles has been generating some of the most enviable hair for decades, whether it's on the red carpet of a big Hollywood premiere or on the beaches of Malibu. It makes sense, then, that & Other Stories looked to the LA girl when developing their first hair care collection, which launches on Thursday, Aug. 16. Although the Swedish sister company of H&M was first developed as a premium beauty brand in 2010, this is the first time that they've decided to create products for your tresses. Fans of & Other Stories know that when it comes to creating high-quality, but affordable beauty products, no one does it quite like them. And that's definitely still the case for their inaugural hair care collection: All of the products are high-performing, but cost $15 or less. In the words of our hair savior Jonathan Van Ness, can you believe?
To help create the collection, & Other Stories tapped LA-based celebrity editorial stylist Kylee Heath. Heath was born and raised in California and has spent her entire career styling the locks of some of the industry's biggest beauty icons, from Nicole Kidman to Rosario Dawson. Who better than her to co-develop a collection inspired by Los Angeles? (Not to mention she also has the "perfect" LA hair — blonde, beachy waves that definitely could've been the result of an afternoon of sea salt and sunshine.)
"Together with Kylee Heath, we drew a lot of inspiration from life in LA and looked at what type of hair care that will transcend from a day at the beach to work to a night out," Frida Fagerholm, Head of Beauty at & Other Stories, explained in a press release. For this reason, they knew they wanted to create more than just one category of hair products. It was important to them to develop products that were suitable for every hair type (and also safe for chemically-treated or colored hair) and occasion, day or night.
This resulted in three ranges: Restore (also referred to as Malibu Canyon), a nourishing collection to promote healthy, shiny, and smooth hair; Universal (aka Venice Blvd.), a line that can be used anytime by anyone; and Fullness (Melrose Heights), a volumizing set to give you that extra oomph for a big day or a night out.
"The collection allows you to create the look you desire — hair with bounce, body, texture, undone curls, tousled waves, shine or smoothness," Fagerholm added.
But perhaps the most intriguing part about the hair care collection are the scents. Truth be told, these are the best-smelling hair products I have ever tried. Although none of the products are technically hair perfumes, they might as well be — you won't need to wear fragrance with these, and never mind, you won't even want to.
Just like they have on their perfumes and body products, & Other Stories worked with world-renowned perfumer (and the olfactory genius behind Byredo's intoxicating scents) Jérome Epinette to create three signature fragrances to go with each of the categories. According to Fagerholm, it was a priority of theirs to make sure the products had a well-balanced fragrance that would last throughout the day.
At a press preview for the hair care collection, I had the pleasure of getting styled by Heath herself. Almost immediately after she spritzed my locks with the Universal Dry Shampoo, I was left in a trance. If she hadn't just spent 20 minutes carefully curling my hair into gorgeous, piecey waves, I would've clutched them in my hands and cupped them into my nose — it smelled so good. Instead, after she did my hair, I went from product to product, breathing each one in.
All of the fragrances for each category are delicate and balanced, but there are definitely differences. The Fullness range has a much richer, deeper scent (meant to embody the glitz and glam of Hollywood nightlife) while Restore has a clean and refreshing fragrance with hints of coconut and jojoba oil (two major ingredients in the Restore line). Meanwhile, the Universal collection is light and sweet, reminiscent of walking through a sun-drenched garden in full bloom.
While there are three different ranges, the products are meant to be mixed and matched. & Other Stories encourages their customers to experiment with the different products and hopefully find one that will give them the hair of their dreams, only without the Hollywood price tag.