Panera Just Announced Nationwide Delivery — And Wants To Give You Free Soup To Try It Out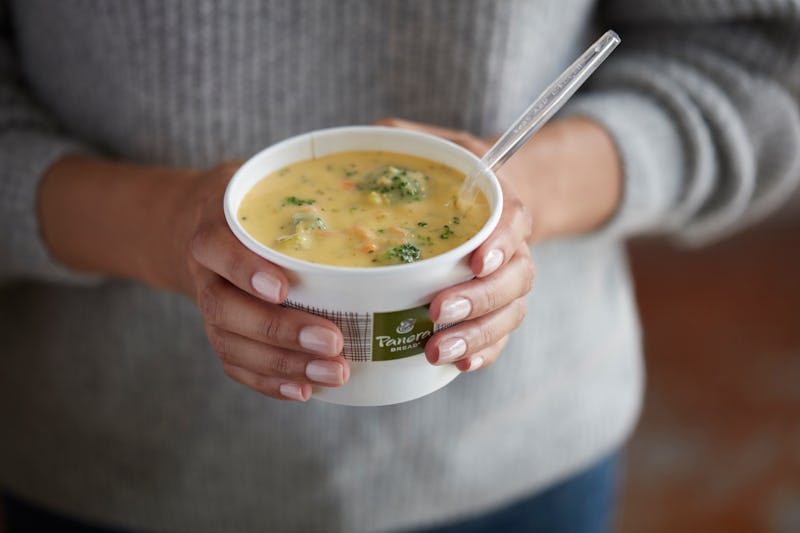 Courtesy of Panera
There is nothing quite like the glorious freedom and burden that is choice, and no human knows that better than a human who is struggling to order from Panera's "You Pick Two" menu during their busy weekday lunch. Now, though, you can save a little bit of time on your existential crisis, because Panera just announced it will deliver nationwide to 43 states and 897 cities. (Side note: we have that many cities? Yowza.) Starting May 9, customers will be able to make orders for delivery through the Panera app and website, and live their most delicious, convenient life.
And there's really no time like the present to get on board with this, because to celebrate the launch of the delivery service, Panera announced it will be offering customers a free cup of soup with the delivery order of a separate item on May 9. You just have to plug in the code "PANERADELIVERS," and boom. Free cup of tomato soup. (The definitively best Panera soup — don't @ me.) Don't say I never gave ya anything, internet.
All this is to say, you will be even more existentially fraught with your lunch order than usual, because that means you could "You Pick Two" a salad and sandwich and get an additional cup of soup for free. I would do the math on how many possible combinations of sandwich, salad, and soup that puts at your disposal, but I became a writer specifically to avoid situations involving math, so I will not.
"Panera delivery isn't a pilot program. It's not in just a few test markets. We now offer delivery across the country," said Blaine Hurst, Panera CEO, in a press release. "Delivery is fueling our next phase of growth, and the success we have seen so far is exciting. The combination of providing clean food options via an entirely digital experience is giving us a real advantage, and the momentum is just beginning."
This isn't the first time Panera has shaken up the ordering experience. A press release noted that 30 percent of Panera's sales now come from app and kiosk orders, a figure that does not surprise me, because I talk to the non-sentient kiosk at Panera more often than I talk to my own parents (which is to say, I go to Panera a lot, because my parents are pretty rad). The delivery service will integrate the same kind of seamless ease — the cafés that offer it will deliver between 11 a.m. and 8 p.m. for orders as little as $5, for a $3 delivery fee. Personally, $3 is more than enough money for me to justify not getting in a car and driving to Panera myself (granted, I now live in New York where I both work and live within two blocks of Paneras, so Poseidon would probably strike me down).
Now that I've worked in a humble brag about my proximity to Panera to justify the rent we pay to live on this giant trash island, a few other pro-tips for the foodies in the lunch hustle: Shake Shack also has an app that lets you choose a window to pick up your order in stores; Starbucks obviously has one too, but more to the point, you can order breakfast sandwiches on it at any time of the day (the DREAM); and you can also use an app to order ahead and skip the line at Chipotle. It's 2018, guys, and waiting for your lunch is so 2008.
In the meantime, don't forget to collect on that free soup — the offer is only available on May 9, the day of Panera's delivery launch. In the meantime if anyone needs me I'm going to be elbows deep in a bread bowl, because my obsession with Panera is so well-documented that, were it a human being, I would have received a restraining order in the mail long ago.