Papa John's Just Launched Its Own Donut Holes — Here's What They Taste Like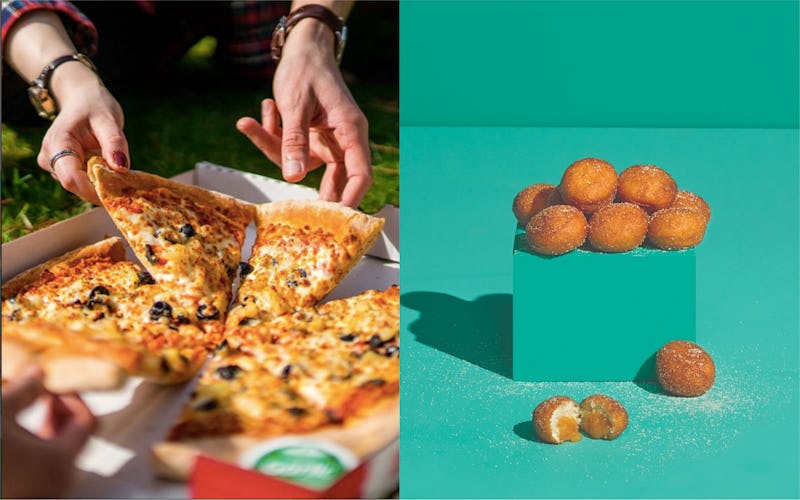 Papa John's/Instagram; Courtesy of Papa John's
Papa John's isn't just home to pizza; John's dessert menu is also rather impressive. The cinnamon pull-aparts, the chocolate chip cookies, the double chocolate chip brownies... I'm not crying! It's just allergies, OK? They're clearly trying to one-up themselves, though, because this summer, for a limited time only, Papa John's will have donut holes — cinnamon-sugar-coated treats packed with caramel crème. I don't know what we did to deserve this, but I'm not going to question it. I love a good donut hole and they fit perfectly in my purse. That's all I need to know.
UPDATE: A Papa John's representative reached out to Bustle to clarify the original offer and deal was misstated and the free offer ends after National Donut Day.
EARLIER: It gets even better, though. Papa John's is giving everyone a chance to try the donut holes for free before they officially become available to the public. On June 1, which happens to be National Donut Day, order any pizza online and you'll get an order of donut holes free of charge. The freebies don't end there. Starting June 2, you can use the promo code DONUT and get a free order any time you purchase two pizzas. Otherwise, the donut holes will be priced at $4.99 for an order of 10. That's only $0.50 a hole. I recognize a bargain when I see one.
But wait. They're not done.
Free donut holes aren't all Papa John's has going on. They're also giving away a free vacation to one lucky winner. The destination? Donut Island, in New Zealand. Yes, it exists! Its formal name is Whenuakura Island, and it's shaped like a donut. The island features an emerald lagoon, breathtaking rock formations, and red-flowered pohutukawa trees. Will there be doughnuts there? I really hope so...
Entering is easy. Starting Saturday, June 2 and ending Saturday, June 30, anyone who orders donut holes online or via Papa John's app can enter the Dreaming of Donuts Island Getaway Sweepstakes. The eight-day, seven-night adventure will be the trip of a lifetime for the winner and a travel partner of their choice. Do dogs count? Asking for a friend. Meaning me.
While these days, we recognize National Donut Day as a day to indulge in the sweet treat, there's actually a very touching history behind it. Back in 1917, the 250 volunteers of The Salvation Army traveled overseas with soldiers fighting in World War I, and set up huts near the front lines to provide the soldiers with clothes, supplies, and baked goods, says The Salvation Army Metropolitan Division.
Some of these baked goods were doughnuts, which they fried in soldiers' helmets! These women became known as "doughnut lassies."
National Donut Day became an actual (although unofficial) holiday in 1938, when The Salvation Army decided to start using it to raise money and awareness during the Great Depression, according to their website. Now, every first Friday of June, we honor the "doughnut girls" who helped kickstart it all.
Papa John's isn't the only one getting in on the National Donut Day excitement. Head to Dunkin' Donuts and get a free donut with the purchase of any beverage.
Even better, Krispy Kreme is giving them away for free. Like, FREE free. You don't have to purchase anything.
Edible Arrangements recently created Edible Donuts, and you can try one for free this Friday. (Note: these are actually apple slices dipped in chocolate that just look like doughnuts. Imposters! Still want one, though.)
Or, you can head to LaMar's Donuts and Coffee for a free treat, excluding specialty doughnuts.
Enjoy your doughnuts and the subsequent sugar rush, friends. Remember what it's all about. Just make sure that when you wake up on June 2, you wake up free of any doughnut FOMO-related regret.