Paris Hilton & Nicole Richie's Reunion Pics Will Make 'Simple Life' Fans Scream "Loves It"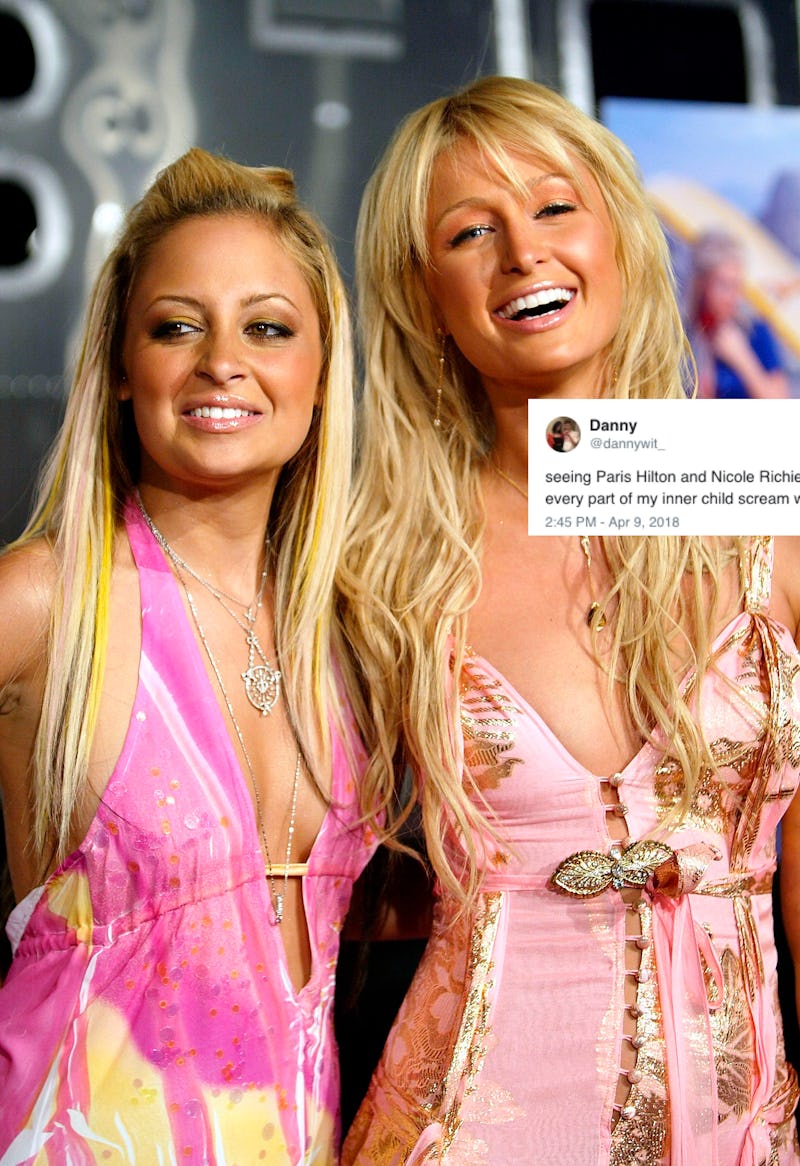 If there's one thing that reality TV lovers of the early 2000s knows, it's that Paris Hilton and Nicole Richie go together like farmers and plows. It seems that they still have the same chemistry now, and when Hilton and Richie had a Simple Life reunion on Sunday night, fans of the show began basically begging for a reboot. According to Entertainment Tonight, the two women met at The Daily Front Row's 4th Annual Fashion Los Angeles Awards in Beverly Hills, and afterward, Hilton posted a photo on Instagram of herself and Richie laughing together and hugging.
It's safe to say that the feud between Richie and Hilton is beyond "dunzo," to borrow a term from Laguna Beach — a show which you might say was made possible because of The Simple Life. Hilton even captioned the picture, "Love you @NicoleRichie❤️ No one could make me laugh like you do." That's a far cry from the words she and Richie famously shared back in 2005 when they pronounced their friendship dead. "It's no big secret that Nicole and I are no longer friends," Hilton said in a statement at the time, according to In Touch Weekly. "Nicole knows what she did, and that's all I'm ever going to say about it," the heiress added.
Even though the friends made up long ago, they noticeably haven't spent a lot of time together since The Simple Life ended in 2007. Now, it seems like she might even want to host a reboot of The Simple Life as much as everyone else does. On her Instagram photo of her and Richie at the awards show, she included the hashtags #SimpleLifeReunion and #SanaSa.
Then in another Instagram, she posted a throwback video from The Simple Life of a time when the two silly ladies sang their unofficial theme song of a high-pitched "Sasa sanasa" while on a bus.
Hilton isn't the only one who misses The Simple Life and all of the two stars' hilarious antics. Tons of people on Twitter are calling for a reboot, and Hilton has only stoked everyone's excitement by posting a poll on her Twitter that asks fans if The Simple Life should return. As you can imagine, the majority of her followers think that it should. That's hot.
Not only did Hilton and Richie's reunion on Sunday make everyone on Twitter ecstatic, but it also made Simple Life fans at the Los Angeles event lose their cool. Rowan Blanchard shared a photo of herself in the background, taking a picture of Richie and Hilton while they reunited. The Girl Meets World star captioned her photo, "It's always important to use whatever resources you have to capture history. If you see something, say something, #StayWoke."
Who wouldn't instantly grab their phone to photograph the incredible reunion? Especially after the pair's highly publicized feud which led the two women to star on The Simple Life's fourth season, which aired in 2006, separately until the season finale when Hilton finally confronted Richie and said "We have to talk," according to In Touch Weekly.
Richie and Hilton reunited for the show's fifth and final season. Even though it's been 11 years since the series ended, it seems like everyone's desire for a reboot of The Simple Life has only grown stronger with time. The reality show provided viewers with everlasting memories of Hilton attempting to cook bacon with an iron and Richie bidding farewell to her host by saying, "I had a sexy time."
When Hilton asked her Twitter followers whether a Simple Life reboot should happen, 82 percent of nearly 24,000 voters said yes. That's a huge percent.
Still, even if a Simple Life reunion doesn't officially happen, at least everyone can feel satisfied knowing that Hilton and Richie still make each other laugh — even at fancy events far away from any farms, and even in 2018.