Paris Hilton's Engagement Ring May Be The Biggest Rock You've Ever Seen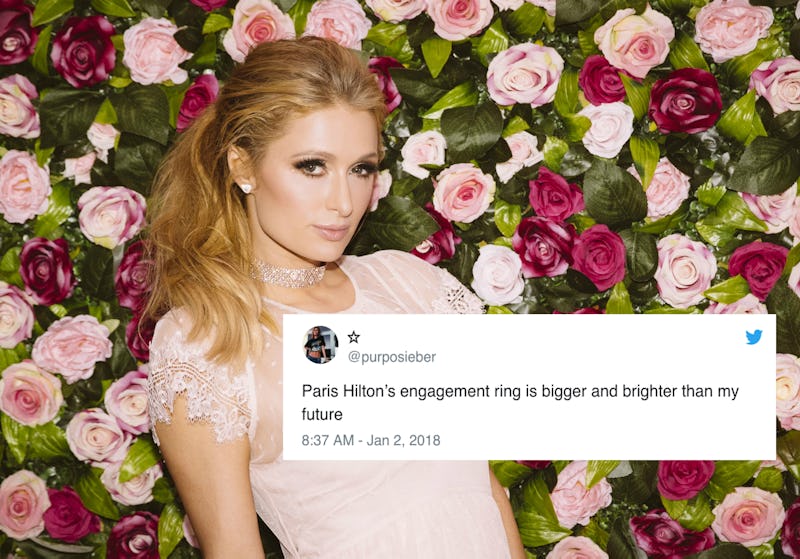 Cole Bennetts/Getty Images
Cuffing season is coming to an end, but it's going out with a bang. Paris Hilton is officially engaged, and her ring is the size of all the diamond rings on your Instagram feed combined, plus some. Honestly, I don't know how she can even carry it around. Think of the largest engagement ring you've ever seen and then double it. That's probably not even close to the ring's size.
Odds are there have been a handful of engagements popping up on your newsfeed lately, but Hilton's is one for the books. The beauty creator slash DJ posted a photo of her recent Aspen-based mountaintop proposal to actor Chris Zylka on Instagram. Let's just say that people aren't looking at the scenery.
Out of the seven photos that Hilton posted on her timeline, your eyes will stop at one in particular — the one of her ring. She gave her fiancé a big kiss and wrapped her arm around him, which showed off the enormous ring. The massive pear-shaped diamond takes up half of her finger. Literally.
According to People, Hilton's engagement ring is worth $2 million and weighs in at around 20 carats.
"I said Yas!" Hilton captioned the photo. "So happy & excited to be engaged to the love of my life. My best friend & soulmate. Perfect for me in every way. So dedicated, loyal, loving & kindhearted. I feel like the luckiest girl in the world! You are my dream come true! Thank you for showing me that fairytales do exist."
This really does look like something out of a fairytale. Everything from the surroundings to the ring itself is absolutely unbelievable.
"Paris at one point in time told Chris she really loved her mother's pear-shaped diamond, and when Chris came to me that was his request," celebrity jeweler Michael Greene tells People. "The pear-shaped really jumped out for him — and ultimately for her. He did some fishing, but in the end it was all him. He's a smart guy, and hangs out a lot with the family, and I think she realized how much she liked her mom's ring."
I can see why it jumped out to him.
Although the official ranking of the ring is 20 carats, Twitter has some other ways to describe how big the ring is. This ring is unlike anything that people have ever seen, and the reactions prove it.
I thought the old lady drops this diamond into the water at the end? Did Zylka go get it for her? If so, this is an even more amazing proposal, which I didn't think was possible.
This ring is the biggest and brightest that I've ever seen — no Kirakira app needed.
How is it possible that there are two rings this big floating around in the universe? The reason that I don't have a ring is that Cardi B and Paris Hilton used up all the diamonds.
Plot twist: This ring is fake. Just kidding, this is very much real, which is even crazier.
"It looks like a freaking ring pop."
Honestly, we should have all expected this.
If Hilton's left arm suddenly gets a lot more muscular, this is why.
This biggest joke of them all is that this isn't actually a joke at all.
But all jokes aside, congrats to Hilton on her engagement. If Hilton suddenly starts saying, "that's cold," this 20 carat ring is why.