Paris Hilton's 'Simple Life' Tributes On Instagram Are Taking '00s Kids Down Memory Lane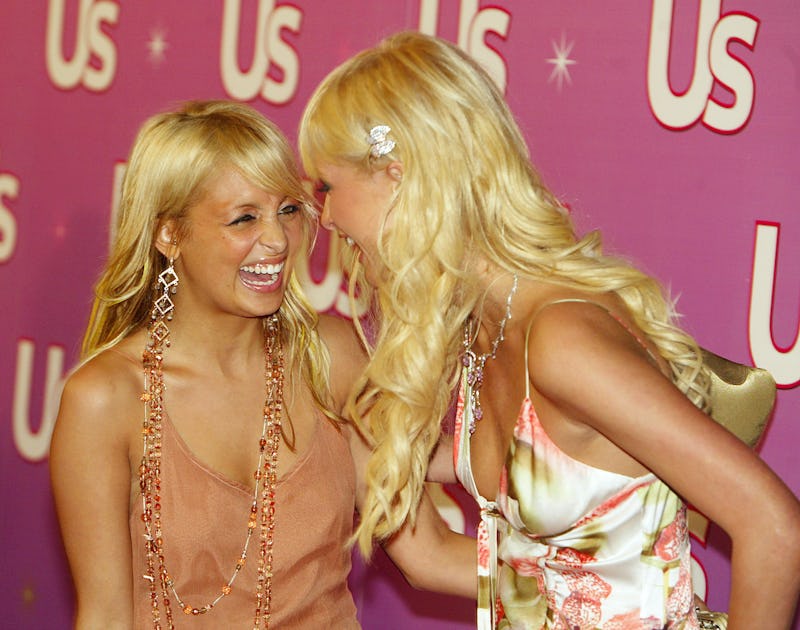 Kevin Winter/Getty Images Entertainment/Getty Images
Sure, reality TV has given us endless hours of feuding housewives and 90 day fiancés. But the golden days of the TV genre were, hands down, the 2000's. Among gems like Laguna Beach, Pimp My Ride, and Jersey Shore was one of the classic OGs: The Simple Life. Bringing fans back to a much simpler and better time, Paris Hilton's Simple Life tributes on Instagram are an instant blast from the past to celebrate the show's big anniversary.
Nodding to the 15-year anniversary of the Fox comedy series, which premiered on Dec. 2, 2003, Hilton honored the show, her former co-star Nicole Richie, and of course, her beloved, late dog Tinkerbell. Hilton posted the most iconic photo from the show, in which she and Richie recreated the famous 1930 painting American Gothic. The post was captioned:
"Happy 15th anniversary to #TheSimpleLife Loves it! So many fun, amazing & hilarious memories with Nicole. Love that this show is so timeless & iconic. And that it has brought so much happiness & laughter to people around the world. And the #Legend Tinkerbell who I love & miss very much. #TheOG's."
Needless to say, fans are wishing they were on a farm in 2003 all over again.
Fans responded to the photo with pure adoration, great memories, and desire for the series to come back since it last aired in 2007. One fan commented, "Omg I lived for this show bring it back !!!" and another wrote, "Queens! I have all the seasons on DVD! And I've watched every show you guys were on since." The show, which gave audiences countless iconic sayings and moments, was truly one-of-a-kind. To celebrate that, Hilton also posted a montage of some of its best, most hilarious moments.
Of course fans instantly fell in love with Hilton and Richie's chemistry, dynamic personalities, and slogans like "That's hot." But the premise of the show was also super unique and hilarious, getting viewers instantly hooked. The show captured the former BFFs before they went on to become entrepreneurs, back when they were Hollywood socialites with lots of money and little work experience. So, they were placed in farms and rural towns across the country to work with families and experience farm life... far, far away from Beverly Hills. The show is really timeless and its humor never gets old.
While Richie has yet to post about the show's anniversary on her Instagram, it's clear the two still have a close bond. Since the show aired, they've reportedly had ups and downs in their friendship, but it's great to see that they're on better terms now. And when it comes to a potential revival, never say never.
In a March interview with Entertainment Tonight, Hilton spoke to reviving The Simple Life. "They've been talking about it and they asked me. I feel like I had so much fun doing it but I'm focusing on all my businesses and really wouldn't have time to go over to a farm again and do that," she said. "But it was so much fun and it's such a hilarious show. I still watch it. It's fun that everyone's enjoying it and it'd be amazing for it to come back."
And even if there's no revival, this timeless series will never stop being hot.