Parkland Students Want You To Know The Conspiracy Theories About Them Are Total BS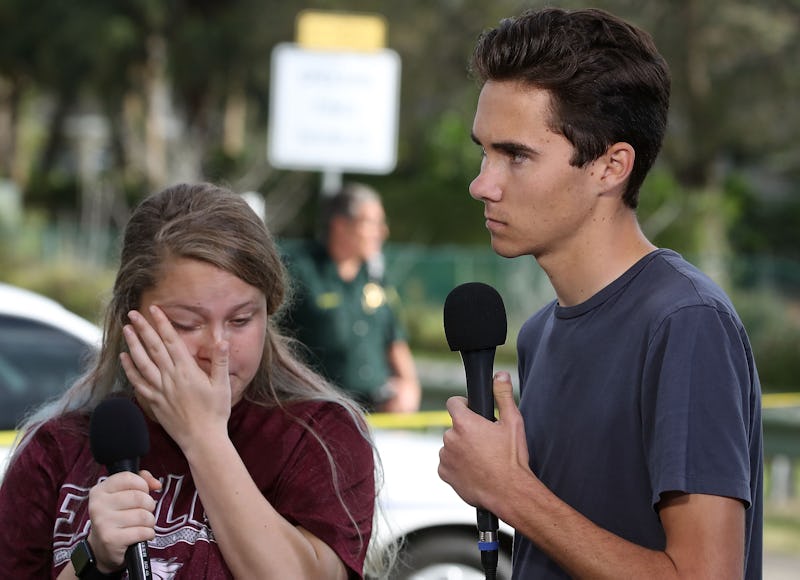 Mark Wilson/Getty Images News/Getty Images
The survivors of the Stoneman Douglas shooting have, in their grief and anger, started a political movement — and they're quickly getting a trial by fire in how politics works these days. There has been an eruption of conspiracy theories about the Florida shooting, which the students are now having to defend themselves against.
When Alex Jones used his website Infowars to spread conspiracy theories about the Sandy Hook shooting being a false flag operation using paid actors, it disturbed and upset people, but it was far from the mainstream. Now, over five years later, the media landscape has changed — and numerous people on the right have quickly come out claiming that the students, who have formed an organization to lobby for gun control and are organizing a massive protest in Washington, D.C., in March, are not actually doing this themselves.
One former Republican congressman suggested on Twitter and on CNN that the kids were somehow being organized by someone "like George Soros." Conservative commentator Dinesh D'Souza openly and repeatedly mocked them on Twitter, calling movement leader Delaney Tarr "coached and also a bit deranged" and saying that they were only displaying "grief organized for the cameras —politically orchestrated grief" that "strikes [him] as phony & inauthentic."
The overarching claim is that instead of just being motivated and capable young adults who are putting their grief and anger into real, concrete action, they're actually actors, coached by left wing groups and perhaps even paid. And now, instead of focusing all of their energies on organizing, the students are having to spend their breath and their Twitter characters publicly denying that.
"I'm not a crisis actor. I'm somebody that had to witness this and live through this and I continue to have to do that," student David Hogg told Anderson Cooper. His name is now trending in the conspiracy circles because manufactured proof that he is a so-called "crisis actor" has gone viral. Even Donald Trump Jr. liked two tweets referring to this conspiracy; Hogg responded, "It's unbelievable to me that people are saying this, and the fact that Donald Trump Jr. liked that post is disgusting to me."
It's not just Hogg who's jumping into the public view in order to defend the student-led movement. "WE. ARE. NOT. CRISIS. ACTORS.," wrote Stoneman Douglas student Kali Clougherty on Twitter.
wow. just because most of the people in the media are a part of the drama program at MSD doesn't mean we are paid actors. WE LIVED THROUGH THIS. you should be ashamed of yourselves.
Some other students took their defenses in a funnier direction. "To clarify @davidhogg111 can't act to save his life," wrote student Sarah Chadwick on Twitter. "The fact that some people think he is being payed to is hilarious."
After former Fox News anchor Bill O'Reilly questioned whether the media should be "promoting opinions by teenagers who are in an emotional state and facing extreme peer pressure in some cases," student leader Cameron Kasky jumped in with not one, but two tongue in cheek responses.
"Yeah probably," he said in his first tweet. He then came back for Reilly with the perfect response to all of the people who have implied that kids this young couldn't possibly be this eloquent. "Thank u 4 asking tho dood u rok LOL I luv bein a kid we kidz r kool," he said, to Reilly.
It's no surprise that these students are being met with condescension and doubt about their abilities. After all, no group of mass shooting survivors has ever organized in this way and managed to bring together such a convincing, powerful movement so quickly. It's a sad thing that grieving teenagers are having to contend with what seems like thousands of people questioning their sincerity — but their measured, calm, and mature responses to those people are yet more proof that their movement actually has a chance of succeeding.