Parkland Students' Messages To The Santa Fe Shooting Survivors Will Devastate You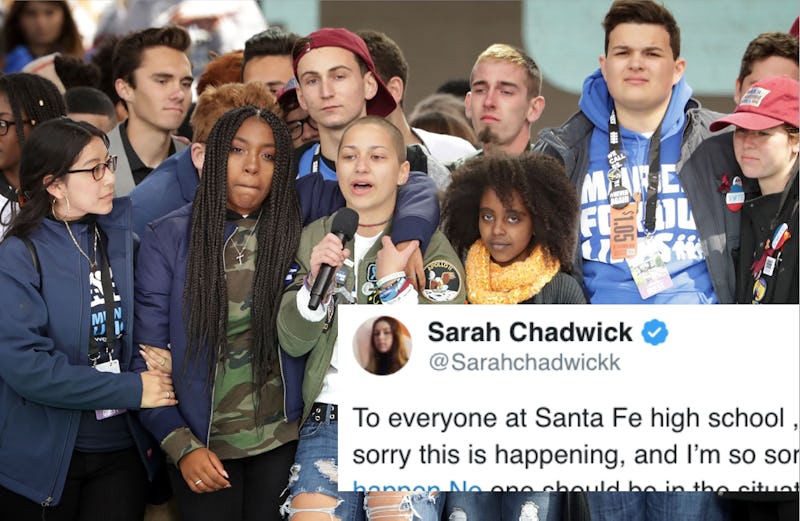 Chip Somodevilla/Getty Images News/Getty Images
Ten people were killed in a shooting at Santa Fe High School in Texas on Friday, CNN reports. Although the full story of what happened is still trickling in, Harris County Sheriff Ed Gonzalez said at a press conference that police have one suspect in custody and another possible person of interest detained. On social media, many of the Parkland students reacted to the Santa Fe shooting with a combination of grief for the victims, condemnation of the NRA, and continued determination to fight gun violence in America.
"I should be celebrating my last day of high school, but instead my heart is broken to hear of the tragedy at Santa Fe," Delaney Tarr, a senior at Marjory Stoneman Douglas High School and survivor of the Parkland shooting in February, wrote on Twitter. "We cannot let this continue to be the norm. We cannot."
"Santa Fe High, you didn't deserve this," wrote Emma Gonzales, another Parkland survivor. "You deserve peace all your lives, not just after a tombstone saying that is put over you. You deserve more than Thoughts and Prayers, and after supporting us by walking out we will be there to support you by raising up your voices."
After the February shooting in Parkland, Florida, in which a shooter killed 17 people at MSD High, a handful of students who survived the massacre used their newly-elevated platforms to advocate for gun reform. They've released a policy platform, held pro-gun politicians' feet to the fire on live television, appeared on the cover of Time, and helped found the March for Our Lives, a massive anti-gun violence protest.
The Parkland survivors have also been the targets of attacks and smears by pro-gun conservatives. Almost immediately after the Parkland shooting was reported, some folks alleged that the shooting never happened, and accused the survivors of being "crisis actors" — an accusation that's already been made at survivors of Friday's shooting.
Despite this, the Parkland survivors haven't stopped speaking out against gun violence, and they continued to do so in the aftermath of the Santa Fe shooting.
"Hoping things get better," Parkland survivor Alex Wind tweeted on Friday. "Hoping things can change. Don't tell me that there isn't a shooting problem in this country. The perpetuating gun violence we face is ridiculous."
President Trump sent a brief tweet in response to Friday's shooting ("School shooting in Texas. Early reports not looking good. God bless all!," the president wrote). This prompted a sharp response from Jaclyn Corin, another Parkland survivor.
"Our children are being MURDERED and you're treating this like a game," Corin wrote. "This is the 22nd school shooting just this year. DO SOMETHING."
Witnesses told ABC 13 that the shooting began between 7:30 and 7:45 a.m. in an art class. Texas Gov. Greg Abbott said that the suspect in Friday's shooting used a .38 revolver and a shotgun in the massacre, according to the BBC, and that he appears to have taken those guns from his father. Santa Fe Police Chief Jeff Powell said that police later found explosives, including pipe bombs and a molotov cocktail, in and around the school.
"Stay safe everyone," Parkland survivor Ryan Deitsch wrote on Twitter. "you do not deserve this; nobody deserves this. We are here for you. America is here for you."
Texas Republican Sen. John Cornyn said after the shooting that "our thoughts and prayers are with the families of those injured and killed," according to CNN. In a statement on Twitter, Dallas Mayor Mike Rawlings told Congress to "spare us your thoughts and prayers and do your job."