The Teens Behind March For Our Lives Just Won A Major International Peace Prize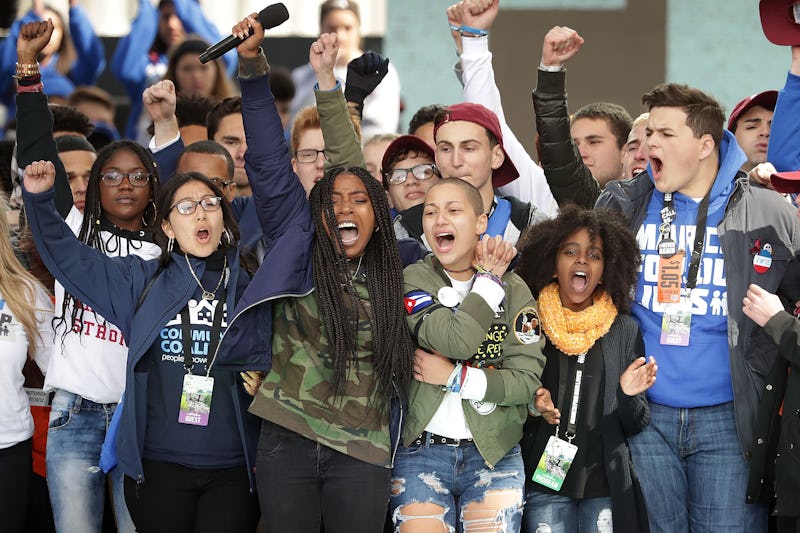 Chip Somodevilla/Getty Images News/Getty Images
On Tuesday, the survivors of the Parkland school shooting, who have emerged as leaders of the national movement to fight gun violence, were awarded the International Children's Peace Prize. The Parkland survivors gathered in Cape Town, South Africa, with Archbishop Desmond Tutu, who praised their March For Our Lives movement.
On Feb. 14, a gunman opened fire on students and teachers at Marjory Stoneman Douglas High School in Florida. The shooting killed 17 people, and later led many of the surviving students to form the March For Our Lives movement demanding an end to gun violence and mass shootings. "The peaceful campaign to demand safe schools and communities, and the eradication of gun violence, is reminiscent of other great peace movements in history," Tutu said.
"I am in awe of these children," he added, "whose powerful message is amplified by their youthful energy and an unshakable belief that children can — no, must — improve their own futures."
One of the activists, Emma Gonzalez, said that the award "serves as a major reminder that the universe is on the side of justice and that we will win because our cause is one of peace." Gonzalez was joined by her Parkland activist peers such as David Hogg, Ryan Deitsch, and Jaclyn Corin in South Africa.
In March, the Parkland survivors led the massive March For Our Lives rally that called for lawmakers to pass common sense gun control legislation. And right up until the midterm elections, the movement campaigned to turn out the vote among their peers across the country, encouraging them to vote for candidates that back gun control.
The founder of KidsRights and the International Children's Peace Prize, Marc Dullaert, said that the Parkland student survivors "transformed a local community protest into a truly global youth-led and peaceful protest-movement."
"The initiators have utilized the skills and knowledge of young people to generate positive change," Dullaert said, "whilst mobilizing millions of their peers, controlling the public narrative on the issues that matter to them, and making people in power listen. This will shape the way in which children's rights are campaigned in the future."
The KidsRights founder also urged the global community to work on taking the necessary steps to make schools "safe havens for children" instead of leaving classrooms to turn into "battlegrounds."
According to an exhaustive Pew study published in August, gun control legislation "took off" after protests were led by the Parkland students. Pew researcher Matt Vasilogambros wrote that at least 50 gun control measures had been passed in the country, including bans on bump stocks and temporarily revoking access to arms for "potentially violent" individuals.
With their activism being recognized with the International Children's Peace Prize in 2017, Parkland survivors join luminaries like Pakistani education activist Malala Yousafzai, who was awarded that same honor in 2017.
In a video uploaded by the KidsRights foundation, Corin summarized her peers' nationwide gun control efforts in these words: "After the shooting in our high school, we all felt the need to do something."
And their activism certainly seems to have won Tutu's heart. "They are true changemakers," Tutu said on Tuesday, "who have demonstrated most powerfully that children can move the world."