A Parkland Victim Told His Fiancee That If He Died In A School Shooting, This Is What She Should Say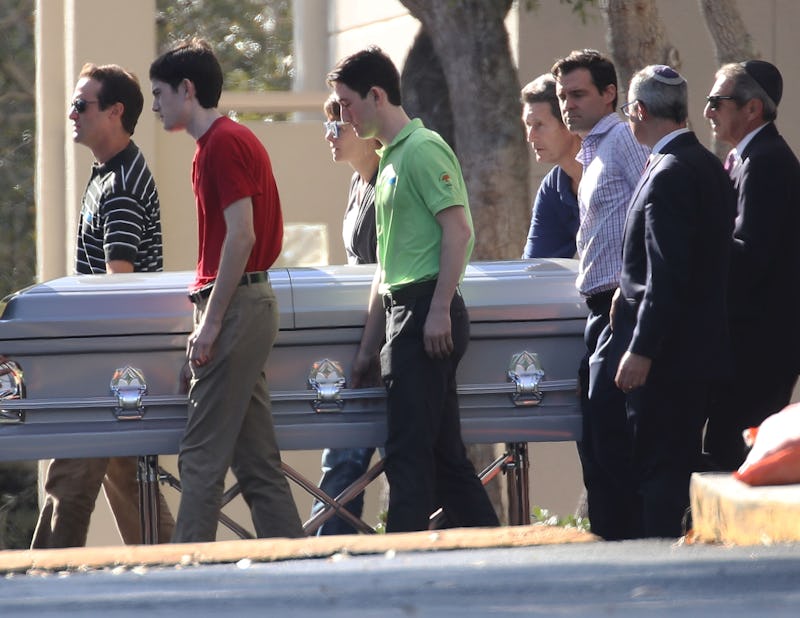 Joe Raedle/Getty Images News/Getty Images
On Wednesday, a shooter attacked a school in Parkland, Florida, ultimately killing 17 people, according to law enforcement authorities. Among those killed was Scott Beigel, a geography teacher at Marjory Stoneman Douglas High School. According to his fiancee, Beigel once told her how to remember him if he got killed in a school shooting.
In a report by the New York Post on Sunday, Beigel's fiancee, Gwen Gossler, was told by her future-husband that he didn't want to be remembered for "the hero stuff" but rather, jokingly, how he was "a jerk." "Promise me if this ever happens to me, you will tell them the truth — tell them what a jerk I am, don't talk about the hero stuff," Gossler recalled Beigel kidding. Gossler also said, "It was his humor that made me fall for him."
The slain teacher's funeral took place at Temple Beth El in Florida where hundreds came to honor Beigel. A heartbroken Gossler said, "OK, Scott, I did what you asked. Now I can tell the truth. You are an amazingly special person. You are my first love and my soulmate."
Beigel began working at Douglas High School six months ago, according to Assistant Principal Denise Reed. According to Marjory Stoneman Douglas High School students, Beigel rescued students from getting shot by the attacker by opening his classroom for panicked pupils. The geography teacher was shot when he tried to let other students in again.
One student, Kelsey Friend, told CNN Beigel was her "hero." "I will never forget the actions that he took for me and for fellow students of the classroom. If his family is watching this, please know that your son or your brother was an amazing person and I am alive today because of him," the visibly heartbroken student said.
Friend explained to ABC News how Beigel saved students. "He unlocked the door and let us in. I had thought he was behind me, but he wasn't." Beigel, according to Friend, went forward to lock the door. "When he opened the door, he had to re-lock it so we could stay safe, but he didn't get the chance to," she said.
The young student went on to say, "He was in the doorway and the door was still open and the shooter probably didn't know we were in there because he was lying on the floor. If the shooter had come in the room, I probably wouldn't be [alive]."
The 35-year-old teacher was remember for his wit, humor, and generosity. His mother shared Beigel's jokes with the crowd at his funeral and remembered how her son made her laugh. Beigel's father, Michael Schulman, spoke at the temple for his son's funeral and said, "I truly believe he was dedicated to helping his fellow man. Scott will always be my hero." At his funeral, Miami Herald reported that the Rabbi Greg Weisman said the slain teacher's life was an "Unfinished Symphony." The Rabbi's title was referring Austrian composer Franz Schubert's incomplete work.
Beigel was also a cross-country coach at the school and previously worked at Starlight Summer Camp in Pennsylvania where he counseled students. Ever since his death on Wednesday, people have been remembering his for his heroic deed in the face of a rampant shooter. On social media, pupils remembered their coach. One student, Chad Williams, tweeted, "I have said [rest in peace] many times in the past 24 hours but RIP coach [Beigel]. You are a king and heaven got a good one. Rest easy." In the photo Williams shared, Beigel can be seen on the right smiling with a group of beaming students.