'Grey's Anatomy' Fans Will Love Patrick Dempsey's Comments About His Bond With Ellen Pompeo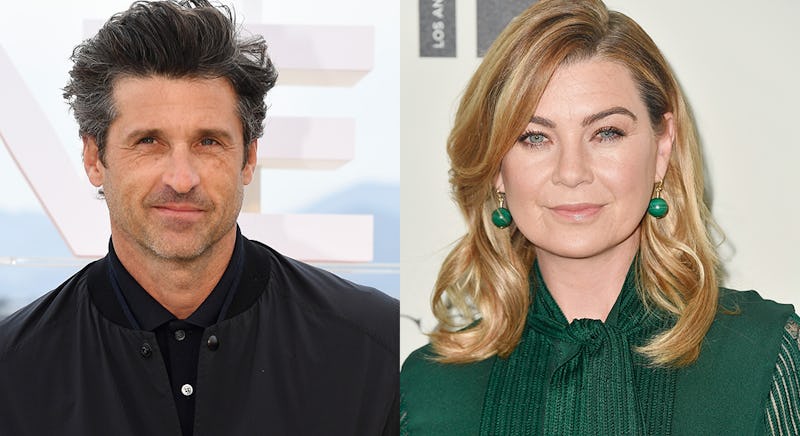 Pascal Le Segretain/Getty Images Entertainment/Getty Images; Frazer Harrison/Getty Images Entertainment/Getty Images
MerDer fans were captivated long before Meredith begged Derek to "Pick me. Choose me. Love me." Almost 13 years later, Patrick Dempsey's comments about Grey's Anatomy costar Ellen Pompeo show that their onscreen chemistry was the real deal. "That was a very special bond that just — there was a magic to our connection and that's special," he said in a recent interview with Entertainment Tonight, published on Thursday, Oct. 4. Could he be any more McDreamy?
Despite his character's shocking — and, yes, still heart-wrenching — 2015 death, Dempsey says he's proud to have starred in 11 of the ABC medical drama's staggering 15 seasons. And he credits Pompeo, along with the rest of his OG Grey's crew, with making those years so groundbreaking.
"I think it started with the original cast and the length that it has and the new people that have come in, and it's amazing and it's continuing to affect so many people and to really be a strong part of so many people's lives," he added to ET during the sit-down in Maine at his Dempsey Center, which focuses on cancer prevention, education, and support. "You're a part of television history. It's really remarkable."
After all, he recognizes that the fictional TV show has had real-life implications for viewers: "I see people from around the world that have now been inspired to become doctors and younger people who are now just discovering the show who want to go into the medical profession and I think that that is the greatest legacy with everybody at Grey's."
Just weeks ago, Pompeo also had high praise for her former on-screen husband, saying that he left very big (surgical) shoes to fill — especially when it comes to Meredith finding a new love interest. "Patrick Dempsey is a very tough act to follow, and it's challenging to get someone to come on a Season 15 show," she told Entertainment Weekly in a September cover story. "We're gonna find someone who makes an impact. That's our biggest challenge this year."
This wasn't her only recent Grey's lovefest to give fans all the feels. After series creator Shonda Rhimes posted a #TBT Instagram photo with Pompeo, also on Oct. 4, the actor showed her appreciation by re-posting the black and white photo of the two and adding a gushy caption:
"This relationship is one of the most meaningful in my life. It has taught me so much about life. Lessons that I will pass on to my children...lessons that I use every day. @shondarhimes has always allowed me to be exactly who I am...celebrated who I am and has never asked me to be anyone else...and most importantly has always challenged me to be the best version of myself I can. I am eternally grateful to be in the same orbit. #rideordie ❤️💋🙌🏼"
Of course there was rampant fan speculation that there may not have been quite as much admiration between Dempsey and Rhimes — especially after the Shondaland founder admitted on Comedy Central's The Nightly Show with Larry Wilmore (just months after Dempsey's Grey's exit) that she's killed off characters in the past because she hasn't liked the actor.
Shortly afterward, Dempsey responded to the comments in a 2015 interview with EW. "I think she loves being provocative and that's fine for who she is," he said of his former boss. "That gets people talking about all the stuff that she's doing. She's an amazing woman who is incredibly productive ... I think she knows how to deal with the media and what she needs to say to get the response that she's looking for. She's very savvy."
Even so, Rhimes also previously said at the 2015 TCA press tour that killing off Derek "wasn't easy or fun" but that it was, at least in her mind, necessary: "Either Derek was going to walk out on Meredith, and leave her high and dry, and what was that going to mean? That was going to suggest that the love was not true, the thing we had said for 11 years was a lie and McDreamy wasn't McDreamy. For me, that was untenable."
There doesn't really seem to be bad blood these days, however. Dempsey also said in his ET interview that he "learned a lot" from his time on Grey's and that he wishes the show and cast "a lot of luck and continued success." Although there was no specific mention of Rhimes, he did applaud former costars Kevin McKidd, Chandra Wilson and Pompeo's forays into directing episodes of the ABC hit.
While fans may have lost McDreamy, it has to be comforting to know that the love really is still alive and well for Dempsey.