Why Patrick Stewart's Return To 'Star Trek' Is Even More Important Than You Think It Is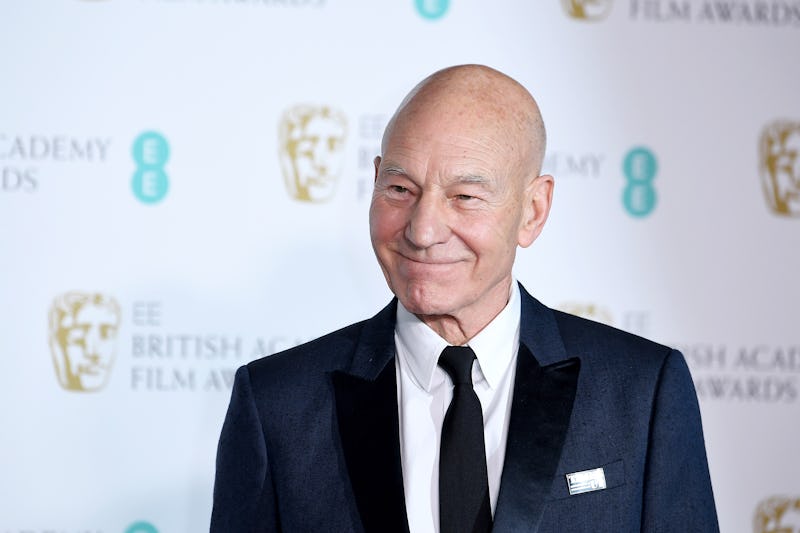 Jeff Spicer/Getty Images Entertainment/Getty Images
There's big news for fans of Star Trek, which continues to be one of the most beloved space adventure series. On Saturday, Patrick Stewart announced his return to Star Trek to reprise the role of Jean-Luc Picard, as reported by Entertainment Weekly. Stewart announced the news at the the Las Vegas Star Trek Convention and on his Twitter account. The iconic character will appear in a new CBS All Access series, and according to the actor, it will follow the "next chapter" of his story.
Stewart shared a thoughtful statement on Instagram. The actor wrote,
"I will always be very proud to have been a part of 'Star Trek: The Next Generation,' but when we wrapped that final movie in the spring of 2002, I truly felt my time with Star Trek had run its natural course. It is, therefore, an unexpected but delightful surprise to find myself excited and invigorated to be returning to Jean-Luc Picard and to explore new dimensions within him. Seeking out new life for him, when I thought that life was over.
In the announcement, Stewart noted that he expected to leave Jean-Luc Picard behind when Star Trek: The Next Generation wrapped in 2002. However, this series poses a unique opportunity to give new depth to the character's story, and that seems to be why he chose to return.
"During these past years, it has been humbling to hear stories about how The Next Generation brought people comfort, saw them through difficult periods in their lives or how the example of Jean-Luc inspired so many to follow in his footsteps, pursuing science, exploration and leadership," he continued. "I feel I'm ready to return to him for the same reason – to research and experience what comforting and reforming light he might shine on these often very dark times. I look forward to working with our brilliant creative team as we endeavor to bring a fresh, unexpected and pertinent story to life once more."
It's been over a decade since Stewart stepped into Picard's shoes, and he made sure to note the deep meaning the character has for both him and the fans. However, it's his poignant comments on the current political moment that resonate the most. Star Trek has always been a series about the value of exploration, understanding, and unity. And Picard's calm presence will be a welcome voice of reason during a time when reason is so badly needed.
Star Trek: The Next Generation premiered in 1987 and was on the air for seven seasons. Stewart previously appeared in several film adaptations of the series, including Star Trek: Insurrection and Star Trek: Nemesis. According to The Hollywood Reporter, Star Trek: Discovery showrunner Alex Kurtzman is signed on to be an executive producer, but the new show has yet to get a release date or title. CBS has confirmed the series is in the works, and the network will bring on several other producers familiar with the series as well, including Akiva Goldsman, Michael Chabon, and Kirsten Beyer, as reported by Variety.
On Twitter, Star Trek fans were thrilled to hear the news. Actor and geek commentator Wil Wheaton, who played Wesley Crusher on Star Trek: The Next Generation, was among the first to react to the news online, writing:
"As your friend and former co-worker, I am so incredibly excited for you. As a fan, I don't even have the words to express what this means to me."
Other people shared how meaningful the reprisal would be as well, with fan @CerianJenkins writing: "This is the best news I've heard in a while. So many fond childhood memories of sitting with my Dad and watching you as Captain. I'm tremendously excited!"
Hundreds of Star Trek watchers weighed in with excited reactions and gifs from the original series, and it's clear that Stewart's return to the series will be highly anticipated by the fan community. The announcement might come as surprise, but if Stewart feels that Picard's story in the Star Trek universe isn't over yet, he's probably right.