Trump's Former Campaign Manager Was Just Found Guilty Of Tax Fraud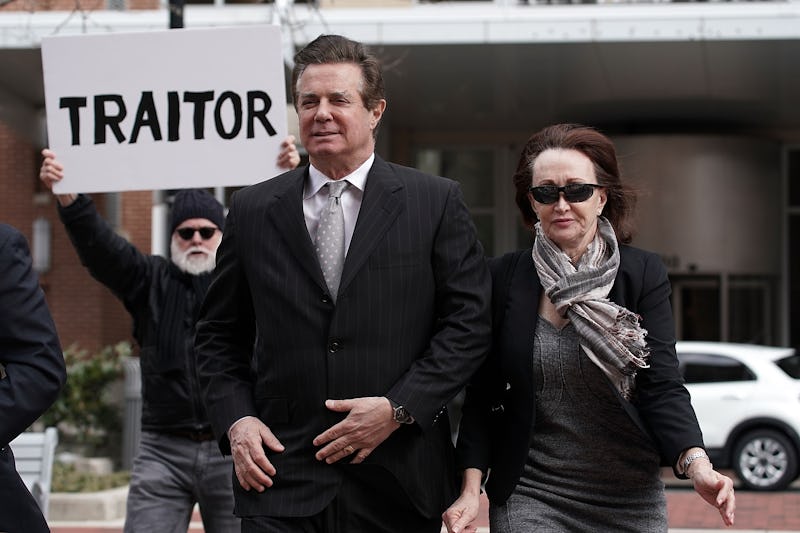 Alex Wong/Getty Images News/Getty Images
Twelve jurors who have been deliberating for days announced the verdict in the Paul Manafort case on Tuesday. The six men and six women who made up the jury spent nearly four full days in Alexandria, Virginia debating the fate of the former Trump campaign manager, who faced 18 criminal charges. While Manafort pleaded not guilty to all 18 charges, the jury ultimately found him guilty on eight counts, including tax fraud.
The 18 charges against Manafort included five counts of false tax returns; four counts of failure to report foreign bank accounts; and nine counts related to bank fraud and bank fraud conspiracy based on loans from three different banks, according to Reuters. So basically, Manafort was facing a lot of charges for doing a lot of shady things with his personal finances in a lot of different places. Of the eight counts he was found guilty on, five were on tax fraud charges. The jury was unable to reach a consensus on the other 10 counts.
It's important to note that the charges against Manafort are not linked to Trump, and do not directly connect the Trump campaign to Russia. Manafort, who was the Trump campaign chairman from March of 2016 until August of 2016, left the position after news reports came out about Manafort's ties to Russia.
Experts told Reuters that if the jury found him guilty of each of those counts, Manafort could reasonably be sentenced from 7 to 12 years in prison.
The deliberation on these 18 charges is over, but this is far from the end of Manafort's legal troubles. In fact, this was just the first of two major trials that Manafort faced — not to mention the possibility of him appealing any decision. Manafort's second trial is scheduled to start on Sept. 17 in Washington D.C., according to USA Today, and it's related to even bigger charges. While this trial focused on bank-related charges, the next one revolves around charges of lying to the FBI, money laundering, and failing to register as an agent for a foreign government.
"It's a very sad thing that happened," Trump told reporters after landing in West Virginia on Tuesday. "This has nothing to do with Russian collusion. This started as Russian collusion, this has absolutely nothing to do. This is a witch hunt, and it's a disgrace. This has nothing to do what they started out, looking for Russians involved in our campaign, there were none. I feel very badly for Paul Manafort."
As for Manafort, he could be sentenced to up to 80 years in prison, according to multiple reports. Sentencing has yet to take place.
In Washington next month, Manafort faces charges of money laundering, conspiring to defraud the Treasury Department, failure to register as a foreign agent, and making false statements to federal agents. The trials could have potentially been combined, but Manafort's team requested that they stay separate. Experts have suggested that this may have been because Manafort's team believed jurors in Virginia would have been more lenient on him, whereas jurors in the D.C. area might be less so.
Manafort's trial results coincided with news that Trump's former personal attorney Michael Cohen pled guilty to eight counts, including tax evasion and campaign finance violations. As of Tuesday afternoon, Cohen surrendered to the FBI, according to CNN. What will happen to both Manafort and Cohen was not immediately clear Tuesday afternoon.
Monica Busch contributed to reporting.