People Are Sharing Heartbreaking Stories Of Where They Were When They Learned Of Princess Diana's Death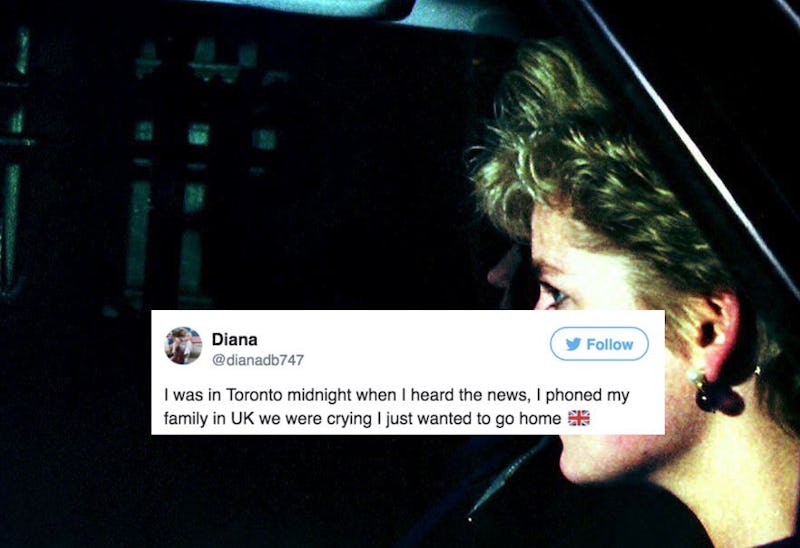 THIERRY SALIOU / Stringer // Getty
It's hard to believe that today marks the 20th anniversary of Princess Diana's death. Many still remember exactly where they were when the news of the car crash in that Paris tunnel broke — and as all the people tweeting about where they were when they heard Diana had died can attest, her impact is still felt profoundly all over the world today.
Like many, I also vividly remember where I was when I heard the news. I was 12 years old, and my family and I had been watching a movie; when we turned off the movie — a DVD, I believe; we got our first DVD player around that time — the TV was full of reports of Diana's death on practically every channel. It didn't quite seem real; Diana and Prince Charles had gotten married about four years before I was born, so they'd been a fixture of the cultural landscape for my entire life. Although they'd announced their initial separation when I was 7 and divorced several years later, I still couldn't wrap my brain around the idea of a world where Lady Di didn't exist.
At the time, I didn't quite realize the enormity of the event, largely because I wasn't yet in tune with how beloved Diana had been by so many people. It's true that she wasn't perfect; she did, however, do a huge amount of good, and she gave a lot of hope to a lot of people. She was relatable — a real-life Cinderella — and even after the end of her marriage to Charles, she continued the work she had been doing, as well as taking control of her own narrative.
That's what all of these stories of where people were when they heard she had passed had in common: They each reflect exactly how much impact one person can have on another, even if they've never met. And they reflect how that impact can continue after someone is no longer with us — perhaps reminding us of the lessons we can learn from them long after they're gone.
Where were you when you heard the news?