PepsiCo Wants To Make A "Low Crunch," Purse-Friendly Chip For Women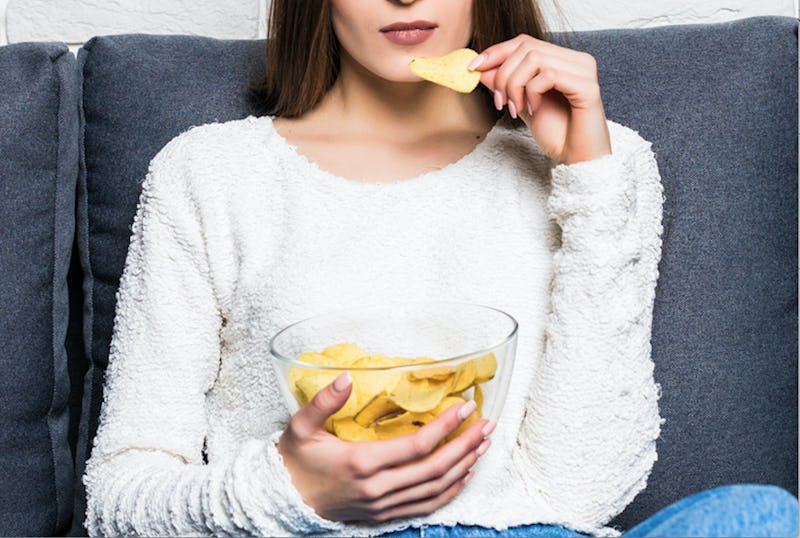 Fotolia
UPDATE: PepsiCo has released a statement: "The reporting on a specific Doritos product for female consumers is inaccurate. We already have Doritos for women – they're called Doritos, and they're enjoyed by millions of people every day. At the same time, we know needs and preferences continue to evolve and we're always looking for new ways to engage and delight our consumers."
EARLIER:
Speaking on an episode of the podcast "Freakonomics Radio," PepsiCo CEO Indra Nooyi shared that the company is looking into creating a chip made for women. In the interview, host Stephen Dubner asked, "So is there a male and female version of chips that you're playing with, or no?" Nooyi responded, "It's not a male and female as much as 'are there snacks for women that can be designed and packaged differently?' And yes, we are looking at it, and we're getting ready to launch a bunch of them soon." Bustle has reached out to PepsiCo for comment, and will update this post upon response; at the time of this post, no official confirmation of the development of these chips outside of the interview with Freakonomics has been made.
Prior to Dubner's question about whether there was a new brand of chip targeted at women in the works, he asked, "I understand that men and women eat chips very differently. Can you tell us the differences?"
Nooyi responded, "When you eat out of a flex bag — one of our single-serve bags — especially as you watch a lot of the young guys eat the chips, they love their Doritos, and they lick their fingers with great glee, and when they reach the bottom of the bag they pour the little broken pieces into their mouth, because they don't want to lose that taste of the flavor, and the broken chips in the bottom. Women would love to do the same, but they don't. They don't like to crunch too loudly in public. And they don't lick their fingers generously and they don't like to pour the little broken pieces and the flavor into their mouth."
She further clarified, "For women, low-crunch, the full taste profile, not have so much of the flavor stick on the fingers, and how can you put it in a purse? Because women love to carry a snack in their purse. The whole design capability we built in PepsiCo was to allow design to work with innovation. Not just on packaging colors, but to go through the entire cycle, and say, 'All the way to the product in the pantry, or how it's being carried around, or how they eat it in the car, or drink it in the car, what should be the design of the product, the package, the experience, so that we can influence the entire chain?'"
(The full transcript of the interview is available on Freakonomics here.)
Nooyi's comments have caused some debate online; namely, that a chip that is "low-crunch" and doesn't stick to fingers as much is made for women in the first place, rather than the population at large.
That being said, some users point out that a "low crunch" chip would, objectively, be an option worth offering consumers — that is, both male and female.
Nooyi, for her part, expresses later in the interview that changes to PepsiCo products are made in service of the consumer. "I want to be clear on one thing. Our business leaders all run their own businesses. I don't run their businesses. But what I do do is I'm constantly out there in the marketplace looking to see how our products look on the shelf," she said to Freakonomics. "Then I come back and I talk to my people about what I saw was good, and what wasn't really good, to push them to higher levels of performance especially versus competition. We have to look at the product all the way to the retail shelf. Maybe sometimes to the consumer's pantry at home. And that's what caused us to even do home visits at times, to really figure out how the consumer stocked the product. Is our package size right? Is it suitable to the refrigerator sizes that people have in their homes in various countries?"
It is important to note that beyond this interview, the existence of what some of the internet has now dubbed "Doritos for women" has not been officially confirmed by PepsiCo; perhaps the early reaction from the intended audience will shift an approach toward less gendered marketing, should this "low crunch" chip ever come to fruition.