You Can Get Your BFF's Face On Your Socks In This Ultimate Solemate Move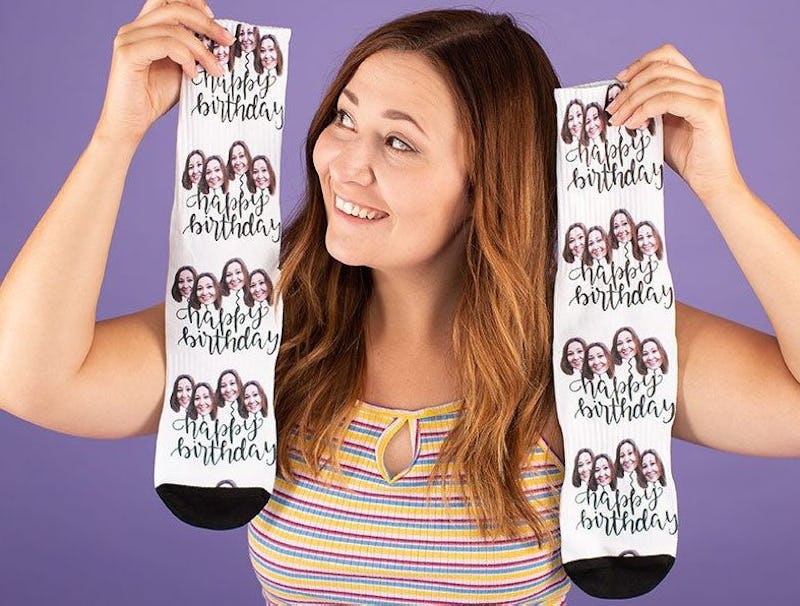 Prezzybox
What are the hallmarks of modern friendship? You aren't best mates unless you constantly tag each other in memes, live WhatsApp Love Island together, and like everything each other posts on social media, right? But some would argue that you're not true BBFs until you've plastered their face all over your personal belongings. I mean seriously, what better way to show your appreciation for your best pal than by making sure you see their uniquely beautiful features everywhere you go? Personalised face socks are the way forward if you ask me.
First there were wine bottles, temporary tattoos, toasters that burn your friend's image into bread, and bedsheets, so that their face is the first thing you see when you wake up in the morning and the last thing you see when you go to sleep at night. But now you can be accompanied by your best pal wherever you go, thanks to Prezzybox's personalised face socks. Your BFF can now come with you to the shops, or spend a chilled night in watching telly, even when they're busy.
Honestly, these socks allow you to soup up your loungewear with your friend's face, because really, what is more comforting and supportive than strong friendships? And if you want to get your whole group chat's faces on your footwear, don't stress, as the gift company lets you select several different faces to create your very own design.
And if your best friend is of the furry rather than human variety, no worries, as Prezzybox also offers personalised pet socks, complete with paw prints, dog bones, and fishes. The socks come in three sizes, a choice of six colours, are made from poly-cotton, and cost £19.99. And while it might be a little bit more expensive than your standard socks, you really can't put a price on friendship can you?
To get your hands on some of your very own personalised face socks, all you need to do is head to Prezzybox, click buy and provide a clear photo of yourself, your pal, or your pet. Then the sock wizards will cut out your chosen face or faces and create a pattern to decorate a pair of socks in the size and colour of your choice. Happy birthdays, paw prints, and dog bones can be added, although maybe don't add the last two to pictures of your friends, as something tells me they might take that the wrong way.
But the good news is that once you've placed your order, you won't have long to wait impatiently by your front door for it to arrive, as you'll receive your socks within one to two working days. And if the socks have put you firmly on the path to destination personalisation, then you need not even leave the website after you've clicked buy to get your fix, as Prezzybox offers a whole host of other face-tastic gifts. Grab a personalised lollipop moulded to look like your face, a personalised pug toy in the image of your pet, or a set of personalised face coasters to ensure dinner party chat will never be boring again.
And if you truly do want to create a shrine to your BFF on everything you own, then there are a whole bunch of other things you can personalise with your friend's face. I'm talking air fresheners, suitcases, leggings, cookie cutters, you name it. The list is legitimately endless.
Just don't come crying to me if they get a little bit creeped out the next time they pop over for a cuppa only to see their face everywhere. Surprise.