Trump Apparently Faked A Phone Call At An 'SNL' Table Read (And It Wasn't A Joke)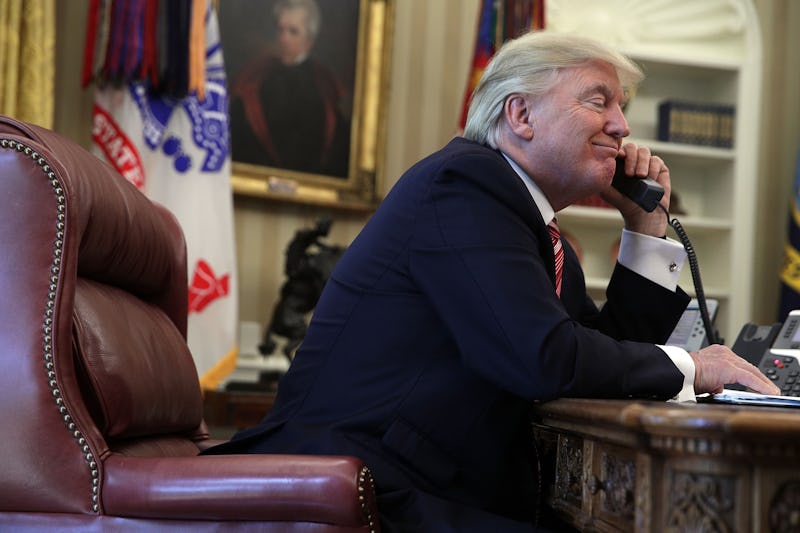 Alex Wong/Getty Images News/Getty Images
In November 2015, a full year before he won the presidential election, Donald Trump hosted an episode of Saturday Night Live. Two and a half years later, SNL's Pete Davidson shed some light on Trump's "weird" behavior leading up to the show. Davidson told Complex's Open Late that Trump faked a phone call at a SNL table read — and that was only the beginning of his faltering displays of improvisation.
Davidson told Open Late host Peter Rosenberg that Trump "was weird all week" before the show, highlighting the faked phone call as an example.
"He faked a phone call during the table read," Davidson recalled to Rosenberg. "He was like, 'Hello?' And he goes, 'Oh, fantastic. OK, great.' And then he hung up and he goes, 'Hey, everybody! My book just went No. 1!' ... I swear on my life. And we were all, like, 'Yo, that phone didn't ring."
Davidson also wondered how the person on the other end of that phone call would have possibly had time to tell Trump that his book went No. 1, because he said Trump didn't pause to listen to whomever was allegedly on the line. Moreover, as Mashable pointed out, Trump's book was released a week later, and debuted at No. 5.
Multiple SNL cast members, both past and present, have suggested that Trump had a great deal of difficulty with improvisation. Former SNL cast member Jon Rudnitsky told People last year that Trump tried to improvise during the show, which is not encouraged.
"On set, he would be like, 'I'm going to riff — I'm just going to riff here,'" Rudnitsky told People. "By the way, nobody riffs on SNL. Not Will Ferrell, not anybody in the history of SNL has ever riffed. There are cue cards there for a reason, it's live. And he went off on the show, and you can kind of tell when he's trying to do a thing. You're like, 'Eh, you're not a comedian.'"
Rudnitsky added that Trump wasn't really excited about sketches that weren't complimentary of him.
"He was just onto the next if it wasn't about how great he was," Rudnitsky explained. "I'm totally serious. I mean, there were some really funny sketches that he just didn't get. His sense of humor is definitely skewed."
Taran Killam, meanwhile, suggested that Trump wasn't too enthusiastic about hosting an episode of SNL, and that he "struggled to read" his scripts for the show. Davidson echoed this point in an interview with Opie Radio, saying at the time that Trump "doesn't really know how to read."
The fake phone call reportedly wasn't the only time that Trump bragged about his book, either. According to Killam, it was nearly impossible to have a normal conversation with Trump because they didn't have "any common ground."
"You couldn't be like, 'How was your day?' and him be like, 'It was fine. Went for a walk,'" Killam said. "It was always like, 'My book is No. 1. It's very exciting. Everybody's talking about this rally.'"
Although SNL has defended its decision to have Trump host an episode of the show, Killam told NPR last year that he was "embarrassed" by the show's decision.
"It was rough. It was not enjoyable at the time and something that only grows more embarrassing and shameful as time goes on," Killam told NPR's Sam Sanders. "I am embarrassed, upon reflection, just because of how everyone was right. Every person outside of that building protesting was absolutely right."