Hannah Ann Broke Up With Peter On 'The Bachelor' Finale & It Was Epic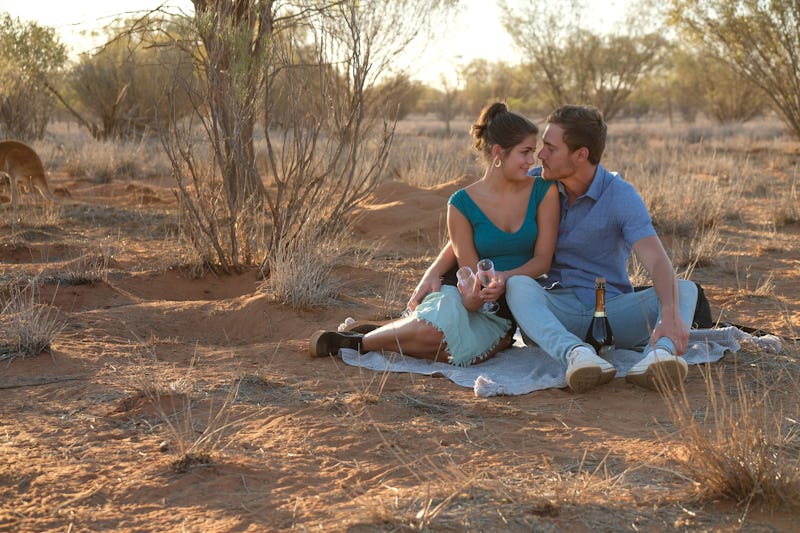 John Fleenor/Walt Disney Television/Getty Images
After weeks of drama, tears and shocking self-eliminations, Peter finally proposed to Hannah Ann on The Bachelor, but there was a whole lot of doubt — on both sides — before he finally popped the question. Despite feeling that their relationship was "right," Peter never actually told Hannah Ann that Madison had broken up with him, leaving her to arrive at the final rose ceremony questioning how he really felt about her.
"I don't doubt the love I have for Peter, but to hear him say that his heart is being pulled in two different directions, it's made me doubt what today holds," Hannah Ann said before the proposal, adding that she also had concerns that he was still hung up on Madison. "I can't go through with this unless I'm sure that I'm the only one he loves." In fact, Hannah Ann was so hesitant about the Bachelor's feelings for her that Chris Harrison told Peter right before the Rose Ceremony that she might not show up. (Obviously, she did, and Harrison shared the news in one of the most anticlimactic moments of this season.)
Peter did his best to put those doubts to rest during his proposal, though he did mention that he told her his "heart was torn" in the middle of popping the question. Still, Hannah Ann said yes, and it looked like the pair were finally about to get their happily ever after ... until she went to visit Peter after the finale, and he admitted that his heart was still torn. "When I said yes to you, I said yes to a partnership … if you can't give me that love in return, that's not a relationship," Hannah Ann said after his admission.
Despite Peter thanking Hannah Ann for being her "rock" as he worked through his complicated feelings, the pilot ultimately admitted that he didn't think he could give her the love that she deserved. "I want so badly to be able to give you everything," he told her. "My entire heart because that's what you deserve, but I can't do that. I'm so sorry." In response, Hannah Ann ended their engagement on the spot.
"All I've ever asked for is for someone to give me their whole heart like I'm giving mine to them," she tearfully told him, before calling him out for "taking away the most special moment" of her life by proposing when he didn't mean it. "I just need someone who is going to be true to their words, and not be torn and conflicted 90% of the time. I don't need anything more from you. You've done enough damage," she said, before handing back the engagement ring.
During the After the Final Rose special, Hannah Ann explained that conversation was actually the "very first time" that Peter actually shared his doubts with her. "Prior to our engagement, you [should] have sat me down and explained the full extent of what you were going through that week," she told him, adding that she felt "put on the spot" when Peter told her Madison left in the middle of his proposal. "You had two days to tell me the whole truth, so that I knew what I was saying yes to."
Hannah Ann also revealed that she wouldn't have accepted Peter's proposal if she knew the full extent of his remaining feelings for Madison. "You know if you had sat me down and had an honest conversation ... that I would have said you weren't ready for that commitment," she said. Adding insult to injury, Hannah Ann also revealed that she "stood by" Peter even when he reached out to Hannah Brown for "closure" after their engagement.
"Our engagement involved three women," she said, naming herself, Madison — who Peter was still in love with, despite proposing to someone else — and Hannah Brown. "If you want to be with a woman, you need to become a real man," Hannah Ann said, as her final word on the subject. She may not have gotten the happy ending she hoped for during her time on The Bachelor, but the way she handled her breakup with Peter effectively ensured that Hannah Ann won over all of Bachelor Nation.