These Photos From 'RHOBH' Star Camille Grammer's Wedding Are Total Friendship Goals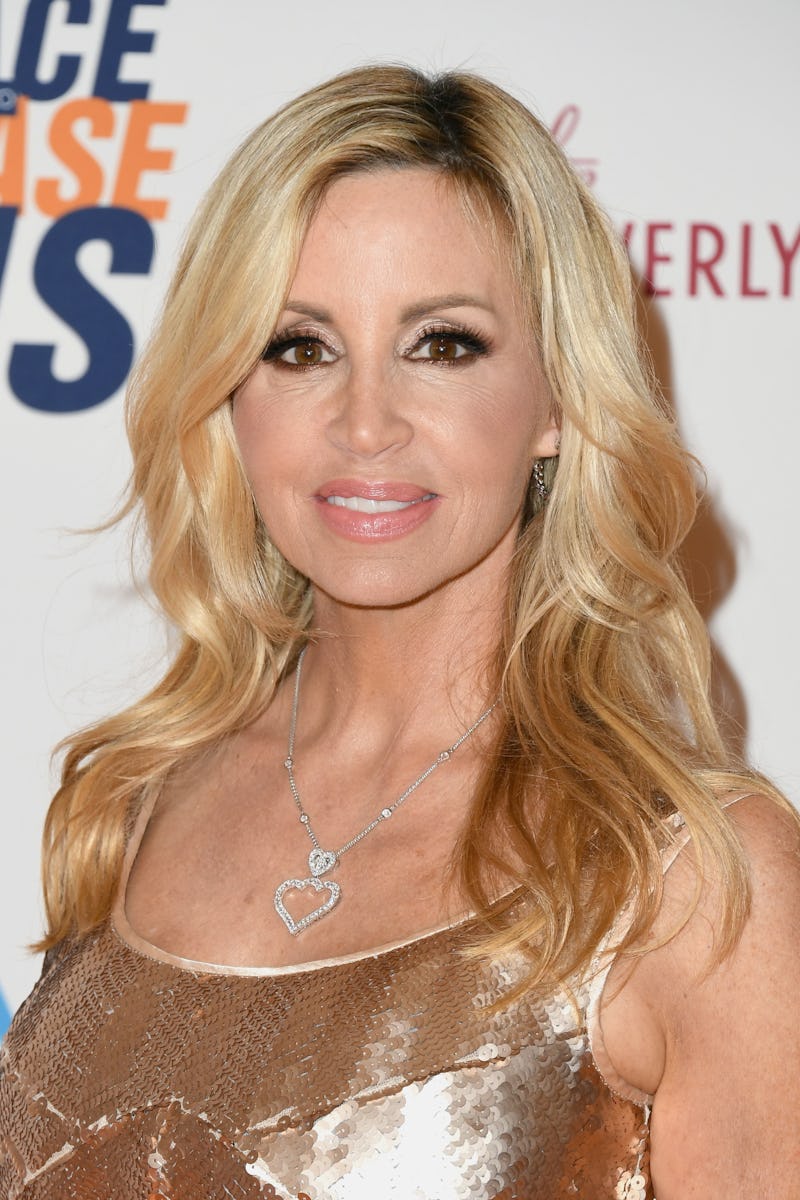 Jon Kopaloff/Getty Images Entertainment/Getty Images
It's wedding bells once again for this Real Housewives of Beverly Hills star. Camille Grammer married lawyer David C. Meyer in Hawaii, and the star's friends and family posted about the occasion on social media. Grammer and Meyer had a wedding at a private beach club. Guests included many of Grammer's costars, including Kyle Richards, Dorit Kemsley, Lisa Rinna, and Teddi Mellencamp-Arroyave. The reality-star's friends took the time to post plenty of pictures and videos from the special day, and included many well wishes for their longtime friend.
Grammer and Meyer made their relationship official in March of 2017. The two were spotted on the red carpet for the Family Equality Council's Impact Awards, and confirmed the relationship online. According to E! News, the couple met through mutual friends at a party and were very happy together. The two confirmed their engagement in October of 2017. In an interview with Bravo's Daily Dish, Grammer shared her feelings about her fiancé and what it was like to find a healthy relationship. "Things are really good. It's nice to be in a relationship again," she said. "I was alone for a while, but I needed to be. But now it's nice. I like having a companion in life. He gives me really good advice and we get along really well." Grammer's prior marriage to actor Kelsey Grammer ended in a high profile divorce in 2011. The stars share two children: Jude, 14, and Mason, 16.
While Grammer has not yet posted pictures of the wedding on her own Instagram, it's clear her friends and family were happy to be there to support her. Many of the guests posted pictures from the event or wrote positive messages for the reality star online. On Saturday, Richards posted a picture of the Real Housewives cast with Grammer, writing: "With the beautiful bride to be" with a flower and champagne emoji.
The other guests at the wedding also shared plenty of updates on their Instagram Stories. Rinna posted plenty of pictures from the beach-side reception, including pictures of her friends.
Kemsley also showed support for her costar by re-posting the picture of the bride posing with her friends poolside. She included a supportive message in the caption, writing: "Excited to celebrate Camille Grammer today and watch her take the next step towards a beautiful new chapter in her life. #iloveweddings #girlganginhawaii." Kemsley also shared highlights from the reception, including a video of Rinna and Mellencamp singing along to Alicia Keys "If I Ain't Got You".
Mellencamp also shared plenty of snaps from the wedding, including pictures from the private beach club and a picture with her husband, Edwin Arroyave.
Mellencamp also posed for a photo with her husband that showed off the gorgeous view during the wedding, which included palm trees and a rainbow. The photo also shows the star barefoot, and was captioned: "I made it about 14 minutes with my shoes on."
Grammer has yet to share pictures from the ceremony or reception on her own social media, but she did share several pictures of the ocean view. She also posted a fitness update on Instagram the morning of the wedding, writing: "Morning training Hawaiian style. Just finished a wonderful 2.8 mile paddle and swim. Took a few underwater pics of an two eagle rays swimming beneath us. #lifeinremission #cancersurvivor."
In the meantime, her friends did plenty to document the event. The only member of the Real Housewives crew who wasn't in attendance was Lisa Vanderpump, and fans inquired about her whereabouts on Richards' photo. Richards responded in the comments, deflecting the question by telling fans to focus on Grammer during the big day. She wrote: "This is about Camille. It's a special time for her."
It's been a difficult decade for Grammer, and it's clear that her friends are in full support of her finding happiness in her current relationship. The reality-star tied the knot after over two years of dating, and it looks like the event was perfect. Her friends and costars did not let the stunning Hawaii views go to waste, and in exchange, RHOBH fans got a front row seat to Grammer's big day.